For several years now the term "retail media" has been buzzing around both retail and media circles. Whether you're looking for a deeper understanding of the implications and applications of retail media or need a down-and-dirty explainer on what retail media actually is, you've landed in the right place.
This special Retail TouchPoints resource hub will be regularly updated with the latest news, stats, trends and developments in retail media. Read on to learn:
What is retail media?
What is a retail media network?
Retail media vs. Commerce media
Why is there so much excitement about retail media?
Why is retail media growing so fast?
Why are so many retailers launching retail media networks?
Top Retail Media Networks
Top Retail Media Service Providers
Types of Retail Media
Onsite vs Off-site Retail Media
The New Arena: In-Store Retail Media
This page was last updated on Nov. 22, 2023
What is retail media?
Retail media is when a retailer offers advertising capabilities and services, similar to what media outlets such as publishers and television networks have done for years.
The kinds of media products a retailer can offer run the gamut from "on-site" advertising opportunities — such as ads and videos on its own website, app or even in its physical stores (an Amazon Sponsored Product ad is the most basic example of this) — to what is typically referred to as "off-site advertising." Off-site advertising is when a retailer helps advertisers reach its customers on third-party channels like social media or other websites it doesn't own ("retargeting" is a common example of this). Off-site advertising is typically more complex than on-site and is therefore something that only the more mature retail media networks offer at this stage. For more on off-site retail media advertising, skip ahead to this section.
In addition to advertising opportunities, many of the more sophisticated retail media networks also offer services for the brands that advertise with them, which can include data analytics, self-serve advertising platforms, campaign management assistance and more.
What is a retail media network?
The terms "retail media" and "retail media network" are often used interchangeably, and for all intents and purposes they are essentially the same thing.
Retail media is the broader term used to describe the concept of retailers using their systems, infrastructure, data and access to their shoppers to help advertisers reach consumers. A retail media network is the actual platform that retailers put in place to do this. Examples of retail media networks include Amazon Advertising, Walmart Connect, Target's Roundel, Kroger Precision Marketing and Best Buy's Retail Media+.
Retail Media vs. Commerce Media
Another term often used interchangeably with "retail media" is "commerce media." While they are essentially the same thing, many industry experts believe the term "commerce media" offers a more accurate definition of what these new advertising platforms are able to do.
Especially as offerings like social commerce (where consumers can buy products directly on social media) and in-game purchasing (as consumers increasingly do in gaming and metaverse environments) take off, some feel the term "commerce" more accurately describes the full scope of retail media capabilities. This is because, in these and other instances, while a campaign may be based on retailer's data and functionalities, the actual consumer connection, and even the transaction, takes place in a non-traditional commerce environment. Therefore, "commerce" is a more encompassing term to describe this new set of advertising capabilities. The term commerce also is broad enough to encompass new media offerings from consumer-focused companies that are not traditional retailers.
One vocal advocate of the shift from "retail" to "commerce" is Forrester analyst Sucharita Kodali, who said on LinkedIn: "It's time to stop calling it 'retail media' and start saying 'commerce media.'" The story that prompted this statement from Kodali was a news item about Uber and Lyft (two non-retailers) making big gains with their media efforts.
While both terms are currently being used, "retail media" remains the prevailing descriptor, much to the chagrin of some: "In some senses I don't like the term 'retail media networks,'" Michael Schuh, VP of Media Strategy and Product at Kroger's retail media network, Kroger Precision Marketing, told Retail TouchPoints. "It makes it seem like we're this separate thing, when in reality we're just a media company within a retailer. I think there should be and there will be this movement toward thinking of retailers as just another media company and another investment lever for brands."
Why is there so much excitement about retail media?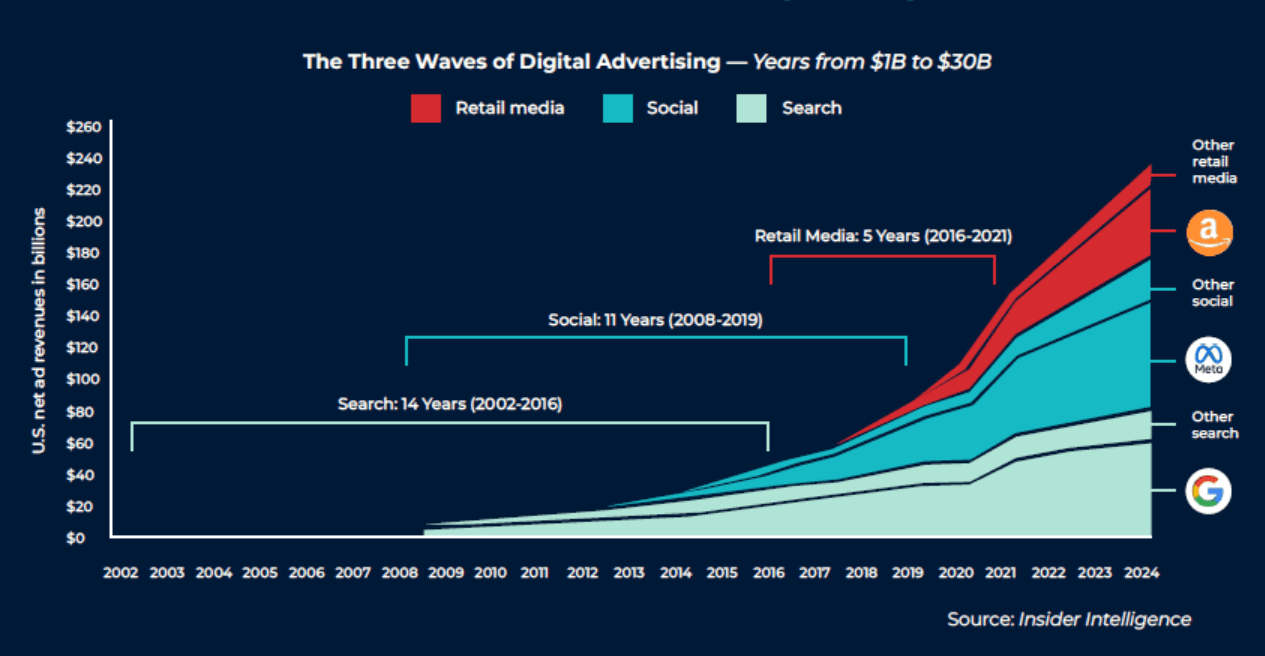 The explosion of retail media has been so seismic that Insider Intelligence has crowned it the "third big wave of digital advertising" (search advertising and social media advertising were the first two). And The Mars Agency recently declared: "Retail media is now almost universally recognized as one of the most effective methods of commerce marketing."
Not only does retail media allow retailers to access untapped revenue from their existing channels, but it has arrived at a moment of great disruption in the world of marketing. Traditional TV viewership continues to decline at the same time that the third-party identifiers marketers have become reliant on to effectively target their digital campaigns are going by the wayside.
Enter retail media, an entirely new advertising channel that offers the benefit of rich first-party consumer data from retailers, a viewership with high purchase intent (a.k.a. shoppers) and a direct connection to the actual end transaction.
In 2022, global retail media revenue reached $101 billion, according to GroupM. That figure represents 18% of all global digital advertising and 11% of all advertising. In the U.S. alone in 2023, Insider Intelligence projects that retail media spending will reach $45 billion.
And those numbers will only grow, with Group M predicting that retail media advertising will increase 60% by 2027, exceeding the expected growth for all digital advertising. Emarketer estimates that retail media networks will bring in $106 billion in U.S. ad spending by 2027.
Why is retail media growing so fast?
Retail media networks have become a hugely popular business tool to help retailers bring in incremental revenue. But they only do that if advertisers agree to shift their marketing money to retailers, which, as the numbers above indicate, they are clearly doing.
Beyond the mounting cost and restrictions of traditional digital marketing channels like social and search, there is another very big reason why advertisers are shifting their marketing spend to retail media — because unlike other advertising channels, retailers have a direct connection to consumers.
"Optimizing to transactions — that's the unlock here," said Quentin George, Partner at McKinsey and leader of the company's Commerce Media Practice. "What gives retail media networks an advantage over almost every major media owner is that you have transactions involved. For the last 80-plus years, media has been optimized around impression delivery — you reach the audience we said we're going to reach. The problem is, all of the optimization happens around marketing activity and not marketing results. What retail media aims to change is to draw a direct correlation between an impression and a SKU-level sale, [and that's why] this is so exciting and transformative."
Why are so many retailers launching retail media networks?

There are a number of reasons for the rush to set up retail media networks. First, there's the Amazon effect: retailers see how lucrative ad sales have been for the perennial disruptor (nearly $38 billion in 2022) and want a piece of the action. And those have followed in Amazon's footsteps have, in many case, gotten it. For example, Macy's RMN hit the market in 2020 and was able to generate $105 million in revenue by the next year, 2021.
Every one of the Top 10 retailers in the U.S. now has a retail media network. It's enough to make retailers without one of their own scramble, particularly as new entrants continue to report mind-boggling ad revenues. Walmart, which rebranded its media group as Walmart Connect in 2021, brought in $2.7 billion in advertising revenue in 2022 — not too shabby for a company with a core business that isn't advertising.
Top Retail Media Networks
Amazon is by far the leader in retail media, capturing more than three-quarters of the U.S. market. In 2023, Amazon Advertising will be roughly 12X larger in share than its nearest competitor, Walmart Connect, according to Insider Intelligence.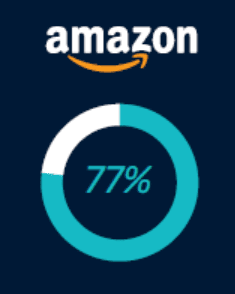 But that doesn't mean that advertisers aren't spending elsewhere. While 77% of CPG brands work with Amazon, 56% work with Walmart Connect, 29% with eBay and 27% with Home Depot, according to Merkle.
And even with Amazon taking the lion's share of retail media dollars, there's still plenty of money to go around. Forrester estimates that one-quarter of retailers are already generating more than $100 million in revenue from their media networks, and that is likely to grow significantly as these companies continue to build out their offering and work to close the gap with Amazon.
Among the major media networks today are:
Other companies with retail media offerings include:
(Editor's note: This is by no means a comprehensive list as new retail media networks are launching regularly)
Top Retail Media Service Providers
While some companies have preferred to build their retail media network in-house, there are now a vast range of tech companies and consultancies aimed at serving this growing sector. One interesting new offering that has recently sprung up is Carrot Ads from Instacart. The online grocery marketplace runs one of the most prominent retail media networks in the space today, and now it's white-labeling its tech to help retailers develop their own retail media operations.
"We're extending Instacart's advertising technology, products, services and talent to our retail partners to leverage on their owned and operated ecommerce sites," explained Ryan Mayward, Head of the Ads Business at Instacart in an interview with Retail TouchPoints. "Building an advertising business is a significant investment that requires time, talent and technology expertise. When retailers leverage Carrot Ads, they can tap into the depth of Instacart's ad technology and ad sales talent without standing up their own teams."
As to the decision of whether to build in-house or with a partner, Jordan Witmer, who has led retail media strategy at a number of brands, including The Hershey Company and now at J&J, offered this analogy: "The size of your property is going to factor in to what you do when you strike oil. If I've got a half-acre, I probably don't have enough scale to build a company around it. The best thing for me will be to bring somebody in to extract it and sell it for me. Now if I own 3,000 acres, like a Walmart, and I discover a well of oil, it probably makes sense for me to build a whole company and own the whole thing."
According to Dustin Cochart, Director of Insights at Dollar General's DG Media Network, finding the right partners at each level is absolutely crucial to success. For example, Dollar General works with Bridge for first-party identity resolution, LiveRamp to match those customer IDs to other platforms like The Trade Desk, and other solutions to "stitch those customer IDs to specific POS data," Cochart shared during a session at the 2023 RICE conference.
"It's extremely important to be as prescriptive as possible with the data, and almost bring in different stakeholders at every point so that you have multiple sets of eyes evaluating how the data will come to life, because a retail media network's core value proposition is its audiences and its measurement," said Cochart.
To this end, Uber recently teamed up with Omnicom Media Group in a data collaboration partnership aimed at offering "highly valuable insights to make media plans better, innovate measurement and optimize on incrementality" for advertisers on its burgeoning media network.
"With 130 million monthly active platform users globally, the power of Uber's advertising offering is how we are able to understand consumers' next destination in real time and reach them with relevant messages that align to immediate intention," said Mark Grether, VP and General Manager for Uber's advertising division in a statement. "As we look to the future of mobility and retail media, this new partnership taps into OMG's vast data and partnerships, enabling us to take on a new level of precision in intelligent targeting, insights and activation for advertisers."
Types of Retail Media
There are three broad types of retail media offerings:
On-site — advertising that is placed within a retailer's own digital ecosystem, such as on its website, app and emails;
Off-site — advertising that is placed in third-party channels, such as social media networks, other websites or connected TV platforms, based on a retailer's customer data and insights; and
In-store — advertising placed within a retailer's physical environment, such as on screens in-store or audio ads that play over store speakers. Sampling programs also can serve as a form of in-store retail media.
On-site vs. Off-site Retail Media
While the bulk of retail media thus far has been dominated by fairly basic website-based offerings — sponsored search, display ads, promoted listings, etc. on a retailer's own digital channels — the true power of retail media comes in connecting retail data with other channels, including stores and third-party platforms like social media and connected TV.
"This year we're going to see a significant amount of dollars going into off-site activations, with CTV and social commerce in particular seeing a big resurgence, where you're able to buy that audience in this off-site environment and still have closed-loop measurement," predicted Jeffrey Bustos, VP of Measurement, Addressability and Data at the Interactive Advertising Bureau (IAB) in an interview with Retail TouchPoints.
This is the true promise of retail media — using retailers' first-party data to target ads across the web. A number of the early entrants in retail media already are doing this effectively:
Nordstrom shared at NRF 2023 that off-site now makes up 60% of its advertising business;
In late 2022, Lowe's announced an integration with Yahoo's demand-side platform (DSP) to enable off-site experiences for the brands advertising through its media network;
In early 2023, Albertsons became the first retailer to utilize Pinterest's new integration with LiveRamp, which allows Albertsons to join its data with Pinterest platform data in a privacy-safe clean room and thus offer its advertisers closed-loop reporting on Pinterest campaigns;
Walmart has teamed up with a whole host of platforms, including TikTok, Snap, Roku and Firework, to enable off-site, video-based advertising; and
Kroger has partnered with Magnite to expand its offering into CTV.
"We've done studies where we've executed media buys in the off-site programmatic space against our first-party data versus against a standard third-party data segment, and we've seen 150% difference in sales performance between the two," Kroger Precision Marketing's Michael Schuh told Retail TouchPoints. "People are sometimes hesitant to invest in retail media because it's a little more expensive, but what we're proving out is that it pays for itself twice over because there's that much higher relevancy for the audience."
Kroger Precision Marketing is one of the more advanced players in off-site, with an offering that now includes co-branded off-site media, programmatic and relationships with major platforms and publishers including Roku, Pinterest and Meredith. The opportunity to connect with Kroger customers while they're perusing a recipe on Allrecipes, for example, can be particularly powerful for brands.
Here's another example from J&J's Jordan Witmer: "The intersection of product and audience with Target and Pinterest, for example, makes a lot of sense because Target's guest over-indexes in being influenced by social," he said. "When we run direct buys on Pinterest, and then Roundel [Target's retail media network] buys on Pinterest, the Target audience is so much more valuable and effective for us that I actually get better ROIs out of Roundel Pinterest than I do going direct, even though it costs me twice as much."
This kind of enhanced relevancy and closed-loop visibility on the open web is having a huge impact not just on where brands spend their money but how they build their campaigns. "When you bring in all this off-site opportunity, it changes the way we've been building brand awareness," explained the IAB's Jefferey Bustos. "Before, you had your upper-funnel video or social campaigns to drive awareness, and then you had to do a brand lift study or some sort of MTA [multi-touch attribution] map at the end to understand how your sales were going. Now with retail media off-site within CTV or social, you literally have the capability to run upper-funnel media and immediately understand how consumers are reacting and engaging with your brand."
CTV in particular is generating a lot of excitement in advertising circles, both as a standalone channel and for the potential of integrations with retail media networks. Some even dub this convergence "the next frontier" of digital advertising.
The New Arena: In-Store Retail Media
While it might seem like all eyes are on digital, advanced retail media networks are looking to another area to grow their offering — physical stores. "Smart marketers are looking to run full-funnel marketing and advertising campaigns, so everything from TV and brand awareness campaigns all the way through the end of the path to purchase, which is the store — the last mile of advertising, so to say," said Insider Intelligence's Andrew Lipsman.
It's worth noting that the $45 billion in U.S. retail media spending in 2023 projected by Insider Intelligence only accounts for online media, which is why Lipsman thinks physical stores are the next big media channel — especially since 70% to 85% of sales still happen in stores, depending on the category.

"There's only one Amazon — nobody else has the online reach that Amazon has," said Lindell Bennett, a former Amazon Advertising executive who is now Chief Revenue Officer at the in-store media company Cooler Screens. "But Amazon doesn't have the physical footprint of Walmart or Kroger or Costco. [Those retailers] have more people coming to their physical brick-and-mortars than their online channels, so all of these other [retail media] players besides Amazon have to go in-store at some point."
Once a store begins to digitize, the places where retail media could be offered multiply, although Lipsman is careful to note that "there is a CX consideration. Any retailer is going to have to be very careful to make sure that they don't overwhelm consumers." Among the potential surfaces that could be turned into advertising platforms are front-of-store signage, TV walls, end caps, drop-down screens between the aisles, smart shelf labels and the screens on smart carts.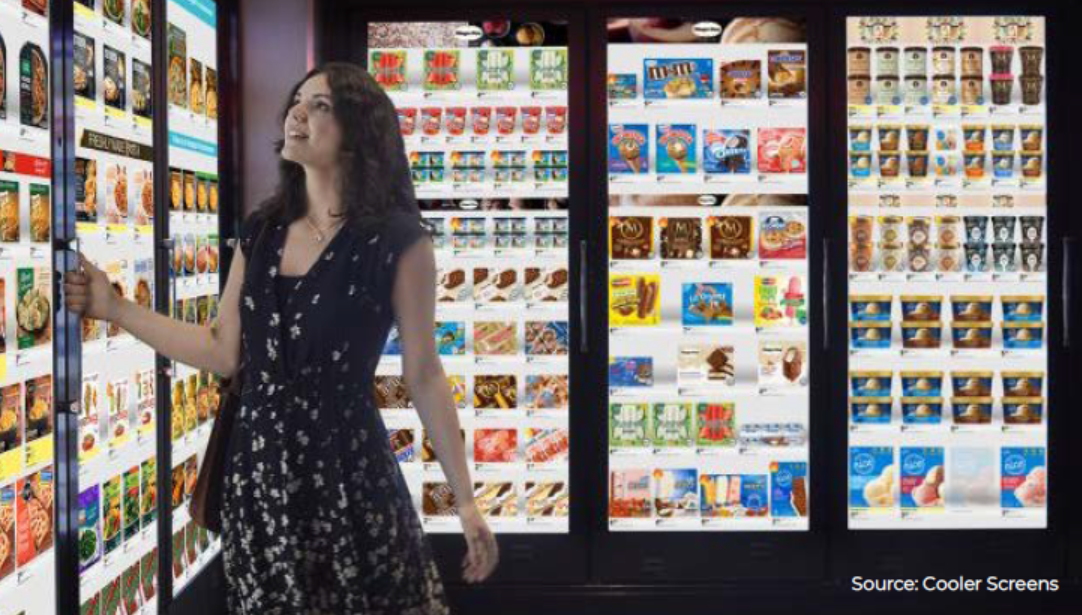 In-store media activations also can provide retailers (and brands) with valuable foot traffic and purchase data. For example, the four-year-old Cooler Screens has moved into stores in a big way in the cooler aisle, with digital screens that replace the glass on cooler doors. Current clients include Kroger and Circle K.
"What was exciting to me about Cooler Screens was the ability to collapse the marketing funnel in a matter of feet in a store," said Bennett. "It's not just digital signage, it adjusts to the user at that point of decision within a matter of feet. So at six to 12 feet we're going to present one type of ad. Then when that person steps forward at six feet or less, we're going to give them a different kind of ad. And then if they pause for six seconds, we're going to give them what reminds me of a last-second retargeting ad.
"It's all privacy-safe, so we don't know who that individual is, but we are getting data on how many people are at a certain distance, then how many people move to another distance, how many people grab a door, how many people buy it at the point of sale," Bennett continue. "Even just with the cooler aisle to start, that gives you much more data to show measurement and make that media more efficient. If you do that across the store, then you really do have a parallel to what you can do in an ecommerce environment. Media and measurement across the store — that's the next level."
Another recent example is Hy-Vee's partnership with Samsung that allows the supermarket chain to bring dynamic ads and content into stores, as well as through a robust network of Samsung Connected TVs and Direct Out-of-Home (OOH) advertising channels. 
Of course, all of this requires a pretty significant infrastructure investment on the part of the retailer, which Bennett points out can actually be a differentiator in the increasingly crowded retail media landscape, since most retailers don't have the capital to do it. "There are sliding scales of how this can be done," Lipsman explained. "With some of these startups there are often retailer tradeoffs, where maybe the startup will take on the CapEx costs in return for revenue shares on the advertising."
For Lipsman, in-store retail media, while an important part of the larger mix, is a very different animal than online retail media. "Think of the in-store media channel more as a replacement for TV ad spend," he said. "What is TV best at? High-quality branding impressions delivered in a brand-safe environment at scale. But that scale is harder and harder to get on TV, particularly with the audiences that TV advertisers want, those 18- to 40-year-olds. You can't reach them on linear TV anymore in most cases, but they do go into stores, so you can reach them there and drive that brand awareness and equity at scale."