Media networks are retailers' hottest new accessory; in fact, the sheer number of retailers that have developed retail media networks (RMNs) in the last two years is impressive, almost to the point of being overwhelming.
The list, which changes nearly every day, now includes everyone from platforms like Shopify; multi-category merchants like Macy's, BJ's Wholesale Club and Lord & Taylor; category specialists like Best Buy and HelloFresh; and even commerce intermediaries like Instacart and Uber. Which begs the question, is the demand for retail media big enough for everyone to win? The short answer is "no."
"Can they all have a retail media network? Yes. Is it going to be a significant opportunity for most of them? No," said Andrew Lipsman, Principal Analyst for Retail and Ecommerce at Insider Intelligence in an interview with Retail TouchPoints.
There's Only so Much Media Money to Go Around
The appeal of retail media is clear: not only does it allow retailers to access untapped revenue from their existing channels, but it has arrived at a moment when marketers are looking for new avenues to reach consumers — particularly as traditional TV viewership declines and privacy restrictions make online targeting more difficult.
But at the end of the day, brands only have so much money to spend, and when it comes to choosing where they put their dollars, research from Insider Intelligence found that the two most important RMN attributes to advertisers are traffic quality (with 45.5% of brands saying it is "extremely important") and traffic scale (44.8%). as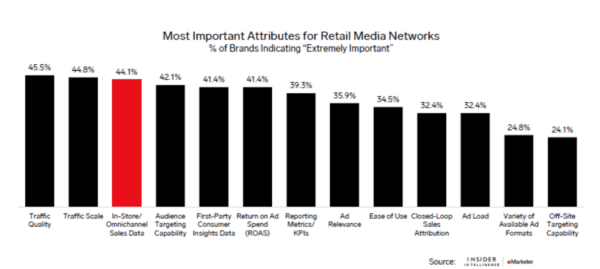 "Many retailers are overestimating their ability to get the attention of enough brands to buy on their network," said Lipsman. "Across most categories, once you get past the category leader, the scale isn't there. "If [a retailer] has enough online traffic, they can monetize search traffic through some ads and get some nice high-margin revenue, but it's probably not going to be that much incremental revenue at the end of the day, so it's not going to be a game-changer for their business."
Case in point: Gap, which just quietly shuttered its ad business roughly a year after it debuted.
"I think that a company like Gap faces a few challenges in trying to compete for retail media dollars," said Lindell Bennett, a former Amazon Advertising executive who is now Chief Revenue Officer at the in-store media company Cooler Screens. "First, they only sell their own brands. Second, the biggest players in retail media — Amazon, Walmart, [Target's] Roundel, Kroger — sell across multiple categories and have greater online scale. Third, I don't know what assets Gap has to differentiate itself in a crowded market. Is it their audience? Is it data? At the core of the issue, though, is that I find it hard to see how brands could use Gap to amplify their own brand or data strategies since Gap is about Gap, not other brands," he said in comments shared with Retail TouchPoints.
'Retailers Don't Understand the Nature of This Competition'
The challenge of creating a differentiated offering in a now-crowded retail media market is a central problem that many new entrants will face, according to Lipsman. "Many retailers right now are overrating the value of their data; what they're really competing with is everyone else's data," he said.
"If you think about Amazon, Walmart or Target, they're seeing cross-category purchase behavior and significant volume frequency. There's a depth of data there where you can tell a lot about who that customer is, and that's more valuable than a large retailer in a category that only has intermittent purchases like an electronics retailer, where somebody makes two or three purchases a year. Even if some of those purchases align with valuable audiences, are people going to buy through that retail media network, or are they just going to get similar enough audiences on The Trade Desk where they're already buying? That's what they're competing with, and I don't think retailers understand the nature of this competition very well."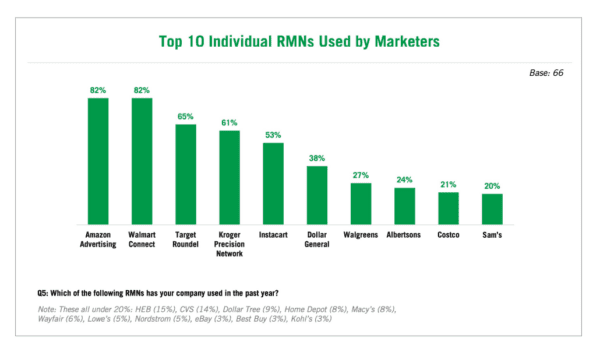 Indeed, new research from the Association of National Advertisers (ANA) shows that the top 10 retail media networks today are all large national chains. That isn't to say that newer players can't create a differentiated offering: Dollar General, for example, which ranks as No. 6 in the ANA ranking, touts its unique access to rural customers.
"We are excited about the continued growth of our DG Media Network," said Dollar General CEO Jeffery Owen on the company's recent earnings call. "We are seeing significant interest and participation from CPG companies and brands that are seeking to connect with our more than 90 million unique customer profiles, especially rural customers, who represent about 30% of the country. We expect our DG Media Network to grow significantly in 2023 as we expand the program and enhance the value proposition for both our customers and brand partners while substantially increasing the overall net financial benefit for the business."
Take a deeper dive into the future of retail media, including in-store expansions, integrations with connected TV and more in our recent special report. And don't miss the chance to hear from Insider Intelligence's Lipsman, as well as retail media executives from Dollar General, Lowe's, Johnson & Johnson and more at the Retail Innovation Conference and Expo this June.
Going After the Non-Endemic Dollars
As Lipsman pointed out, the real prize for retailers is non-endemic (i.e. outside the CPG space) advertisers such as financial services or auto manufacturers. Gap touted this potential when it unveiled its media offering in February 2022, with executives hopefully pointing to Gap's first-party data and national reach as an opportunity for companies in the film and entertainment industries.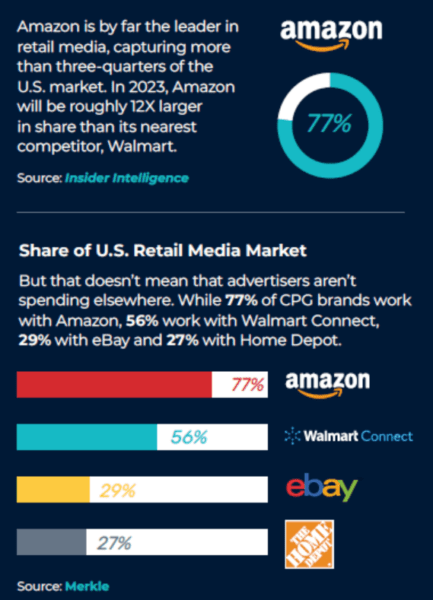 "These huge pools of ad spend are starting to buy through some retail media networks — but they're probably not going to buy through yours," said Lipsman. "They're going to buy through Amazon or Walmart or Target because they can tell through those channels that somebody has a new baby in the household, for example. You're not going to get that value of data across a lot of other retailers, especially category-specific retailers."
The elephant in this room, as is so often the case in retail, is Amazon. Currently Amazon dominates U.S. retail media, which is fitting since the company essentially created it. Despite the entrance of dozens of new competitors, including fellow retail juggernauts like Walmart and Target, Amazon still captures 77% of the market, according to Insider Intelligence, and that share isn't likely to decrease soon: "We don't expect [Amazon] to concede much market share over the next couple of years, even as Walmart, Ebay, et al. carve out meaningful positions," said Lipsman at NRF.
But here's an important thing to remember — in the U.S. alone, retail media is expected to reach $45 billion dollars this year. Capturing just 1% of that would translate to the not insignificant figure of $450 million. Another important fact: while Amazon is a dominant force online, other retailers' brick-and-mortar footprint gives them a huge advantage — especially as retail media offerings migrate beyond the retailer's website and into the wider world, both on and offline.
To learn more about retail media, check out our full guide here.