Every one of the Top 10 retailers in the U.S. now has a retail media network (RMN), which should tell you something about where this trend is going (hint: toward ubiquity). It's enough to make retailers without an RMN of their own scramble, particularly as companies like Amazon and Walmart report mind-boggling ad revenues — $2.1 billion for the latter, not too shabby for a company with a core business that isn't advertising.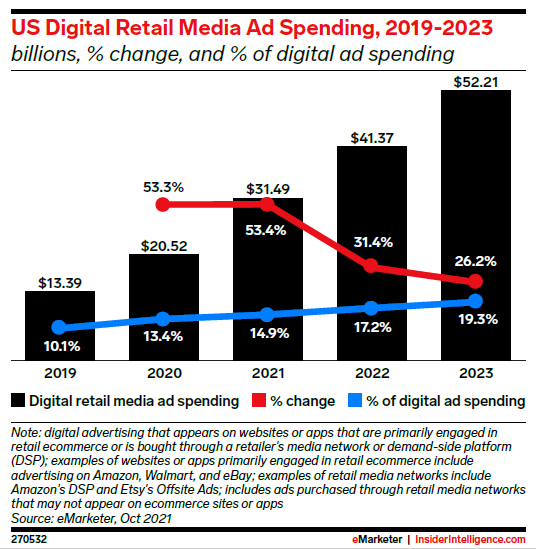 "We're seeing something like 50 retail networks launched in the U.S. alone already," said Jon Flugstad of McKinsey in a recent Retail TouchPoints report exploring the retail media boom. "Next year, [retail media] will be about $50 billion in media spend, which is about 25% of all digital media, and we're seeing forecasts of around $100 billion by 2026."
There are a number of reasons behind the rush to set up RMNs. First, there's the Amazon effect: retailers see how lucrative ad sales have been for the perennial disruptor ($31 billion in 2021) and want a piece of the rapidly growing action. Macy's RMN hit the market in 2020 and quickly generated $105 million in revenue in 2021. Then there's the ever-tightening restrictions on data collection and tracking, making it harder than ever to target and engage consumers via traditional marketing channels.
But there is one reason that tops them all — retail media offers a straight-line connection between ads and actual purchases. "Optimizing to transactions — that's the unlock here," said Quentin George, Partner at McKinsey and leader of the company's Commerce Media Practice. "What gives retail media networks an advantage over almost every major media owner is that you have transactions involved.
"For the last 80-plus years, media has been optimized around impression delivery — you reach the audience we said we're going to reach," George added in an interview with Retail TouchPoints. "The problem is, all of the optimization happens around marketing activity and not marketing results. What retail media aims to change is to draw a direct correlation between an impression and a SKU-level sale, [and that's why] this is so exciting and transformative."
For retailers looking to get in on the action, it's not too late, but any organization looking to move into advertising needs to first have the right foundation. This includes:
Deep, integrated data measurement and insight capabilities: "The core value proposition [of retail media] is the ability to measure the effectiveness of your marketing spend, so you need to have technology that helps you create efficiencies at scale, curate the audiences and make the data accessible in the right formats," according to Vihan Sharma of data enablement platform LiveRamp;
Shifting the brand-retailer relationship: When retail media enters the mix, brands are no longer just retailers' suppliers — they become their clients as well. This requires a shift in mindset and approach; and
A willingness to break down institutional silos: The introduction of retail media changes not only customers' shopping experience, but also shifts the dynamic of the traditional retail marketing ecosystem. While research shows that most retail media spend is net-new income, it would be naïve to think that launching an RMN won't impact co-op and shopper marketing activity, among others.
Download a copy of the Retail Media Handbook to dive deeper into what's needed to build a successful RMN, and learn how other retailers are creating relevant media activations that enhance the customer experience.