The ever-evolving roster of social commerce capabilities on the world's top platforms can be dizzying, with vast disparities between what is possible from one app to another and each platform fighting to keep up — both with consumers' expectations and each other. This week Twitter, Pinterest and Meta all made announcements about their social commerce ambitions and capabilities, just weeks after YouTube discussed its own shopping plans.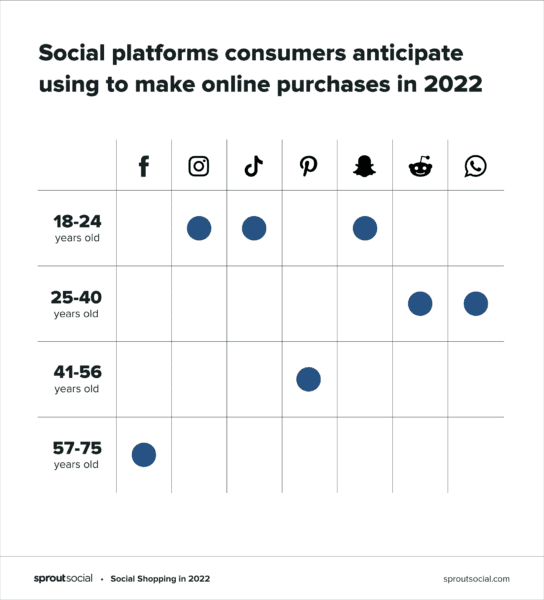 The race is clearly on to get a piece of what is expected to be a $1.2 trillion pie by 2025. For their part, consumers are ready and willing, with more than two-thirds (68%) saying they've already made a purchase on social media, and nearly all (98%) planning to make at least one social purchase this year, according to Sprout Social.  
As we dive into the latest social commerce updates from Twitter, Pinterest, Meta and YouTube, a few overarching themes are clear:
Live shopping is a nascent space that almost every platform is working toward owning;
Competition for users and merchants has always been fierce across these platforms, but now the battle for creators is heating up, with almost every company highlighting the ways they help influencers build and monetize their communities; and
Bringing more functionality into the app itself — most importantly the ability to check out — to remove friction from the buying process will be critical as social commerce comes into its own.
Twitter Lets Merchants Create In-App 'Shops'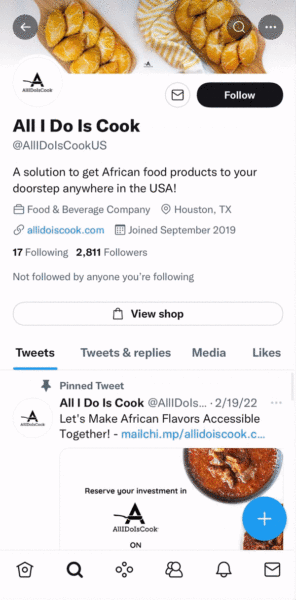 Twitter is testing a new free feature called "Shops" that allows merchants to showcase up to 50 products on their own in-app shop. The offering expands on Twitter's existing Shop Module, which lets merchants display up to five products directly on their profile.
"People are already talking about products on Twitter," said Twitter's Justin Hoang, Staff Product Manager, and David Lie-Tjauw, Product Manager, in a blog post announcing the new feature. "We want Twitter Shops to be the home for merchants on Twitter where they can intentionally curate a catalog of products for their Twitter audience, and build upon the product discussions already happening on our service by giving shoppers a point of action where a conversation can become a purchase."
Twitter Shops is available now to select merchants and managed partners in the U.S. and is already being used by Verizon, Arden Cove, the Latinx in Power podcast, Gay Pride Apparel and All I Do is Cook.
Bottom Line: For Twitter this move is less about revolutionizing social commerce and more about playing catch-up — Meta rolled out its similar Shops feature on Facebook and Instagram nearly two years ago (before the company was even called Meta). Still, the move represents a welcome emphasis on social commerce from the popular platform, which has been slower than some of its counterparts to jump on the bandwagon.  
Pinterest Makes it Easier to Shop, and Sell
During its second annual global advertiser summit, Pinterest highlighted a range of new and upcoming shopping and advertising features, including: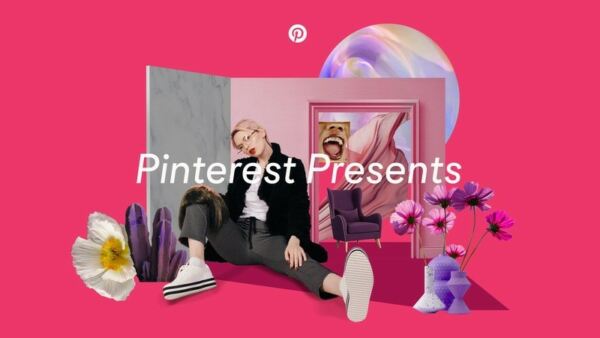 Your Shop — a personalized shopping space within Pinterest that offers up brands and products tailored to each users' individual tastes, based on their activity and preferences. Your Shop is currently in beta for U.S. Pinners and will launch to all U.S. audiences later this year, with more countries to come after that.
Catalog API — In order to have products show up in Pinners' Shops (and in other places across the platform), merchants have to have their catalog uploaded to Pinterest. Now Pinterest is making that easier with an API that automates catalog uploads and updates. This automation will enhance product detail accuracy, with things like sale pricing and out-of-stocks automatically registering on the platform. The Pinterest API for Shopping is available now for merchants to try.
In-App Checkout — This new native tool will let users complete an entire purchase on Pinterest without leaving the app, much as they're already able to do on other social platforms like Instagram. Checkout is now available in beta for select Shopify merchants in the U.S., and Pinterest said it will open up additional U.S. capacity later this year.
Idea Ads — Pinterest's Idea Pins are designed to hook users with immersive multi-page stories, and now retailers can turn their Idea Pins into Idea Ads to reach larger audiences.
Paid Partnership Tool — Pinterest has added a new way for brands to monetize their partnerships with creators — by allowing companies to turn creator-generated Idea Pins in which their product has been tagged into Idea Ads. This is a particularly smart way for Pinterest itself to monetize the growing trend toward user-generated content.
Merchant Details — Launched in late 2021, this feature allows merchants to categorize themselves under various values-based metrics such as "responsibly sourced," "inclusive" or "LGBTQ+ owned" to attract conscious consumers. Pinterest reports that brands with merchant details on their profile are 16% more likely to make a sale.
Updates to the Pinterest Trends Tool — already available for businesses in the U.S., Canada and the UK, brands can get access to trend insights based on Pinterest user stats. Coming this summer, the tool will introduce new features including like real-time search data, more trend types, more granular audience tools and personalized trend recommendations. Later this year the tool will also launch in additional countries.
Bottom Line: Pinterest surpassed $2 billion in revenue for the first time in 2021 and the company is clearly looking to double down on those gains. Pinterest's central differentiator in the social commerce landscape is that people come to its platform with open intention (97% of searches on Pinterest are unbranded) and leave with decisions. Discovery is alive and well on this app, and these new changes boost the chances of turning those unbranded searches into branded purchases.
Meta Showcases Social Commerce Successes
At a press event discussing the state of social commerce at Meta, the company's Yulie Kwon Kim, VP of Product Management for Facebook Commerce, drove home the fact that commerce is nothing new on Meta platforms. "Commerce has actually been part of Meta's business for years, starting with retail brands using personalized ads to reach customers," she said. "Also, for years people have used our apps to buy and sell things — from the early days of using their personal profile to post a photo with the caption 'for sale' to selling your coffee table on Facebook Marketplace, and now shopping styles from your favorite brands and influencers on Instagram."
According to Kwon Kim, more than 1 billion people globally visit Facebook Marketplace every month. She also highlighted new tools for communities and creators that were rolled out in Q4 2021 and made special mention of Meta's own Shops feature, which debuted in 2020. "Our strategy with Shops has been to make it as easy as possible for people not to just discover things they love in our apps, but also to make a purchase right then and there," she said.
For the year ahead, Kwon Kim highlighted four key areas of investment at Meta:
Helping businesses of all sizes, and creators, find customers and sell across its apps.
Democratizing access to technologies such as AR, messaging and personalization. "We've been doing this for ads, and now we're doing this for commerce," she said.
Cultivating an ecosystem for partners to realize the potential of commerce together.
Building the foundation for commerce experiences in the metaverse, including exploring ways to allow creators and businesses to sell digital goods and services.
Note the repeated emphasis on creators. Meta, like the other major social players, is clearly making its case that Facebook and Instagram are where creators need to be. "Our own research shows that creators will continue to play a critical role in the shopping experience," said Kwon Kim. "Over half of consumers get ideas of what product to shop from celebrities and creators, and 45% of online shoppers globally say they want to buy products promoted by creators directly on social media. We're giving creators more ability to earn a commission on products they recommend on Instagram. As creators' influence continues to grow, we expect to see increased prominence of monetization programs, such as affiliate marketing."
Bottom Line: Meta's social platforms have been facing headwinds lately with daily active users declining and continued fallout from the implementation of Apple's App Tracking Transparency feature last year. As the company's advertising and social dominance wanes, it's making the case that not only is it building a platform for the meta-future, but its commerce chops are seasoned and ready, unlike some of the newer players in the field.
YouTube Showcases Shorts, Teases Shopify Partnership
Google-owned YouTube is touting the success of its TikTok-competitor, Shorts — in a recent update, CEO Susan Wojcicki shared that since first launching the format in September 2020 the platform has served more than 5 trillion short-form videos.
Doubling down on short-form video isn't the only way YouTube is looking to compete with TikTok. "We're investing to make YouTube the next generation of commerce," said Wojcicki in the post. Where commerce is concerned, the focus at YouTube is on creator collaborations and livestreaming, which makes sense for the video-based platform.
Wojcicki highlighted the company's new creator tagging pilot, which gives viewers the chance to browse, learn about and shop products directly from YouTube videos. She also said testing was underway to add shopping functionality to Shorts, although she didn't share details.
YouTube also plans to expand its live shopping functionality this year following ongoing testing in the U.S., South Korea and Brazil. "We'll bring shopping to more creators and brands by partnering with commerce platforms like Shopify as we build a more interactive and entertaining experience for users," said Wojcicki.
Bottom Line: Once the only player in the online video game, the entrance of TikTok and subsequent video feature rollouts on other social platforms mean that YouTube has to fight for turf it once firmly owned. Finding ways to help brands and creators monetize their YouTube presence will be key to ensuring they don't abandon the platform for greener pastures.
Let's Talk about TikTok
While TikTok didn't formally make any new announcements this week, it's hard to talk about social commerce without mentioning the challenger platform, which seems to be giving everyone a run for their money (especially YouTube, with TikTok's videos now able to run as long as 10 minutes).
In September 2021, TikTok rolled out its own suite of commerce updates and it's safe to assume more are on the way. Smaller feature updates are clearly ongoing, evidenced by news such as KERV Interactive's recent integration into the TikTok Commerce Suite to help automate ad creation and optimization on the platform.
Bottom Line: With TikTok's ties to the digitally-forward Chinese market (its parent company is China-based ByteDance), this platform will continue to be one to watch for social commerce advancements, particularly in the arena of livestreaming.