Shopping has been happening organically on TikTok for a while. Case in point — #TikTokMadeMeBuyIt, which has entered the cultural lexicon and boasts more than 4.6 billion views and counting. What hasn't been happening much on TikTok is actual buying, until now that is. This week, the social media platform introduced a sweeping set of new tools and advertising products — including product links, live shopping and even a full-service commerce solution — all aimed at expanding TikTok's reach from culture and creation into commerce.
"The success of #TikTokMadeMeBuyIt and commerce on TikTok as a whole has to do with the fact that marketing on TikTok goes beyond the traditional funnel," Tao Baecklund, Director of Product Management at TikTok during the TikTok World virtual event for businesses and marketers. "Users aren't aggressively pushed from awareness to conversion through prescriptive measures. Instead, they quickly go through all the steps of the funnel that brands are familiar with. This process happens so quickly and in such an engaging way, users often repeat it several times in one session, going from discovery to action [and then] back out to their For You page to be entertained and discover even more products. This is how we know our platform is influential in the user's purchasing journey."
Moving from Influential to Instrumental
Now, TikTok wants more than influence, it wants to be instrumental in that journey. The platform announced a roster of new commerce partners, building upon its recently announced partnership with Shopify. New integrations with PrestaShop, Square, BigCommerce and Ecwid Ecommerce are all live now, with integrations for Shopline, Wix Ecommerce, Opencart and Base coming by the end of the year.
These integrations will make it easy for businesses to connect their product catalogs and build out shopping functionality on TikTok through their existing third-party ecommerce solutions. But they don't have to — TikTok also has announced a direct integration option that offers brands and retailers a full-service solution wherein TikTok handles everything from shipping to fulfillment to point of purchase. Beyond announcing the direct integration service, TikTok didn't provide much additional detail on how it would work. But if it's a good as it sounds, then the platform is setting itself up to be a 360-degree commerce solution for brands more akin to Amazon than other social networks.
Javier Irigoyen, Head of Product for TikTok Shopping also teased the impending launch of a TikTok Shopping API, which would allow businesses to integrate their product catalogs directly into the platform and eventually include those products in their organic content. That option is set to arrive later this year.
But that's not all. The platform also unveiled product links and live shopping, both of which will allow brands to feature specific items in their in-feed ads and livestreaming videos to drive users to product pages.
TikTok's timing is spot on, according to Terri Zimmer, Director of Content Strategy at the agile marketing agency Scrum50: "We have seen brands we work with treat TikTok as a nice-to-have in their plans and not a must-have because of the lack of ability to prove out an ROI," she said in comments shared with Retail Touchpoints. "Now that TikTok has gotten into the commerce game, albeit a little late, we anticipate a surge in brands testing TikTok commerce as the holidays are fast approaching. However, marketers will still need to maintain authenticity and develop content that feels native to the platform if they want to be successful in driving sales."
It's All About the Money, Which in Ecommerce Means Advertising
For most major digital commerce players, advertising is the prime money-maker — and TikTok is no different. In-feed ads are where the real shopping action happens. Gabe Nicolau, Director of Global Vertical Ad Solutions at TikTok described them at the TikTok World event as a "frictionless way of reaching consumers since they appear right in people's For You feeds."
"Frictionless" … the dream of every ecommerce player and yet so hard to achieve. Here are three ways TikTok plans to get there:
Collection Ads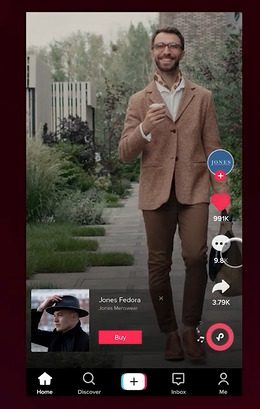 These ads allow brands to include product cards in their in-feed videos. Each card in a Collection Ad can feature a different product and when a user taps on an item featured in a card, they're brought to a gallery page where they can browse items and purchase.
Nicolau said this ad type will be an effective tool to drive traffic to a brand's website, feature seasonal deals, share limited-time offers, showcase top items or promote recent product launches. As an example, he pointed to online fashion retailer Princess Polly, which used collection ads to drive traffic to their website and saw a 5.98% return on ad spend (ROAS) and 54% increase on product page visits as a result.
Dynamic Showcase Ads (DSA)
This ad type allow brands to generate personalized video ads based on a user's activity, such as adding to cart or viewing a product, creating the kind of customized experience social media users love. Brands can integrate their product catalogs with the help of TikTok partners Productsup or Feedonomics.
If creating a series of personalized video ads sounds time-consuming, TikTok is addressing that by creating a series of templates to help companies create TikTok-specific content that will convert. "Many of our business partners have used tools similar to DSA that take photos of products and place them front and center in ads, but that really doesn't work on TikTok," said Yvonne Cheng, Global Creative Lead at TikTok, during the virtual event. "Here, content only performs well when it feels native to our community, which means audio, text overlays and engaging clips that all work together to tell an entertaining product story. We designed a suite of DSA templates that follow these creative principles. Showing up on TikTok doesn't mean plugging in creative that brands have made for other places. In order to really succeed, brands need to make content that's built specifically for this platform."
This indeed was a central theme at the event — that there is no such thing as plug-and- play for TikTok-optimized content. "[It's so important] to think TikTok-first when building out commerce products like collection ads and DSA," said Nicolau.
Lead Generation
This final ad type offers a way for brands to grow and convert their customer base with the integration of secure forms into in-feed video ads.
As an example, Nicolau showcased Lazada, an ecommerce marketplace in Southeast Asia. It ran a lead gen campaign to recruit more sellers to its marketplace with a series of videos explaining how people can make money on the platform along with a form for people to fill out if they were interested in becoming a seller. Within a week of the campaign nearly half of users who had filled out the form had started selling on Lazada, according to Nicolau.
Thinking Long Term
As the case studies imply, TikTok has been testing these new ad types in markets across the U.S., UK and Indonesia. And according to TikTok, users on their platform are 1.7X more likely to purchase products they discover in their app than those of their competitors. Irigoyen said the long-term vision is to create shopping functionality that lets brands of all sizes "tap into the enthusiasm of our user base.
"TikTok is a place where users and brands can connect directly and where an end-to-end shopping experience can happen organically," he said. "That's the basis on which we're building our long-term commerce vision."