Fresh off its rebrand, Meta has introduced a series of new tools to make shopping and buying easier on its flagship platforms Facebook and Instagram.
The company is aiming to commercialize its community features with new shopping tools within Facebook Groups and linked product recommendations, and also is expanding its livestream offerings with the testing of live shopping capabilities for creators.
"Gone are the days when shopping meant stacks of catalogs and infomercials; today we look to our friends, family, creators and groups we trust for inspiration," said the company in a blog post announcing the new features. "With more than 1.8 billion people using Facebook Groups every month, today we're introducing new ways to shop in Groups and get inspiration from friends and creators you trust on Facebook."
Here's a rundown of the new shopping tools available on Facebook and Instagram:
Shop in Groups allows Facebook users to buy products directly from groups they follow;
Product recommendations in Groups will display integrated product links when members ask for guidance on a product search within a Facebook Group;
Top Product Mentions are being introduced into the Facebook News Feed to help users discover products that were recommended by peers from groups they are a part of; 
Community Replies will allow users to see and respond to questions from people who are considering buying an item they've already purchased on Facebook and vice versa;
Ratings and reviews functionality has been expanded through integrations with Bazaarvoice and Yotpo to give users more information about products before they buy on both Facebook and Instagram; and
Users can now tag branded products they purchased in their Instagram posts, which will allow businesses to add user images to their Instagram Shop product detail pages.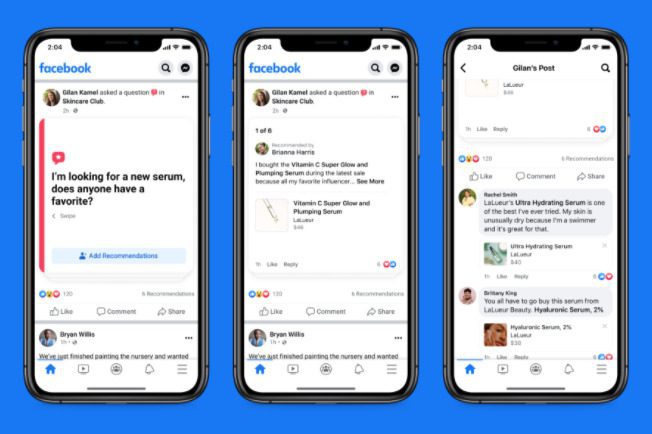 Meta also is continuing to dive into the livestreaming arena with new live shopping tests for creators. A number of brands, including Petco, are already trialing live shopping on the Facebook platform, and this newest initiative aims to expand those efforts to a broader audience.
Shopping is a huge piece of Meta CEO Mark Zuckerberg's vision for the future of his company: "Within the next decade, the metaverse will reach a billion people, host hundreds of billions of dollars in digital commerce and support jobs for millions of creators and developers," he predicted at a recent virtual event.  
And Zuckerberg isn't the only one who wants a piece of those billions of dollars of commerce transactions. Meta competitors also continue to roll out new features to draw in shoppers and their dollars:
OctoNation, a nonprofit working to educate people about octopuses, is already using Shops in Groups to engage with their members on Facebook: "Allowing our members to view and purchase OctoNation's products in a trusted space they were familiar with has significantly increased sales," said Warren Carlyle, founder and CEO of OctoNation in a statement. "Merch allows OctoNation to foster a stronger sense of community by giving group members an opportunity to display their love of octopuses, start conversations on a topic they love and recruit other members into our community."