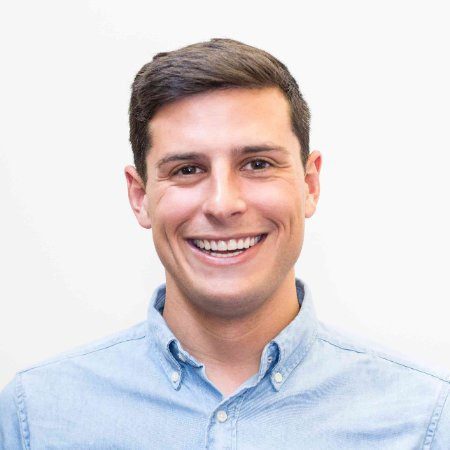 Pinterest is a social media platform and yet…it isn't. At the very least, the form it takes is very different from its counterparts: "Pinterest is not social media, although we are grouped in that category," said Dan Lurie, Head of Product, Shopping at Pinterest. "We've used different terms over time — at one point we talked about being personal media, not social media. We are a place for a user to plan for their future, to get inspired, so I think 'visual search engine' or 'visual discovery engine' is a better way to capture what we are."
Call it what you will, there's no denying the singularity of the Pinterest platform in today's digital landscape. To start with, the vast majority of searches on Pinterest are unbranded. Most people come to the app with general ideas or questions but no specific solution or product in mind — which is not to say they don't have a goal. Indeed, the defining characteristic of Pinterest users (a.k.a. Pinners) is their intent mindset. Unlike other social sites, where users typically log in without a particular aim and scroll through a feed, Pinners generally visit the platform with a specific purpose in mind.
These two traits make the platform a prime forum for social commerce, and Pinterest knows it. "We are trying to make every piece of content on Pinterest the starting point for a shopping journey," said Lurie. "We want you to be able to pivot into shopping from inspiration at any point."
Lurie spoke to Retail TouchPoints about how Pinterest is enabling that shopping "pivot" while still preserving the integrity of the platform, as well as its relationships with both retailers and Pinners.
Retail TouchPoints (RTP): What makes Pinterest so different from other social media platforms?
Dan Lurie: On Pinterest brands aren't competing with activity and photos from your friends. Pinners consistently describe Pinterest as a positive corner of the internet, which we love. Part of this is the mindset [the users] bring, because they're not necessarily posting photos of their family or political opinions. But there have also been intentional choices that we've made over time, from a policy perspective and a product perspective, to try to design positivity into the experience. Things like prohibiting political ads, medical misinformation and weight loss ads, and launching the Creator Code that enforces positive content from creators.
Unlike other platforms, 97% of searches on Pinterest are unbranded, and this is a great asset to our merchant and brand partners because it means that users are looking for inspiration, and they are looking to find new brands that can help them bring their ideas to life.
RTP: So where and how does shopping come in?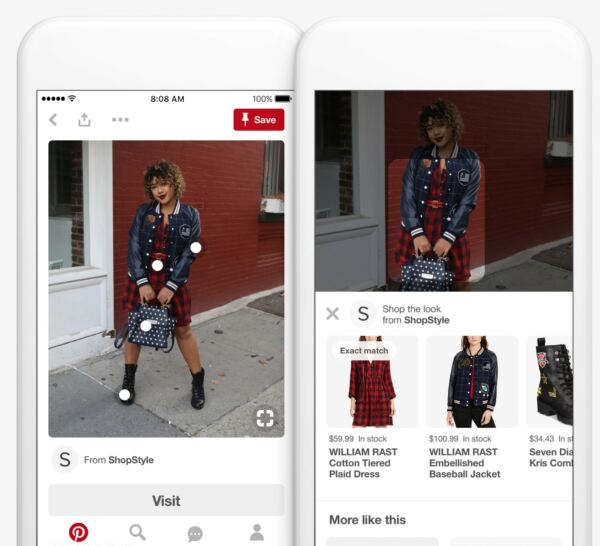 Lurie: There are some users that have very commercial intent when they arrive. Actually, for many years Pinners have asked for the ability to shop from Pinterest. But for many others it's more exploratory — they are looking to articulate and understand and refine their case, and then in that process they come across something that is just perfect and [they] get a spark to want to purchase. And that's what we're really trying to enable — we are trying to make every piece of content on Pinterest the starting point for a shopping journey, or we want you to be able to pivot into shopping from inspiration at any point.
We've been focused over the last few years on helping people go from inspiration to realization, knowing that a big part of that realization is discovering the products that you need to bring your inspiration to life. Fundamentally, our vision is that users can shop anything they see on Pinterest, or get personalized recommendations for something just like it.
RTP: Do you ever worry that the environment of inspiration and discovery that makes Pinterest so unique will be eroded by adding commerce functionality?
Lurie: We have to be really careful about some of the experiences that we build and ensure that they're always grounded in our mission around inspiration. I'm really optimistic because it is something that Pinners have been asking for for so long, and that gives me confidence that what we're building is solving a user pain point. But we do have to be careful about not over-commercializing the experience and protecting that sense of inspiration.
For example, there are a variety of fashion queries where a user might just be looking for styling inspiration, but our system could interpret it overly commercially and serve products to them. We have to build an experience where a user can send us the signal on what they're looking to do. Let's say somebody searches "fall shawl." Maybe we can first lead with inspiration from creators about how to style and wear a fall shawl, and then below that, if somebody is really intentful and wants to keep searching, maybe we start to embed products in the search results. We think a lot about that balance.
RTP: Pinterest has had a banner year, but it does look like the growth in MAUs [monthly active users] in the U.S. is leveling off — what are you doing to bring new users into the platform?
Lurie: We've definitely seen user behavior shift as we enter new phases of the pandemic — different use cases have surged and certain other use cases have receded — but what we've also seen is that shopping as a use case is continuing to grow and continuing to bring in new audiences. In the last year, we saw product searches [searches on the Shop tab, which features only products as opposed to other kinds of content] grow 100% year-over-year, and product searches by Gen Z — which is a fast-growing audience for us — grew by over 200% year-over-year. So we're seeing the use cases that really matter for our business continue to scale at a healthy rate.
RTP: What are some of the key new functionalities making Pinterest content more commerce-friendly?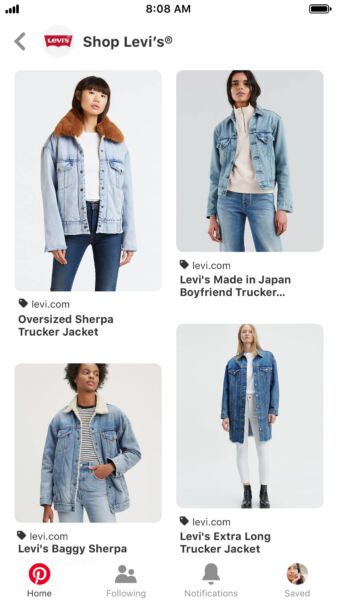 Lurie: It all starts by building a broad, diverse corpus of shoppable content, and that has come from things like our catalogs partnership with Shopify and the tools that we offer merchants to upload their [product] feed and build out their presence on their merchant storefront. Then with those product pins we can build really compelling discovery experiences. So for example if you come across a scene of a living room that inspires you, we can use visual search to identify products inside of the scene, either an exact match or things just like it, so that you're able to bring that scene to life. We've also built out services like the Shop tab in search for a higher-intent user who does come to Pinterest with a branded query, although that's not as common.
Both of these experiences will lead a user to a product detail page with all the information you need to make a decision — things like ratings and reviews and sizes and shipping policy. We want to bring all of the information into the app that merchants offer on their website to help people make decisions, which in turn helps us to send really high-quality traffic to our retail partners.
RTP: But for the most part the transactions themselves aren't happening on Pinterest, right?
Lurie: [In-app checkout] is in the pipeline. We just recently started testing it with a small subset of partners as a pilot, but the vast majority of traffic today is going directly to the retail site. We really want to be thoughtful about [in-app checkout]. We think there's a set of products where it's going to make sense for users, if it's a small enough price point or it's a "no regrets" product where it makes sense to have a really seamless, natural flow. There are other products, and a lot of products that some of our biggest partners sell, that involve more considered journeys. We want to make sure that Pinners really have all the information they need, and sometimes that will be best solved on the retailer's website.
RTP: What is the most effective way for retailers to use Pinterest?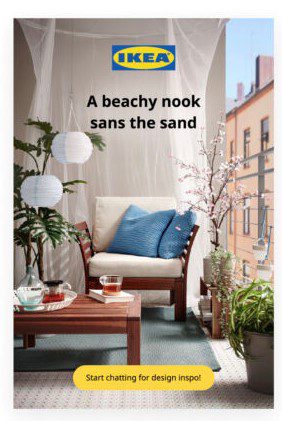 Lurie: They should approach it as an inspirational search and discovery engine with an engaged and willing audience, and not as a social media site. This means that they should be thinking about the breadth of products they can surface on the platform, as well as the inspirational content that can help introduce their brand to new users.
Anthropologie worked with Pinterest on an initiative to support their first-ever digital-only catalog, called AnthroLiving. And they're not just leaning into new digital catalog formats; they're also seeing success using shopping ads and optimizing their dynamic retargeting campaigns to get better performance. Similarly, IKEA created a custom, engaging quiz experience that took some of the guesswork out of what to buy for your home, and it ended with a board of recommended products. In both of those cases what you're seeing are retailers really trying to build to the Pinner mindset and meet users where they are.
RTP: Where do creators fit into the Pinterest ecosystem and everything you're developing?
Lurie: We think of creators as a modern day sales associate or modern day stylist — they help a user understand and articulate their taste and then find the products that bring that to life. In October we launched a few different things around Idea Pins, which is our newest content format for creators. It's our most inspirational content format that includes video and add-ons we call stickers. For example, one of those stickers is an AR try-on. Creators can tag their Idea Pins with this sticker, and then a user can try on, for example, lipstick, share that back with the creator and then purchase directly from the Idea Pin itself.
We've also launched the ability for creators to turn on automatic shopping recommendations in their Idea Pins. This is a "shop similar" feature, so we can recommend product pins that are visually similar to the content that's within the Idea Pin. And we want to help creators build their business as they inspire Pinners, so we've enabled the ability for creators to make money through product tagging with affiliate links, and we just expanded this to include Amazon sellers.