In the last few years, YouTube has seen huge growth in live video, with more than half a million channels livestreaming for the first time in 2020. And as on many other online platforms, where there's livestreaming there's live shopping. This holiday season, YouTube is promoting the commercial potential of its platform with its first-ever live shopping pop-up event.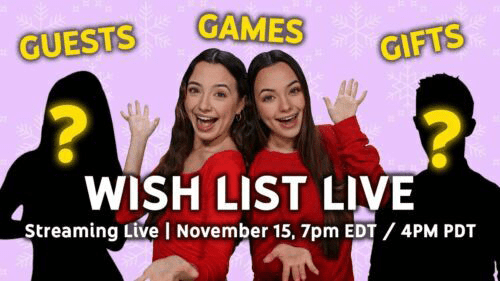 From Nov. 15 to 22, YouTube hosted the Holiday Stream and Shop — a week of shoppable live streams hosted by creators and brands. The event kicked off with The Merrell Twins, who featured products on their wish list for friends and family from partners such as Walmart, Samsung and Verizon. Other featured brands and influencers included Donut Media, Gordon Ramsay, Patrick Starr, Jackie Aina and MrBeast, selling new products and offering exclusive discounts. During the live streams, users were able to interact with creators and other viewers, access exclusive discounts and product drops, browse and check out without ever leaving the video.
"Over the past 15-plus years, YouTube has evolved from a place where people can upload and share videos to a destination for viewers to be entertained, learn new things and connect with their favorite creators," said David Katz, VP of Shopping at YouTube in a blog post announcing the holiday shopping event. "We've seen creators expand beyond the screen and into consumer products, many of which you can already find on their YouTube channels and through other retailers, and we're thrilled to be able to support them on the platform in new and exciting ways."
This wasn't YouTube's first test of live shopping – the company began a series of pilots and beta launches earlier this year, and has been rolling out various selling tools and functionalities for several years. YouTube, like other social platforms, is looking to boost its video commerce capabilities to capitalize on a selling channel that is expected to explode in the next few years. In China, livestream shopping will bring in an estimated $300 billion in sales this year alone, and Coresight Research estimates that the livestreaming market in the U.S. will reach $11 billion this year and continue to grow steadily, accounting for $35 billion in sales and 3.3% of all U.S. ecommerce by 2024.