"Livestreaming" is one of the buzziest terms of the moment in retail, but the live shopping concept has actually been around for decades, popularized in the 1980's by TV shopping networks like QVC and HSN. While the mechanics are much the same, the media have changed — instead of television sets, landlines and remote controls, live shopping is now happening on computers, tablets and smartphones.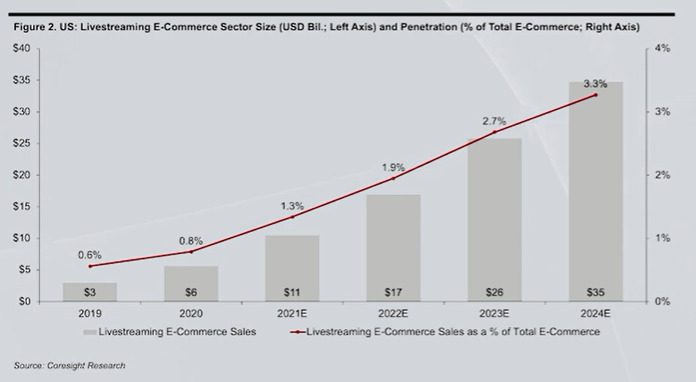 These devices are democratizing live shopping and leading to an explosion of growth. Coresight Research estimates that the livestreaming market in the U.S. will reach $11 billion this year and continue to grow steadily, accounting for $35 billion in sales and 3.3% of all U.S. ecommerce by 2024. Of course, that's just a drop in the bucket compared to the livestreaming market in China, which Coresight predicts will reach $300 billion in sales this year.
"Look at the ecosystem and timeline in China, and then see where we are in the U.S. — it is self-evident that there's a huge runway here in terms of the opportunity, and we've only just begun," said Deborah Weinswig, CEO and Founder of Coresight Research at a recent livestreaming event hosted by the retail consultancy.
The brands and retailers flocking to this opportunity are finding many benefits to livestreaming beyond just sales, including:
As a venue to build deeper, more lasting relationships with consumers;
As a more sustainable way to sell online, with return rates sometimes as much as 40% lower than more traditional ecommerce channels; and
As a sales channel that is increasingly available to all, regardless of company size, category or technical capabilities.
'Sell First, Entertain Second'
Livestreaming is proving to be a powerful customer engagement tool. "We think about it as a way to engage with customers in much more meaningful fashion," said Kim Tunick, Senior Director and Head of Brand Experiences and Partnerships for Walmart at the Coresight event.
"For us, [livestreaming] is about creating a sense of community and building brand trust," Tunick added. "It allows us to have valuable, fun two-way conversations with our customers and remove friction in their shopping experience. We approach it as: sell first, entertain second, but in some instances, depending on the product or host or theme, that might even flip."
The two-way nature of livestreaming explains why return rates are as much as 40% lower than traditional ecommerce channels, according to Coresight research: "Livestreaming is an opportunity to educate the consumer, which is why returns are so much lower — they actually know what they're buying," said Weinswig.
Coresight is such a believer in livestreaming that for the second year in a row it's hosting its own Singles' Day-style online shopping event. Dubbed the 10.10 Festival, this all-livestream event will take place, you guessed it, on Oct. 10 from 10 am to 10 pm ET, and feature retailers including Macy's, Guess?, Vera Bradley and Neighborhood Goods.
This year's 10.10 Festival is designed specifically to introduce the U.S. market to livestream shopping and give retailers and consumers alike the opportunity to explore and test the channel. The event will be held in partnership with live shopping platforms CommentSold and Smartzer and the 1:1 live video co-shopping platform GhostRetail, and also will feature a charitable component with participating merchants donating 5% of sales to partner charities.
5 Livestreaming Myths Debunked
Despite its clear advantages, launching into live shopping can still be an intimidating proposition. But as anyone who has done it can attest, today's technological advances have made it easy for brands to get started. Here are five of the most common misconceptions about livestreaming debunked.
1. Only big brands can livestream. (Wrong.)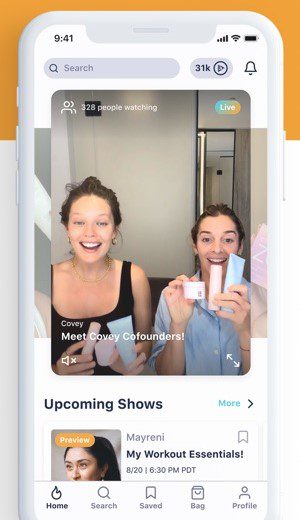 "The truth is businesses of any size can launch live video shopping," said Bao Arakov, Livestreaming Specialist for Coresight Research at the Coresight event. "Small- to medium-sized businesses can unlock great marketing potential reaching a targeted consumer in a very short time through these interactive experiences."
As an example, Arakov pointed to startup skincare brand Covey, which launched in March 2021 and debuted a livestreaming campaign in July on the beauty-focused shopping app Shop LIT Live. These kinds of niche livestreaming platforms can plug into larger social media networks and offer brands the chance to connect with a targeted audience that is more likely to convert.
2. Celebrities and influencers are the only way to drive conversion. (Nope.)
The ultimate key to successful livestreaming, and its power, is authenticity. While celebrities and social influencers with large followings definitely help bring in new eyeballs, Coresight's research found that they don't necessarily drive conversion. People more closely tied to the brand and product are often much more effective sellers — think store associates or brand founders.
"We have deep, rich stories, but we have difficulty telling them through the watch-and-read format of a website," explained Ric Kostick, CEO and Co-founder of the clean beauty brand 100% Pure at the Coresight event. "But put myself or one of our store associates onto a livestream and they can really dig into the detail of every ingredient."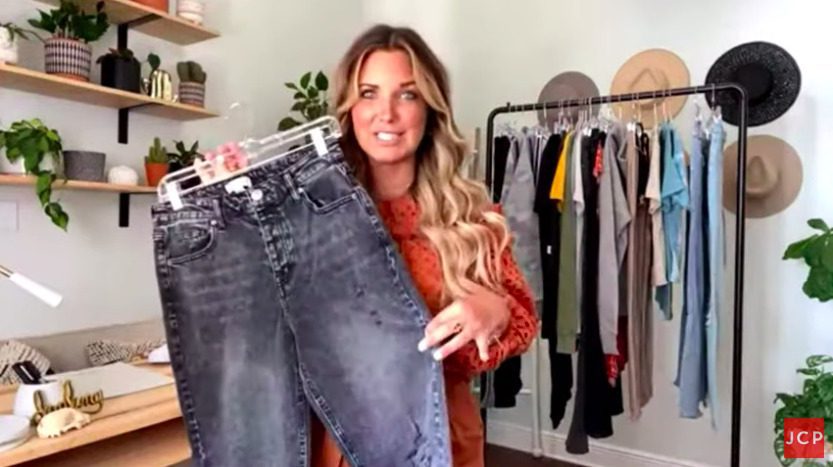 JCPenney is deploying this technique in its series of JCP Live shopping events, which feature store associates that specialize in the brand and products they're talking about.
That kind of detail isn't something a celebrity user of the brand would necessarily be able to address. "Authenticity is storytelling in this gorgeous, beautiful way that really gets the consumers emotionally connected to purchase or to think about purchasing in the future," explained Christina Liedtki, Found and CEO of the fashion brand Astouri at the Coresight event. "The more we can get people pulled together in a community and collaborate, that story just grows and grows, and people just really love it."
3. Only beauty and fashion brands can use livestreaming (Definitely not.)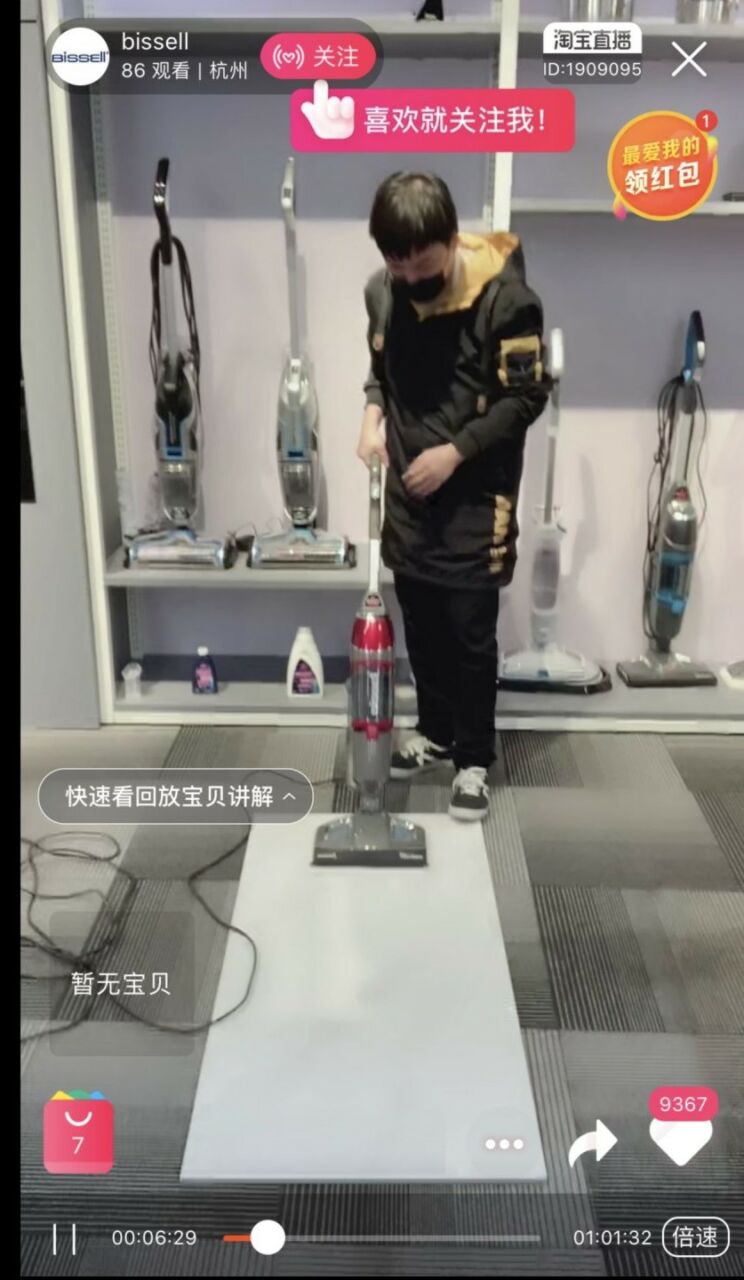 "Anything you can imagine can be sold on livestreams, particularly after the pandemic," said Arakov.
While fashion and beauty are the most popular categories among live shopping viewers, homewares and electronics are picking up speed. In a recent Coresight survey, 41.2% of consumers said they tune in to livestreams focused on home products, and 37.5% said they watch live shopping events for electronics.
U.S. floor care brand Bissell, which has long employed infomercials as a sales tool, has seen great success with livestreaming, as has LG Electronics. And Petco recently launched its own unique foray into the space with a pet fashion show on Facebook Live to promote dog adoptions.
[Editor's Note: Petco and Facebook executives will talk about their livestreaming experiences live at the upcoming virtual Retail Innovation Conference Nov. 16-17. Registration is now open.]
No matter what kind of product is being sold, the rules of good selling are the same for all, according to Lisa Mason, a jewelry designer and former QVC host: "We need to still connect with the viewer," she said at the Coresight event. "There is just one person you're speaking to. Even though you might have 10 million followers, you're speaking one-on-one with each person. Remember basic things like identify the item and describe it with rich, full words — 'the whisper-light texture of the moisturizer.' [On livestreaming], you hear a lot of 'I': 'I love it. I think it's great.' It should really be more 'you' statements. Paint the picture for her, put it in her life and then ask for the sell."
4. Social media channels are the most effective livestreaming channels. (Not always.)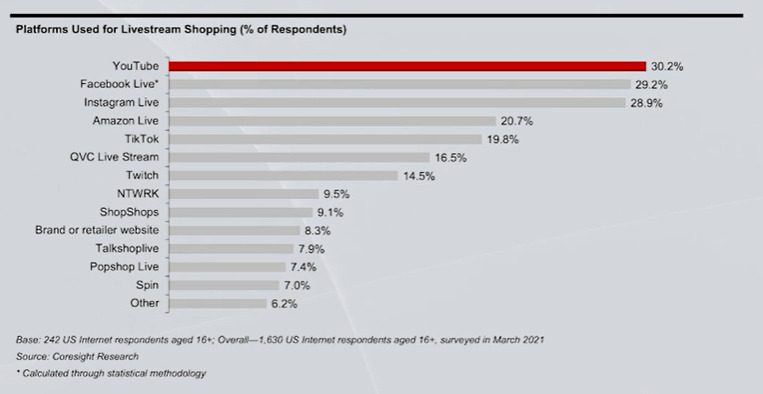 Social media networks are by far the most popular platforms for livestreaming, with YouTube as the top channel, followed closely by the major social media sites (Facebook, Instagram and TikTok) as well as Amazon Live. But a number of more niche platforms geared toward livestreaming also rank, including Twitch (focused on gaming), NTWRK (pop culture), ShopShops (brick-and-mortar brands) and PopShop Live (creators).
However, using these third-party platforms may not be the most effective brand strategy. Hosting events directly on a brand or retailer's owned site offers a number of advantages, most importantly the ability to gather insights and data on shoppers, including understand who's attending, what they're buying and how they're engaging.
Self-hosting also gives brands the chance to offer replays after the live event has aired. This is an important capability; Coresight research shows that 70% of sales from livestreaming happen after the event, on replay. Where brands seem to be having the most success today is hosting their livestreams on their owned site but also simulcasting onto social platforms.
5. Livestreaming requires a professional studio and video team. (Not anymore.)
While this may have been true when TV shopping was the only game in town, now all a brand needs is a smartphone and a bright light. In fact, in some cases livestreams that are over-produced can detract from that all-important element of authenticity.
"QVC is highly produced — we're in a professional studio, there's a director, a producer, backstage people, and we also have product that's been decided for us; in essence, we are simply a presenter at QVC," said Mason. "What is different with livestreaming is that [the host] gets to have more control, and it's a beautiful thing. The presenter can present not just the product but their personality in their home setting. People love it, they love peering into your life, they love that connection."