Recent headlines about Meta's Instagram and Facebook doing away with shopping features on their platforms might appear to be a retreat in the social commerce wars. In fact they are anything but — and with good reason.
Social commerce sales in the U.S. will hit more than $53 billion this year and experience double-digit growth over the next three years to reach $107.17 billion by 2025, according to projections from Insider Intelligence. This growth will be driven not just by an increase in new social commerce buyers but also by an increase in the average spend per user, with Insider Intelligence predicting that more than 114 million consumers will spend an average of nearly $1,000 a year on social purchases by 2025.
That's a lot of money to walk away from, and Meta isn't, especially as it (like everyone else) is being hit hard by declines in digital advertising spend. So while Meta has indeed removed some shopping features from its sites — most recently live shopping and the Shop tab on Instagram — these changes are more about shifting strategies than a signal of defeat. In fact, despite TikTok's momentum in the space, much of the current social commerce buying is still taking place on Meta platforms, with Facebook Marketplace in particular proving to be a social commerce juggernaut with no real competitor.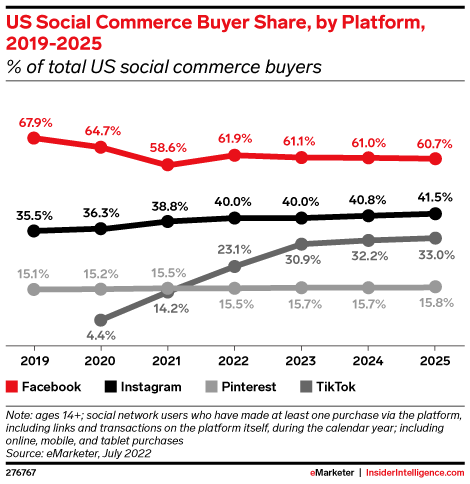 Take a deeper look at what's been happening in social commerce — at Meta and beyond — and it's clear that capturing and converting shoppers is still the crown jewel of social media for a confluence of reasons:
The revenue hit social platforms have taken in recent years from privacy updates and marketing pullbacks;
The fact that social commerce is still largely dependent on advertising products (as opposed to actually selling them);
The performance of "super apps" in China and how Meta is advancing similar functionality in its messaging products; and
Increased competition in the realm of short-form video, not just from TikTok but also YouTube and even Amazon.
How 2022 Upended Digital Marketing
While social sites have for several years now been trying to crack the nut of enabling commerce directly in their platforms, success has remained elusive, and advertising is still the primary vehicle for social commerce today.
So it's no wonder platforms are scrambling to address recent declines in ad sales even though it may be a losing battle, with macroeconomic headwinds and the impact of privacy updates permanently changing the world of digital marketing. In fact, the situation is so dire that Insider Intelligence downgraded its U.S. social network ad spending forecast by $16.21 billion, with a new projected total for the year of $71.05 billion.
For its part, Meta closed out 2022 with its first-ever year-over-year decline in ad revenue, and together Meta and Google ("The Duopoly" as they're known in the ad industry) made up less than 50% of all digital ad spend last year, something that hasn't happened since 2014. This year, the two companies' share of ad budgets is expected to shrink even further, to 44.9%. YouTube also reported an ad revenue miss in Q4 2022, with its $7.96 billion in quarterly revenue representing an almost 8% decline from Q4 2021.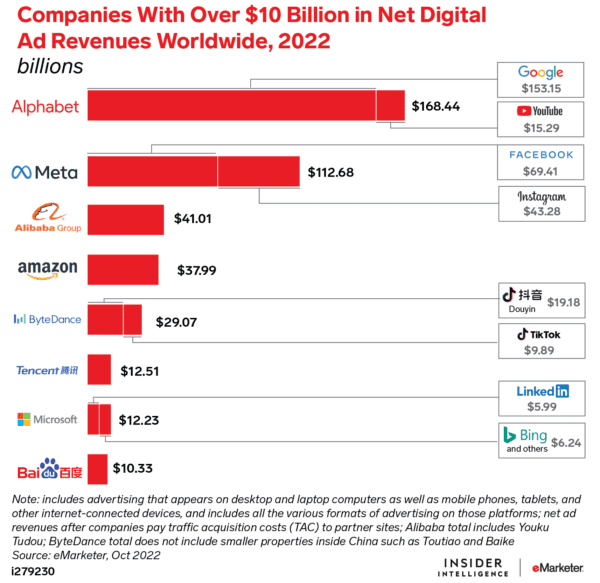 But while spending has been stifled due to economic uncertainty, it's not all gone — so where are advertisers shifting their dollars? Much of it appears to be funneling into TikTok and Amazon. Amazon's ad revenues in Q4 2022 were up a whopping 23% from a year earlier, to $11.6 billion, and TikTok also saw its share of the digital ad market increase.
But even with this increase, TikTok's total share will remain relatively small compared to that of Meta. Insider Intelligence predicts that parent company ByteDance's combined ad revenues across TikTok and Douyin will make up 5.8% of worldwide digital ad spend in 2023, while Meta will capture 19.4% — a decline from its peak of 22% in 2021, but still making Meta second only to Google and YouTube parent Alphabet in total share worldwide.
But Social Commerce is Still All About Advertising
Why does all this matter to social commerce? Because many of the ads on these platforms end up being the primary drivers of commerce activity. As such, these platforms have been investing a lot in creating new ad products that are specifically designed to leverage content on their platforms and drive conversions — from Meta's slate of Advantage+ AI-powered products to TikTok's recent updates to its Promote interface.
These ad-based offerings don't live up to the full potential of social commerce — where the transaction happens right there on the social media site — but they nevertheless have a huge impact on commerce and discovery. In fact, new research from SimplicityDX indicates that for every $1 million in sales that analytics tools report as generated from social, the actual sales number is likely to closer to $2.45 million. Put another way, it's almost impossible to measure the full sales impact of social media ads because most conversions don't happen on the social media site.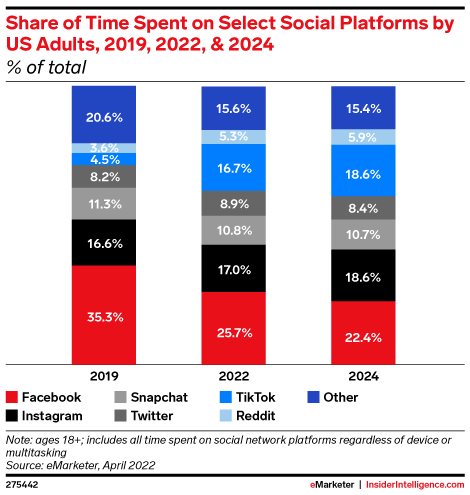 The SimplicityDX survey found that only 15% of consumers actually prefer to purchase on social media, and 86% reported issues when moving from a social platform to a brand site. So it shouldn't be surprising that 71% of shoppers who discover a product on social media don't click through the ad, but rather go to the brand site. All of which means that while social media platforms and the ads on them are undeniably a huge source of discovery for today's shoppers, the actual direct-line impact of that content is hard to nail down.
When looked at from this view, Meta's decision to do away with certain shopping-specific functionalities on its platforms takes on a different hue.
In January, Meta decided to remove the Shop tab from the main navigation bar in Instagram, then in February it announced that live shopping on Instagram would also be going by the wayside. And these moves follow a similar retreat from live shopping on Facebook in October 2022.
But here's the important thing to note — most functions of these products still exist on the platforms. Merchants can still create Shops on Instagram; it's just the shortcut from the home screen that was removed. Also, while users can no longer tag products in live broadcasts, they can still host live broadcasts and can still tag their products in photos, Stories and, crucially, Reels.
The bottom line: this is really all just a rejiggering to make commerce more integrated into the regular content on Instagram, which makes sense when you consider how most consumers use social media. Users don't go to Instagram and Facebook specifically to shop, which is why a designated shopping section didn't work. What they do do is discover things they might like to buy through the content and ads in their feed.
Case in point, Instagram CEO Adam Mosseri said in a Reel in January about the Shop tab changes: "You'll still be able to shop on feed, in Stories, in Reels and in ads. The idea here is to simplify Instagram and focus it more on what we're trying to do — we're trying to bring people together over what they love."
Much has been made of the fact that while Meta is removing shopping functionality, TikTok is adding it, but in fact TikTok is really just adding products that Meta platforms already have. These include a "Friends" tab, which lets people see only videos from people they're connected to (rather than the algorithm-driven home feed), and the November 2022 U.S. debut of TikTok Shop, its first in-app ecommerce feature that already had been available in a number of other countries.
Meta's recent moves are all part of what CEO Mark Zuckerberg is calling the company's "year of efficiency," focusing on making Meta a "stronger and more nimble organization." As far as commerce is concerned, this means doubling down on a few key areas of the business, including ads, video (a.k.a. Reels), messaging and, of course, the metaverse (otherwise the company might have to change its name again).
On the ads front Meta already is making gains. Zuckerberg noted in the company's Q4 and full year 2022 results, reported on Feb. 1, 2022, that "monetization efficiency" had doubled over the previous six months and advertisers had seen 20% more conversions than in the previous year. In particular, executives pointed to the new Shop Ads suite of solutions, which makes ads shoppable, and Click-to-Messenger ads, which link consumers directly to businesses via Meta's various messaging offerings, including Facebook Messenger, Instagram direct messages and WhatsApp.
The Hidden Grail: Messaging
Indeed, messaging services are an increasingly important, if often overlooked, commerce tool in Meta's toolbox. But even if messaging gets less press than some of the company's flashier moves, it's a central focus at Meta — and with good reason.
"We believe the world is increasingly becoming messaging-first," said Maz Sharafi, VP of Marketing and Growth for Meta's messaging businesses at a press event in late 2022. "Billions of people every day use our messaging platforms to communicate with their family and friends. Messaging brings together the scale of technology and the personal touch of face-to-face communication — those two things together make it a very, very unique platform for business-to-consumer engagement."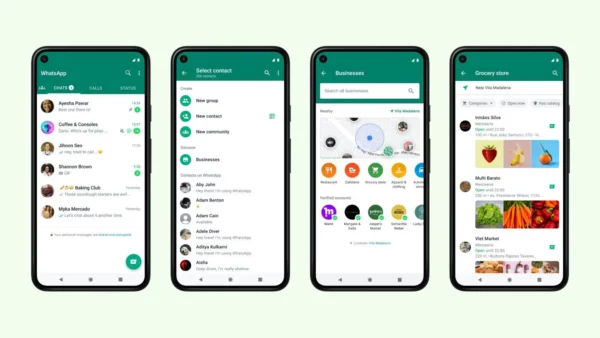 In November 2022, Meta rolled out a number of updates that will make it easier for users to find, message and buy from businesses on WhatsApp. Users can chat with the company, browse their catalog of goods and services and add items to a cart so the business knows what they want to buy. And soon, Meta also wants to make it possible for users to actually complete their purchases in the app itself.
Not to be outdone, TikTok also is expanding its own direct messaging features, mimicking many of the capabilities of Instagram.
But This Year, it's All About Video
While TikTok is rounding out its offering to bring its capabilities in line with that of other social platforms, there is of course one area where everyone is still chasing TikTok's lead — video. Among the top focuses for Meta this year will be its TikTok imitator Reels, and YouTube is seeing huge growth in its own short-form video offering, Shorts — enough to rival TikTok's dominance. In 2022, YouTube Shorts hit over 30 billion views per day, and late last year the company added a range of new shopping functionalities within Shorts.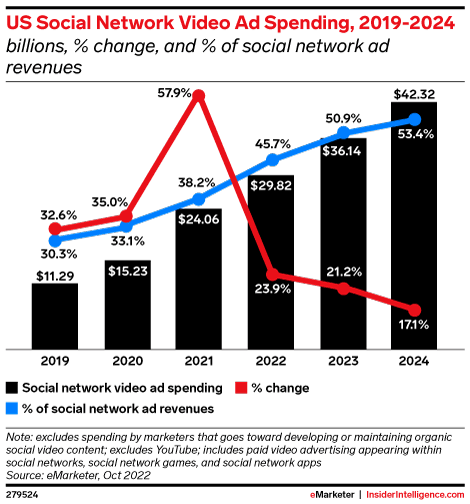 The incentive is clear — video now accounts for more than half of all social networks' ad revenues, and TikTok's popularity has proven that it's the preferred content format for those coveted younger consumers in particular.
Now competition is heating up to be the platform of choice for video creators. Beginning this month, Shorts creators can now take part in the YouTube Partner Program, which pays eligible creators a portion of the revenue the platform earns from ads that run in videos. To avoid an exodus of creators over to YouTube, TikTok is reportedly working on a new version of its own Creator Fund.
The issue of video revenue sharing is apparently "a delicate topic" at Meta, according to The Information, which reports a long-standing history of opposition to the idea of sharing ad revenue at the company. Instagram CEO Mosseri also is apparently worried about the Reels experience if it gets cluttered with too many ads. This makes for a tricky balancing act, since enough ads would have to run in order to make meaningful enough video revenues for a sharing model that would even appeal to creators.
So far, Meta is trying other tactics to help influencers "reach an audience, grow their communities and earn a living," including helping Instagram creators make and sell their own digital collectibles, expanding subscription capabilities and launching its Stars program, through which users can send creators Stars (worth 1 cent each) to reward them for content they like.
Even Amazon wants in on the creator video action. The company launched its own TikTok-style video feed called Inspire in late 2022, and to grease the wheels it reportedly paid creators to participate. Whether that compensation will continue now that Inspire is off the ground is unclear, but the bigger question is whether users will consume this kind of content inside the decidedly utilitarian shopping-driven ecosystem of Amazon.
And in the background…
There are of course other notable social media players that aren't as central to the social commerce conversation (yet), but certainly have potential. Here's a quick overview of where the rest of the field stands: