Meta has unveiled a suite of product updates across Facebook, Instagram and its messaging platforms aimed at bolstering its "discovery ecosystem" in order to help businesses "generate connection with customers, demand for products and interest in brands."
"Meta has built the most powerful discovery engine in history," said company VP Nada Stirratt at an event announcing the new offerings. "We help 200 million businesses reach 3 billion people. We help them discover new products, form new relationships, form new habits. And no other platform has the variety and sheer scale of ad formats to make that deepened connection. [But it is about] more than serving a really good ad. We're talking about deep business connections built on trust and shared interest. It's every video viewed, it's every shop visited, it's a transaction that is made, it's a message that is sent — you have to have the ability to layer all of these in the most cohesive way possible to strengthen that relationship."
Two key areas Meta is focusing on now to help businesses do that are creators and its messaging services, which include Facebook Messenger, Instagram Direct and WhatsApp.
New Ways to Connect with Creators' Audiences
Meta's TikTok competitor Reels is picking up steam, with the company revealing in its latest earnings that the time users spent engaging with Reels across Facebook and Instagram ticked up more than 30% in Q2.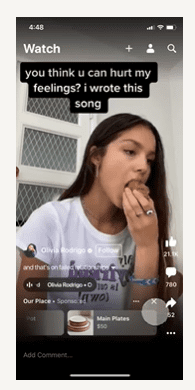 To capitalize on that, the platform unveiled two new Reels-based ad formats to help brands better connect with creators' highly engaged audiences (and help creators monetize that engagement).
Post-loop ads: Four- to 10-second skippable and standalone video ads that play after a Reel has ended. When the ad finishes playing, the original Reel resumes and loops again; and
Image carousel ads: Horizontally scrollable ads that can include anywhere from two to 10 image ads and will be shown at the bottom of Facebook Reels content.
Creators will get a share of revenue on ads placed on their Reels and also have the ability to block brands that they don't feel are a fit for their audience.
The new Profile Feed ad type on Instagram also aims to help brands tie directly into creator audiences with the ability to place ads directly in the Profile feed (the feed experience that people can scroll through after visiting another user's profile and tapping on a post). The new ad type is launching globally on all public, non-teen profiles, not just those of creators (although presumably the Profile feeds of creators who nurture specific audiences will be a particular draw for brands.) In the U.S., Meta will also begin testing monetization opportunities for creators on these ads.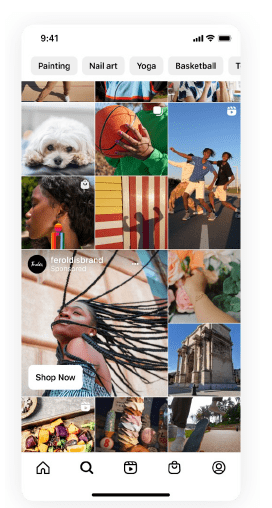 "What I'm hoping you take away from this is just the importance of creators," said Stirratt. "We now are the largest platform for creators in the world [with millions of] creators across our platforms and counting. Our goal is to be able to provide the tools and the monetization opportunities as you are continually growing your creator following across our platforms."
A few additional ad types focus on boosting discoverability for brands:
A new ad spot in the Explore homepage, which was previously ad-free; and
AI-powered multi-advertiser ads: when a person engages with an ad, Meta will now deliver a carousel of other ads underneath it that might also be of interest, powered by machine learning.
The New Way to Connect with Consumers: Messaging
Meta is also touting the advanced business capabilities of its messaging services, looking to bring more brands onto platforms like Messenger and WhatsApp for marketing, customer service and commerce.
"We believe the world is increasingly becoming messaging-first," said Maz Sharafi, VP of Marketing and Growth for Meta's messaging businesses at the press event. "I'm sure you all have been messaging all morning. As a company we have been investing in messaging for a long time on our consumer applications in particular. Now billions of people every day use our messaging platforms to communicate with their family and friends. Messaging brings together the scale of technology and the personal touch of face-to-face communication — those two things together make it a very, very unique platform for business-to-consumer engagement."
Click-to-Messenger ads take users from an ad in the Instagram or Facebook newsfeed to a messaging platform. Click-to-Messenger advertising is already a multi-billion-dollar business for Meta and with double-digit YoY growth rates it's one of the company's fastest-growing ad formats, according to Sharafi. In fact, of the 10 million advertisers on Meta's platforms, Sharafi said 40% are already using Click-to-Messenger.
Now Meta hopes to make those ads more effective for commerce with the introduction of conversion optimization for Click-to-Messenger ads. Typically, Meta shows these ads to people who are the most likely to initiate a conversation with a business on WhatsApp, Messenger or Instagram Direct. Now, brands have the ability to run Click-to-Messenger ads to reach the people who are most likely to make a purchase in a messaging thread, bringing Meta one step closer to "super app" status.
AR: The Bridge to the Metaverse
It wouldn't be a Meta event without some mention of the metaverse, although the focus on virtual worlds was surprisingly light (likely because most of those updates are being saved for next week's Meta Connect event.)
If anything, the metaverse was downplayed, with Alvin Bowles, Meta's VP of Business Ecosystem partnerships saying: "We are still some five to 10 years away from fully realizing what the metaverse can be, but even now we see real opportunity in the evolution. Brands today can experiment with AR, VR and the other component parts that make the metaverse possible. …That's the bridge to the metaverse in many respects."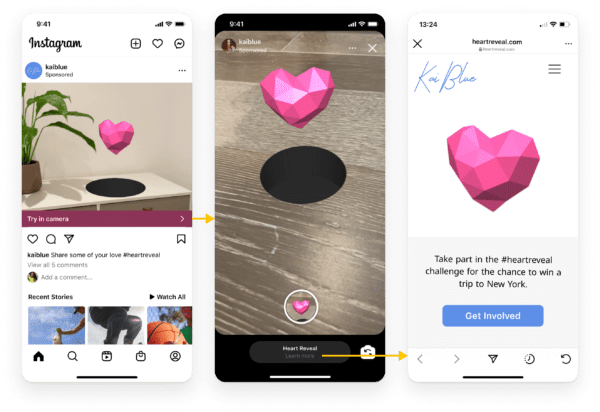 To continue the building of that bridge, the company has announced an open beta for AR ads in Instagram feeds and Stories, powered by Spark AR. "We want to make sure that consumers that are hungry for more content are leveraging this as we think through the best way for us to make more dynamic experiences," said Bowles. "The biggest thing for us to emphasize is, this is learning for all of us — we're learning from you all, you all are learning from us."
Toward that end, Meta also announced a new, free explainer course on the Metaverse that will debut on Coursera Oct. 27.
"It's just been a year since we talked about building for (not the) metaverse," Bowles added. "We're in an awareness stage right now. We're thinking through what [the metaverse] actually means and ensuring that this next iteration of the internet is one that's inclusive and collaborative."