Pinterest Co-founder, CEO and President Ben Silbermann is stepping down after 12 years at the helm, and online commerce expert Bill Ready — most recently of Google — will take over the role. Silbermann will remain with the company in the newly created role of Executive Chairman.
It's been a busy month for Pinterest, which just four weeks ago announced the acquisition of AI-powered shopping platform The YES in a clear push to enhance its commerce capabilities. Ready's appointment further drives home that ambition.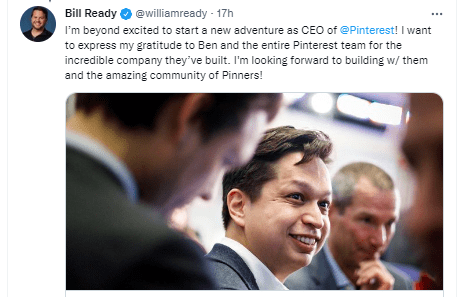 At Google, Ready oversaw the vision, strategy and delivery of that company's commerce products as President of Commerce, Payments and Next Billion Users. Ready's CV prior to Google is a veritable who's who of the biggest names in tech and payments: EVP and COO of PayPal, CEO of Braintree and Venmo, and serving on the Boards of Williams-Sonoma and ADP.
"In our next chapter, we are focused on helping Pinners buy, try and act on all the great ideas they see," said Silbermann in a statement announcing Ready's appointment. "Bill is a great leader for this transition. He is a builder who deeply understands commerce and payments. And he shares our passion for creating a positive corner of the internet. I'm confident he's going to be an outstanding CEO."
Pinterest, which currently has more than 400 million monthly active users, has been steadily building out its commerce infrastructure over the last few years, with shopping-friendly additions including:
That's not even to mention the recent acquisition of The YES, which will sunset its standalone site and instead see its tech integrated into the Pinterest platform to drive "taste-driven shopping" experiences.
"We are trying to make every piece of content on Pinterest the starting point for a shopping journey," the company's Head of Product for Shopping, Dan Lurie, told Retail TouchPoints in late 2021. "We want you to be able to pivot into shopping from inspiration at any point."
That goal, to be the "starting point" for shopping, is remarkably similar to how Ready's previous employer Google describes its own commerce ambitions — aiming to be a place of discovery and commerce enablement rather than actually owning the transaction. Also much like Google, advertising is becoming increasingly important on Pinterest, with the company reporting that advertising revenue doubled during the pandemic.
And that is why Ready's appointment makes so much sense for Pinterest at this juncture: "I am excited to build on that foundation to further scale the company's ecosystem and drive increased value for shareholders," Ready said in a statement. "Having built multiple businesses from zero and operated at the scale of billions of users, I have a deep appreciation for what it takes to scale a business like this to the next level. I look forward to working closely with Ben, the Board and the rest of the leadership team to capitalize on the many opportunities ahead and usher in Pinterest's next chapter of growth and success."