Pinterest is the place to go if you need inspiration for décor, cooking, home improvement projects, summer fashion…the list goes on. But when it comes to hunting for a new car, Pinterest isn't generally shoppers' first stop. It might soon be though, if Pinterest has anything to say about it.
The platform estimates that 8 million of its users (a.k.a. Pinners) are auto enthusiasts and 18 million Pinners have at one time or another been in the market for a new vehicle. Combine that with what we already know about Pinterest users' propensity to buy, and suddenly the platform doesn't seem like such an unlikely vehicle (pun intended) for auto sales.
"People come to Pinterest with a shopping mindset," said Kim Blommer, Automotive Industry Lead at Pinterest in an interview with Retail TouchPoints. "In general, Pinners spend 2X more than people on other platforms, so whether they are coming to look for new furniture or fashion or dinnerware, we see a lot of purchase intent. It makes sense that these same people would have an intent mindset even for vehicles."
That was certainly true for Healey Brothers Auto Group, which was the first automobile dealer to try out Pinterest's Catalogs feature. Catalogs allows merchants of all kinds to upload their active inventory directly to Pinterest and turn those ecommerce listings into dynamic Product Pins, making them more shoppable. In just three months, Healey sold more than 150 cars as a direct result of its Pinterest campaign.
"The data sets [from this collaboration] were eye-opening to us — we learned that a lot of our buyers are using Pinterest," said Jay Healey, part of the third generation of leaders at the family-owned auto group in an interview with Retail TouchPoints. "Once you know that you have a great audience, it's easy to tailor your messaging to that audience on the platforms they're on and stop using a shotgun approach to getting inventory out there."
Both Pinterest and Healey are pushing the boundaries of social commerce in their own ways — Healey is working to catch up to consumers in an industry that has been slow off the starting line when it comes to ecommerce. Meanwhile, Pinterest continues to evolve its unique approach to both social media and ecommerce, most recently with its acquisition of AI-powered shopping platform The YES and a content partnership with Tastemade. The results of their work together speak volumes about the potential for digital commerce efforts driven by an understanding of today's consumer.
Not Your Father's Auto Sales
Healey Brothers was founded in 1977 by Jay Healey's grandfather W.S. Healey, who started his career at General Motors. More than 40 years on, the company now boasts eight locations across New York's Hudson Valley region, with a ninth on the way.
In the time since Jay's grandfather launched the business, the car-selling experience has changed quite a bit: "Customers want a streamlined, relaxed process when purchasing a vehicle," said Healey, who currently serves as Digital and Social Media Director at the company. "No pushy salespeople with strong upselling techniques, running back to the manager's desk seven times to present new numbers. Our clients demand transparency."
To serve this new generation of clients, Healey Bros. has leaned into ecommerce. Not only can customers actually buy vehicles online if they want to, but they also have the option to complete many of the more tedious aspects of buying a car online — trade-in valuations, credit applications, tailoring payment options — but still come in to test drive and complete a purchase at the showroom.
"We also consistently tweak our advertising to match our processes, being as seamless and transparent as possible," added Healey, and that's where Pinterest comes in. For an industry with a time-honored tradition of more conventional advertising (think TV ads at Christmas of cars with big red bows), social media is a bit out of the industry's comfort zone, but Healey believes that's no reason to put on the brakes.
"Everyone is using a smartphone and they are on all these different social channels, often for hours daily," said Healey. "If you are not meeting the customer on one of these channels your message isn't getting to them effectively. TV doesn't allow for that personal engagement with the consumer like Pinterest does and it doesn't let you track the analytics, which is so important in today's business."
The Convergence of Car Sales and Social Commerce
Pinterest has been working with auto dealers for several years already to bring them onto the platform, so the company knows that "seven in 10 auto shoppers on Pinterest use it for final purchase decisions during their auto shopping journey," according to Blommer.
Another interesting factoid from Blommer — people are 2.4X more likely to purchase a new vehicle within the year following a major life event such as a wedding, having a baby or getting a new job, and life events are some of the "core use cases" that bring people to Pinterest.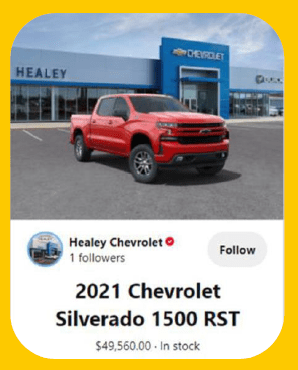 With Healey Bros., Pinterest did something it's been doing for years with other retailers but had never done before with an auto dealer — it ingested the company's catalog of vehicle inventory, to showcase across Pinterest actual cars that are for sale. The partnership was coordinated by Healey Bros.' media agency Dealers United, which worked with both parties to get the auto group's inventory uploaded and transformed into "Product Pins" that include details like the car's description, price and availability. Healey Bros. also used Pinterest's product feed feature, which automatically updates inventory data every 24 hours for greater accuracy.
"Pinterest has been working with retailers for years to ingest their catalogs, but we had never done it before with an automotive client, so this was really a new frontier," said Blommer. "As we see more and more ecommerce coming to the auto industry, it was only natural that we extend this type of experience on Pinterest, and Healey was a flexible and engaged partner in the process."
Over the course of three months, Healey Bros. sold 153 cars that it was able to track back directly to exposure on Pinterest. Not only that, but Healey Bros. noted a 43% decrease in its overall cost for every vehicle sold since starting the Pinterest partnership. While other factors also played into those savings , Healey "attributes a major portion" to the Pinterest effort.
Perhaps most interesting was that Healey Bros. found it was reaching lower-funnel shoppers — those nearer to making an actual purchase decision — on Pinterest, not the upper-funnel consumers one would expect on a platform seen more as an awareness and inspiration engine.
"In the beginning we thought it was going to be high-funnel traffic," he said. "However, we started to realize that because of the nature of Pinterest as a platform for planning, the user is more of an action taker, and the data backed that up. Pinterest users also tend to have higher incomes [than other social platforms], and we were able to meet and carry them to the finish line of a purchase by tailoring advertising more toward what you can do with certain vehicles, and then giving the end user the selection right on our profiles."