In the world of ecommerce, Google is a bit of an anomaly: while a relatively minor player in the marketplace landscape compared to giants like Amazon and eBay, it is at the same time central to the shopping journeys of millions of consumers every day.
According to Google, users shop across its platform more than 1 billion times every day, but only a fraction of them are actually buying products on Google — and the company is okay with that.
"We're indifferent on where the shopping journey ends, where that transaction takes place," said Matt Madrigal, VP and General Manager of Merchant Shopping at Google in an interview with Retail TouchPoints. "It can happen through Buy on Google, on a Google 'surface' [company nomenclature for its various products] or it can happen on a merchant site — we're indifferent."
What might sound like apathy — and indeed would be anathema for almost any other organization operating in the world of commerce — is indicative of an existential shift in the company's approach to ecommerce. After a few years trying to do commerce like Amazon, Google has decided instead to do commerce more like, well, Google.
The company's new approach to shopping — still only in its beginning stages, according to Madrigal — leans into its strengths. If the company can pull it off, Google has the potential to become the central conduit for online shopping quests, much as it is already at the center of information quests the world over.
Here's how Google is trying to do just that:
Returning to its roots as a collector and organizer of information, which in the case of Google Shopping means products;
Building a "comprehensive and compelling" product inventory that will drive site traffic (and advertising revenue); and
Working to "breathe new life into shopping experiences" with product enhancements that drive relevance and discovery.
'We're Not a Retailer, We're Not a Marketplace'
Back in 2019, Google was on a mission to get sellers on its Google Shopping "surface," and it looked like the company had ambitions of making a big marketplace play. But seller uptake was slow — at the end of 2020, Google Shopping had approximately 8,000 sellers, according to Marketplace Pulse. That's a drop in the bucket compared to Amazon's 1.7 million sellers or even Walmart's nearly 69,000.
So the company did what tech companies do best: it pivoted, from focusing on sellers to focusing on products. (This by the way is only the most recent of many pivots in Google's two-decade-long ecommerce journey.) In July 2020 Google eliminated commissions and fees, making it free for merchants to not only list their products on Google but also to highlight deals and discounts. Then in June 2021, Google forged integration partnerships with some of the biggest ecommerce solutions in the space — Shopify, Square, WooCommerce and GoDaddy — making it easier for the thousands of merchants using those platforms to make their products discoverable through Google. These joined previous integrations with the likes of BigCommerce, Magento and PrestaShop; and just today, BigCommerce expanded on their partnership with Google with the launch of a new Ads and Listings tool that lets merchants automatically upload and sync products in their BigCommerce store to the Google Merchant Center, as well as take advantage of Google Ads campaigns.
The end result of all these partnerships is a much lower barrier of entry for merchants looking to capitalize on Google's massive reach. In return Google gets to aggregate all that inventory, which inevitably drives more traffic and makes its core advertising business that much more attractive.
Google Commerce President Bill Ready couldn't have been clearer about the company's aim: "We're not a retailer, we're not a marketplace," he said in May 2021 on the Modern Retail podcast. "What we do want to do is make sure that on a Google surface, the user can discover the best products, the best values, the best sellers, and then seamlessly connect to those to those sellers. Most of the time, that actually means clicking out to that seller's own website; it is not our goal to necessarily keep the user on our platform."
For his part, Madrigal — who started at Google a little over a year ago after stints at Fanatics, Williams-Sonoma and eBay — said that the opportunity to "level the playing field for retail" was one of the key reasons he joined the company.
"I saw this really incredible opportunity to help digitize commerce, not only for online businesses but also physical stores," he said. "In my opinion, ecommerce has been pretty lopsided in the sense that the vast majority of growth in the past 10 years has really just gone to a couple of players globally. Google has always stood for a free and open web, and we want to extend that ethos to shopping. Our goal is to build a free and open commerce ecosystem, to provide more choice to consumers and also help merchants, especially small businesses, connect with their customers."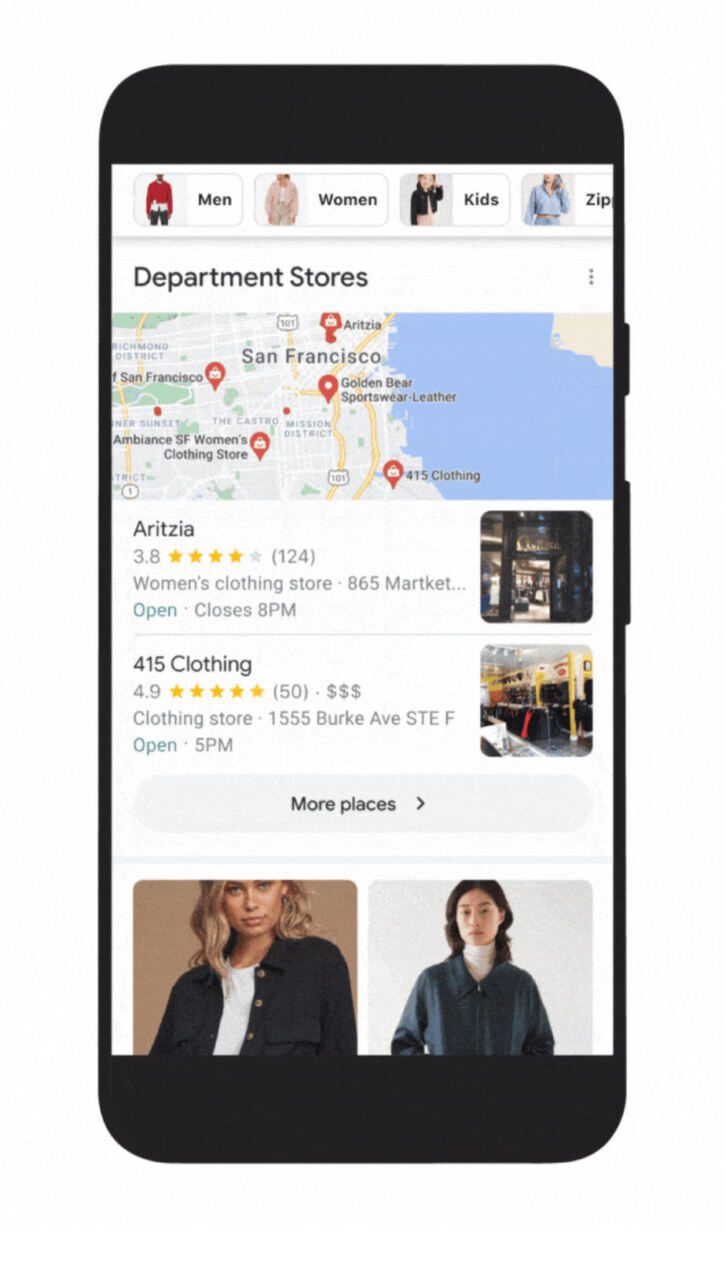 Google is in a truly unique position to do this, having already cornered the market on "organizing the world's information and making it helpful," as Madrigal describes it. The company has the mechanics of this gargantuan task down to a science, literally, and its numerous information repositories only serve to further its commerce ambitions.
Take for example all the local business data the company has already gathered and organized in Maps. This data is an invaluable asset in creating simple solutions for merchants to bridge the physical-digital divide, with local shoppers in particular, through things like "in-stock" product status.
"What we do best at Google is apply technologies on top of this incredible product database," explained Madrigal. "Now we can connect product information such as SKUs, ratings, reviews and real-time inventory availability, along with other important merchant information such as shipping time, promos and discounts, to match users with products for more than 24 billion listings."
Product Sales May Not Matter, but Advertising Sales Matter a Lot
Beneficial as this all might potentially be to merchants, it isn't altruism on Google's part. Through these initiatives, Google is building a vast product inventory. In fact, Madrigal reports that the size of the Google Shopping catalog increased 70% last year, alongside 80% growth in its merchant community. And that inventory will presumably do what inventory does, draw in shoppers (or as Google sees them, advertising impressions).
Advertising is, of course, the crux of all of this. Google Ads accounts for the vast majority of the company's revenue. However, after being the dominant force in the U.S. digital ad space for years, Google has been losing ground to one particular commerce-driven competitor, namely, Amazon.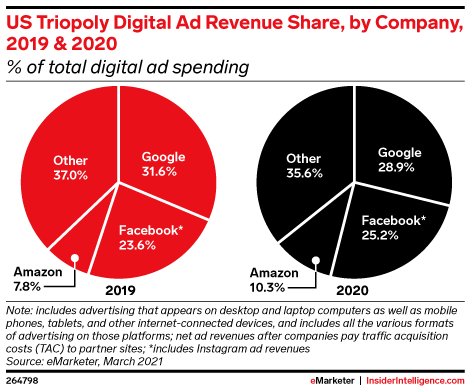 In 2020, Amazon took a little over 10% of U.S. digital ad revenue (up from 7.8% in 2019), according to eMarketer. Google is still very much in the lead, capturing 28.9% of U.S. digital ad revenue in 2020, but the company wants to keep it that way. Creating a compelling search alternative for shoppers is one very good way to cut into Amazon's advertising growth.
"These are all free products that are available to merchants for free and that consumers benefit from, but ads are a still a critical part of the deal, frankly, in the merchant shopping journey," said Madrigal. "What we've seen ever since we've gone live with free listings is that the merchants who use a combination of both free listings and ads see a 50% increase in clicks and a 100% increase in impressions. If a merchant wants to get more visibility, a product like Google Ads is certainly an effective way to do that."
Google's Growth Drivers: Relevance and Discovery
Now that it has an inventory flywheel in motion, Google is turning its focus to the shopper experience to keep the momentum going. In late September 2021, the company unveiled a series of Shopping updates and additions aimed at helping users get more relevant search results and bring back an element of discovery to the online shopping experience, including:
Bridging the gap between the physical and digital world with Google Lens:

Google Lens — the company's image recognition tool that lets shoppers take a picture or screenshot of something they see in the real world and find it online — is already used more than 3 billion times a month, according to Madrigal. Previously Lens was only available on smartphones, but now the company has integrated Lens into its Chrome browser. That means a user streaming a show on their computer can use the Lens tool to take a screenshot and see products similar to what the actress on the show is wearing. Also, within the Google app (on iOS only for now), every image in the main search results feed will now feature a Lens icon to let users instantly shop for similar products.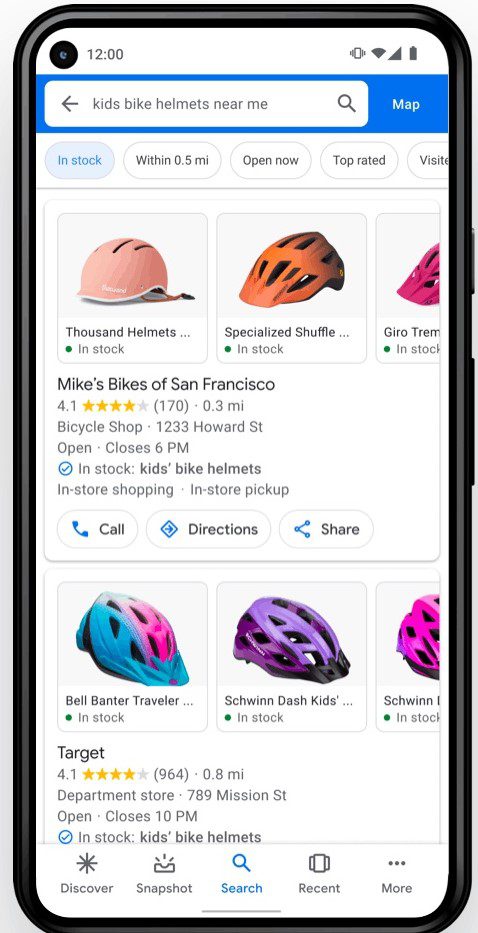 Making search more shoppable: Google has changed what shoppers see — that is, the composition of the results page — when they search for apparel on the main Google search engine. "Rather than seeing a long list of blue links, you'll now see a visual feed of products interspersed with relevant video content, style guides and more," explained Madrigal. When a user sees something they like, they can now click through to merchant reviews and ratings and compare prices. Right now, the change only applies to searches for clothing, shoes and accessories, but depending on its success, Google plans to look at expanding the format to additional categories.

Digitizing the in-store experience:

Within the Shopping tab, Google has added a new "in-stock" filter. Checking for local availability has become a top shopper request during the pandemic, with searches for "available near me" up globally by 100% YoY, according to Madrigal. "Not only does this give shoppers confidence that they'll be able to find what they need in the store, but it also creates a new way for small businesses to display their products to shoppers and helps shoppers discover stores around them," he said. Continuing to build out ways for physical stores to connect with digital consumers is a key part of Google's plan, "because we know that more and more people begin their in-person shopping experience online," said Madrigal.
"Shopping online is as much about inspiration and discovery as it is about the final purchase," said Ready in a blog post announcing this latest round of product updates. "Throughout the entire process — from the first spark of an idea to the final purchase — Google is helping to breathe new life into shopping experiences."
The jury's still out on whether this will also breathe new life into Google's commerce ambitions, but given the company's track record and the fact that Google is the most visited site on the planet, it doesn't make a whole lot of sense to bet against them.