If you spend any time at all on social media it's hard to escape influencers, and there's a good reason for that — they are incredibly compelling, both to consumers and advertisers. So it will come as no surprise that even after growing a staggering 42% in 2021, the influencer market is expected continue that trajectory in 2022 reaching $15 billion by the end of the year, according to projections from influencer marketplace Collabstr.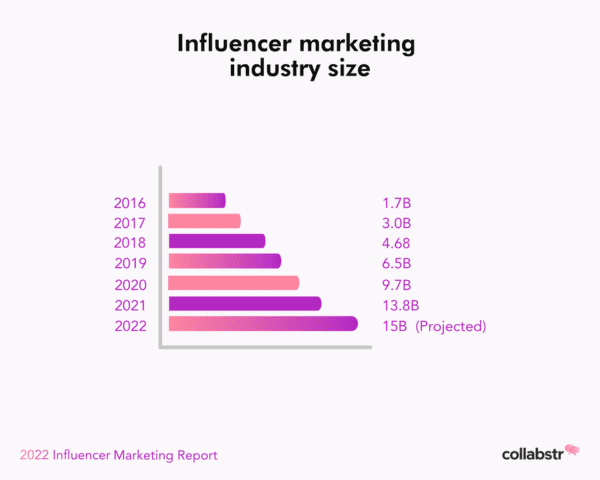 "These content creators own consumers' attention, so it's a really easy way to get your product in front of those consumers," said Kyle Dulay, Co-Founder of Collabstr in an interview with Retail TouchPoints.
A number of other market dynamics are also fueling this growth, in particular the rise of short-form video and enhanced data privacy restrictions: "When Apple released their iOS 14 update and essentially said, 'We're not going to give you (companies like Facebook, Snapchat and Twitter) the ability to track users like you have been,' this really hurt the way people advertise on those platforms — they don't have that data anymore," said Dulay. "So brands that were reliant on Facebook ads were forced to look for the next thing, and content creators have been that medium for them."
At the same time, short-form video content is exploding, driven first by TikTok and now spreading across other major platforms including Instagram, YouTube and Snapchat. Once reserved only for brands with large teams and budgets, video content is now easier to create than ever and as a result there's now an unprecedented supply of content creators in every niche imaginable. Not only have they created vehicles for this content, these social media platforms also have made it easier than ever before for advertisers to partner with these creators.
Here are few things to consider as you build an influencer marketing strategy for 2022 and beyond:
Instagram is still the top platform for influencer marketing, but TikTok is rapidly closing the gap and YouTube has its own unique utility;
There's a reason all the major platforms, even Instagram, are getting into short-form video — it's what consumers want;
Consumers also want authenticity, and brands are finding a multitude of ways to put user-generated content to work for them; and
Finding the right creators to work with is no longer about their number of followers, but rather about a creator with an audience or content style that aligns with your brand.
You Say Influencer, I Say Creator
While influencer marketing clearly isn't going anywhere, it might soon have a new name: the "creator" appellation  is increasingly taking precedence. What's the difference? The short answer is that not all creators are influencers.
"Platforms like TikTok have turned virtually everybody into a creator," said Dulay. "Before, you had to deliberately focus on this goal of creating content online, but TikTok has almost made it effortless — just download the content editor on your phone and start posting. An influencer is someone that has some sort of influence over a demographic of people or a specific niche. Influencers are all creators though — they create good content and that's how they gain their influence in the first place."
Instagram, TikTok and YouTube are Where it's At
As part of its 2022 Influencer Marketing Report, Collabstr broke down the top channels for both creators and advertisers, based on data from the 5,000 advertisers and 27,000 content creators on its platform.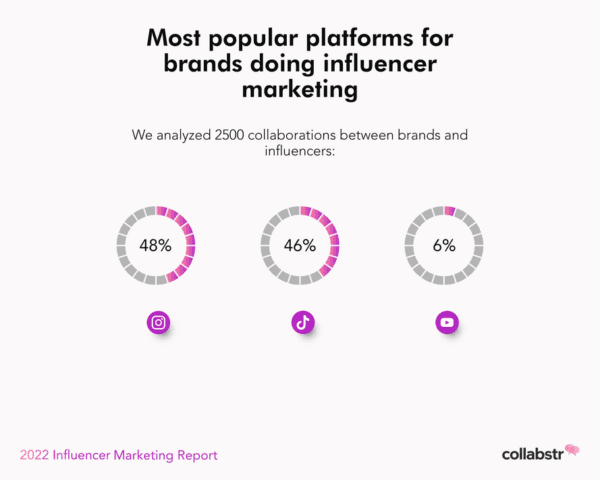 Instagram remains the most popular platform for both influencers and brands, with the report finding that 94% of influencers that are offering paid content services do so on Instagram (keeping in mind that many influencers offer services across multiple platforms). On the advertiser side, 48% of influencer marketing budgets were spent on Instagram in 2021.
TikTok is catching up though, capturing 46% of influencer marketing spend last year. That percentage looks set to continue growing, with a number of leading ad agencies signaling their intent to double and even triple their spending on the platform this year. TikTok also is closing the gap on the influencer side as well, with 64% of creators offering paid content services on the video app.
YouTube lags behind the others but comes in at number three in popularity, with 19% of influencers offering paid content services on the site, which is capturing 6% of advertisers' influencer marketing spend. But don't count YouTube out.
"TikTok and Instagram are volume platforms, they're like the fast fashion of social media," Dulay explained. "When you post something on TikTok or Instagram, the majority of the reaction that you're going to receive is in the first week or two, and it's very hard to discover that content after the fact. YouTube is not a place where you're going post and get a million views overnight, but it has longevity. That content on YouTube can live for decades. A lot of brands that advertise with content creators on YouTube have larger budgets, because it takes more effort to create a YouTube video than it does a TikTok video generally, and they're also thinking long-term. It's really just a different mindset — do you want the quick views and the virality or do you want the longevity?"
As other players enter its video turf, YouTube also is making changes to expand its appeal, both by moving into shorter content with its new Shorts format and making it easier for creators to monetize their YouTube content.
Despite its enormous reach, Facebook "is underrepresented in the whole influencer community because it's not really equipped to handle the new medium of content — video and audio," explained Dulay. "Facebook was a platform that went viral based on the ability to share text, and text as an advertising medium, or even as a medium to attract a following these days on any social platform, is essentially dead."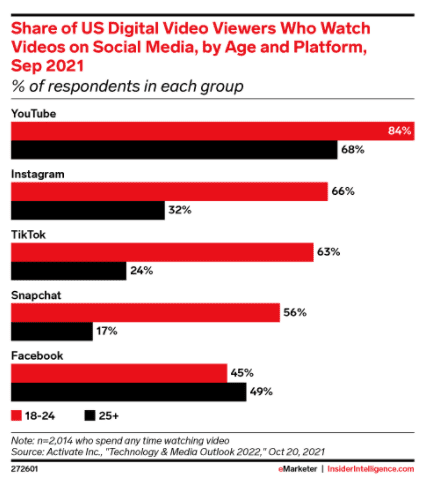 Yes folks, it's all about video now, and short ones at that. "Short video is really the new wave because it taps into so many of your senses," said Dulay. "Especially in this day and age, where everybody is fighting for consumer attention and attention spans are super short, short video does a good job of hooking people in and capturing their attention for that 15 or 60 seconds that you really need. Can we really say that text does the same thing? Or even photos now?"
All the major players are fighting for market share as short video booms, and they're compensating creators handsomely in the form of creator funds and organic reach. Even Instagram, a platform known for images, thinks video is the future: "Video is driving an immense amount of growth for all the major platforms online right now, and it's one I think we need to lean into more," said Adam Mosseri, Head of Instagram in a Twitter post last June. "We're no longer a photo-sharing app. People are looking to Instagram to be entertained, there's stiff competition and we have to embrace that."   
Demand for Authenticity Drives Growth of UGC
The actual content in these short-form videos also signals a shift in the kinds of marketing messaging that is hitting home with consumers. "Gen Z doesn't respect brand-owned content like older generations did," said Dulay. "Gen Z is much more likely to listen to other people when it comes to making buying decisions. People don't want to listen to brands, people want to listen to people. If somebody hears about a product from another person, especially a person they admire in some way, they're going to be much more likely to purchase that product."
Enter the era of user-generated content (UGC) — sponsored content featuring an influencer that is generally unscripted. Unlike the more traditional sponsored post, UGC will not necessarily be posted by the influencer on their own feeds (although it can be).
According to Nielsen's Global Trust in Advertising Report, 92% of consumers say they trust UGC over all other forms of advertising. In fact, brands are seeing so much traction with this kind of content that they are repurposing these influencer videos for other channels, such as their website and in advertising campaigns.
"It used to be: I'm choosing this influencer and I'm advertising to their audience, but what's becoming more important these days is: I like this influencer because of their content, not because of their following," said Dulay. "Let me hire them to create this nice piece of content for me and I'll put my own money behind that content to get the views and impressions for myself. This industry is becoming more about finding somebody that can create good content for you. You don't have to worry so much about the followers or engagement anymore, because these platforms have built-in features now to help you get in front of those people that you want to target."
Tips for Working with Creators
As it grows, the world of influencer marketing is becoming much more sophisticated and nuanced. To create campaigns that perform, Dulay offered three tips:
1. Know what your goal is.
"Influencer marketing isn't what it was in 2013 or 2014, where you gave someone a product and they sold it for you," Dulay said. "There are so many different ways that you can leverage influencers these days, but you really need to narrow down what your goal is. Is your goal to get more brand exposure or conversions? Do you want the influencer to post or do you just want them to create a piece of content for you? Where do you plan to use that content? You might not even want to run it on social media. Maybe you want to use that content on your website to increase conversions on your checkout page."
2. Make sure the creator knows what your goal is.
"When brands put effort into the planning of their campaign, they have such an easier time working with content creators," Dulay noted. "Create a campaign brief with photos of your product, a description of your company, a description of what you're looking for from the creator and content examples. Be very clear about your intentions as a brand and explain it as if this person has never heard of you before."
3. Look for the right creator, not the biggest.
"Maybe the right creator for you is someone with a specific audience or maybe it's someone with a specific content style that matches the aesthetic of your brand, and you don't even care about their audience," said Dulay. "This world of content creators and working with influencers goes far beyond followers and engagement. When you understand that, you can really leverage content creators to do a lot for you."