First the good news: 75% of retailers believe customer-centricity is a "top three success factor" for 2009 and 80% of retailers expect an increased focus on consumer centricity this year, according to IDC's new "The State of Customer Centricity" study. The reality check from the study, however, shows a gap in retailers' ability to "walk the walk" on customer-centricity, as IDC found the limited availability of financial and human resources still blocks 37% of customer initiatives.

The study, sponsored by DemandTec and Precima, found that retailers need help with segmenting customers, identifying most profitable customers, and overall customer quality. The study found a significant difference between "high performers" and the rest of the pack when it comes to collecting the customer data that will inform key initiatives. The high performers use consumer insights more frequently in sales/merchandising (80%) compared to the norm (60%) and share data to strengthen trading partner relationships (53%) at double the average rate (24%).
"Customer-centricity can mean many different things to many different people," says Leslie Hand, IDC Research Director, Global Retail Insights. "This study shows that the high performers have the clearest understanding of customer centricity, and the highest expectation from adopting it. They generally understand that customer-centricity will mean implementing the proper technology to produce good data and make good decisions from it."
Hand's comment begs the question: What do retailers mean by "customer-centric?" The report found that retailers want to make better decisions by cultivating and then disseminating customer data. Those decisions need to made on marketing, pricing, promotion, and space assortments. They measure success through increased sales (92% of respondents) total number of customers (92%) in-store promotional response (84%) and customer retention (84%).
Although it is not explicitly stated in the report, Hand expects technology to be a bridge between customer-centric expectation and execution for retailers. The key issues are finding the money for that technology and the personnel to manage it. "A lot of retailers are looking to host their own implementations, but an increasing number are impementing hosted applications to reduce risk and capital requirements." she says. "Most retailers can use store level customer data. They need to consider how they can synthesize different types of data inputs. They need to look at their ability to take data from suppliers, internal customer behavior, and market research and ask whether they're able to do that on their own, or do they need to look for outside help."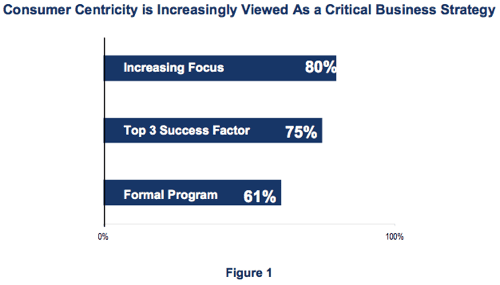 For the future, Hand is encouraged by the use of cross-channel data from many retailers. That data is improving customer experience through what she calls the "OmniChannel" approach that prioritizes consistent, seamless experiences for online and offline interactions, therefore raising the experience level for the entire brand. She also supports the personalized approach taken by retailers such as Best Buy and recently Macy's.
"Retailer's walk a fine line with localization because they don't want to confuse or overcomplicate the customer experience," she says. "Localization calls for different pricing structures and product assortments. It can really make the customers feel like the retailer understands them, but it will only work if it's done right. For it to be done right, the technology has to be done right."
Although the findings showed concerns about funding, Hand believed they were positive overall. That was echoed by Marc Dietz, vice president of marketing at DemandTec. "This survey confirms that retailers and consumer products manufacturers have become more consumer-centric for several years and are serious about committing to this type of initiative," he said. "Given the difference between top-performing retailers and the rest of the pack, it is interesting to see the tremendous opportunity for additional investment and improvement."