Jacob Hawkins knows a lot about Gen Z, not just because he's spent almost a year as the Chief Marketing, Digital and Omni Officer of Forever 21, but also because he has a 17-year-old daughter. Here's one thing he's learned about that generation, both at work and at home — they want what they want when they want it.
"My daughter lives in technology. For that generation, this," Hawkins said holding up his cellphone, "is just who they are, and they demand a great experience — they want it now, they want it easy, they want it fast and they want it secure. Even if you have great product, if you have a terrible experience, there are plenty of other people out there with great products. You've got to have great product and a great experience."
Easier said than done, especially for a brand that is still working its way back from the brink. Now owned by brand management firm Authentic Brands Group and operated by SPARC Group (a joint venture between Authentic and mall operator Simon Properties), Forever 21 has spent the last few years refining its image and business model to avoid a repetition of its 2019 bankruptcy. Hawkins — who was hired in February 2022, just one month after former Paper Source CEO Winnie Park was appointed to lead the brand — is central to that effort.
"We've done a lot of brand studies and our brand image with Gen Z is very, very strong, so we don't have an issue with brand image," said Hawkins in an interview with Retail TouchPoints. "We don't have an issue with awareness; our customer knows who we are, and if we have the products she's looking for, she interested. So for us it's really about getting the right products to her at the right time."
Hawkins' job is to actually deliver on all those buzzy retail aspirations — omnichannel, seamless, frictionless — and fast, because if there's one thing the mobile-first Gen Z shopper is not known for, it's patience. To do it, Forever 21 is:
Making significant investments to align its digital and physical channels;
Enabling fast, frictionless checkout;
Meeting Gen Z where they are, on social media, to drive discovery; and
Listening to its customers to evolve its brand in line with their expectations.
Everything, Everywhere, All at Once
The first step in any omnichannel journey is to intertwine the physical (store) and digital (website, app) worlds of a brand. Forever 21 has done this, merging its online and offline inventory, promotions, pricing and creative so that "everything is available, visible and consistent" no matter what channel a shopper is currently using.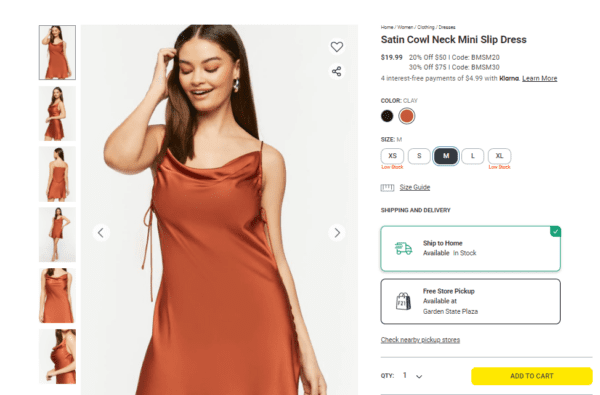 Anyone who has entered a Forever 21 will know what a herculean task that must have been. Even compared to other fashion brands, Forever 21's inventory is vast and changes almost daily. But now, a Forever 21 shopper can check the availability of a product at her local store from the Forever 21 app or website. If she's in a store and they don't have her size, she can order it right there and have it shipped to her, or to her store.
"This is the piece that gets me excited, because our customer lives on social media," said Hawkins. "We just did an event with 100 influencers at our Hollywood store. They're posting wearing all this Forever 21 product, and a girl that follows that might say, 'I've got this party tonight that I want to wear that to.' A lot our competition is online-only, and one of the advantages that we have is local inventory near them in our stores, so that girl can go to the app or the website, find that product and actually filter to see what's in her local store. She can buy it right there, then she can go to the store within an hour and have it for the party that night."
A true omnichannel experience like this is the goal of almost every retailer today, but the key to actually pulling it off is prioritization, said Hawkins. "It's about really taking the time and saying 'no' to a bunch of other things so you can say 'yes' to these important omnichannel things," he said.
While this might be more pressing for brands like Forever 21 that serve a young demographic, Hawkins believes it's critical for all brands to tackle, and sooner rather than later. Before joining Forever 21, he was the Chief Marketing and Digital Officer at Belk, where "our core customer was 63 years old and some didn't even have email." But he said the retailer pushed for digital transformation anyway because "we wanted to be around for the next generation and the generation after that."
When 43 Seconds = an Online Eternity
Hawkins believes any great omnichannel experience must nail three critical things: having the right product, making it easy for customers to find that product, and then making it easy for them to purchase.
When it came to the last piece of that puzzle, Forever 21 turned to one-click checkout solution Bolt in late 2019, right after finishing its website replatform onto Salesforce. The goal was to enable fast, secure transactions across all devices (critical for Forever 21's mobile-first customer base).
In March 2022, the partnership with Bolt made headlines, although not for the reasons either partner may have hoped. Forever 21 owner Authentic sued Bolt for failing to deliver on its promised technology, among other allegations. However, the lawsuit may have been more about corporate politics than actual performance — Business Insider reported that the legal wrangling was really an attempt by Authentic to claim a stake in the startup, which it got when the suit was settled.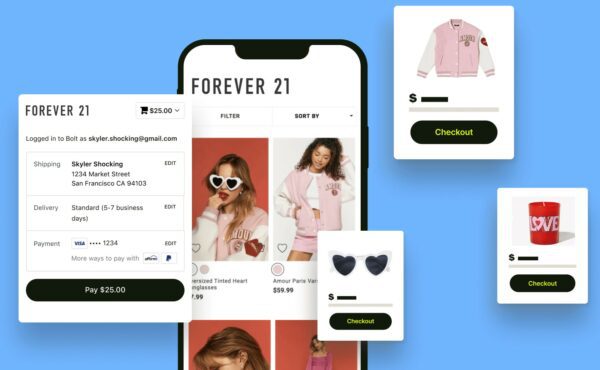 Despite the high-profile legal dispute, Hawkins said there was "never an issue" from an operational standpoint. "There were some things between our owners and Bolt that they were working out. Now it's been worked out and that's all behind us," he said.
To prove that statement, Forever 21 is now sharing the results of its Bolt integration, which has provided some notable performance enhancements for the retailer. Not only was Forever 21 able to reduce checkout time by 43 seconds (when compared to the guest checkout experience), but the checkout completion rate with Bolt checkouts is 63% compared to 40% for guest checkouts. "Why is 43 seconds important? One of the reasons is you see a completion rate that's more than 50% higher," said Hawkins. "For an online customer, 43 seconds at any step in the process is actually an eternity."
Hawkins also pointed to the flexibility and security of the Bolt solution. Bolt's universal shopping cart allows customers who have set up Bolt with one retailer to access simplified checkout at all other Bolt-enabled retailers, which Hawkins said helps Forever 21 acquire new customers. Bolt also handles Forever 21's fraud approval process, making transactions more secure for the retailer as well as the customer.
"We do all this work to get in front of customers to help them find the right product, so having a completion rate that is 63% versus 40% is huge for us," Hawkins said. "And then having 99% of the orders that get placed go through and be fraud-approved, and not have issues with fraud, is a really important piece for us as well."
Meeting Gen Z Where They Are
Lest we forget in all this talk of omnichannel operations, Hawkins also heads Forever 21's marketing, and efforts on that front also have been a big part of the brand's transformation strategy.
As with any brand that serves younger consumers, social media and influencers are at the core of that strategy, with Hawkins saying the brand is now going "really hard" after social media audiences, in particular on TikTok and Instagram.
"We have a tops down, bottoms up approach with social media," Hawkins explained. "Historically for our big seasonal campaigns we would bring in models; now we go out and find influencers. And as we're doing the shoots, they also are doing their own shoots. They've got videographers filming, we're filming, we're all filming, and so now instead of just capturing still photos we're capturing video. Then all of that is getting pushed out through the influencers' channels and our channels."
These seasonal campaigns are just one part of Forever 21's influencer marketing strategy, which also sees the retailer engage with a wide range of creators to shop and post about the brand throughout the year. And layered behind all this content is another big investment the retailer recently made — a new customer data platform.
"We do all this work with social to get in front of the customer at the top of the funnel, and when they come to the site, we want to recognize who they are: if they've shopped with us, we want to know what they purchased, what categories are important to them, what type of fashion they like, etc.," said Hawkins. "Then we can personalize that experience and make it faster for them to find items they'll have an interest in."
Gen Z Wants More (Inclusivity and Sustainability)
Yes, Gen Z wants what they want when they want it, but there are other things they want as well. Forever 21 is working hard to evolve its offerings in line with these new consumer demands.
One example Hawkins gives is around inclusivity. The retailer has been hyper-focused lately on serving its large plus-size base, and Hawkins shared the excitement of customers he'd talked to in recent months who, in the past, haven't been able to find their size at Forever 21 — and now can.
When asked about another big Gen Z buzzword, sustainability, Hawkins played coy: "We actually have some really exciting things going on with sustainability right now that we haven't announced yet," he said. "It's a significantly important area for us and for our customer, but all I can say right now is TBD. You're going to hear more about that later this year."