YouTube has announced a series of new enhancements to make shopping more integrated on its platform, including a new Shopping section on the site and a partnership with Shopify that will allow merchants to easily feature products on their YouTube content.
Next week, YouTube viewers in the U.S., Brazil and India will see a new Shopping section in the Explore tab on the site — which already includes sections such as Trending, Music, Gaming and Fashion — that will feature relevant, shoppable content. The Shopping section will roll out to additional countries later this year.
Additionally, YouTube has partnered with Shopify to make it easy for creators and merchants that use the commerce platform to link their stores to their YouTube channel. Eligible creators can now link their Shopify store to their YouTube channel in just a few steps, allowing them to display their products across their channel and utilize Shopify's real-time inventory syncing to ensure the products offered are in stock. Creators in the U.S. can also enable onsite checkout so that viewers can complete their purchases without leaving YouTube.
Along with the Shopify integration, YouTube also has introduced an additional series of tools in YouTube Studio (the backend hub where creators manage their content) in order to give creators more control over how their products are tagged and appear across their channel. Some creators now also have access to live shopping features such as the ability to tag products to a livestream directly from the Live Control Room.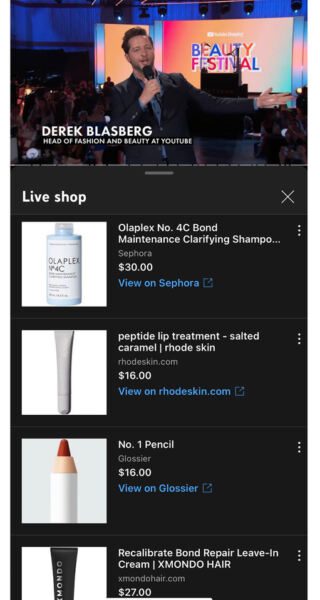 "We know that creators and viewers have a unique relationship, and it's this trust between them that helps inform what viewers ultimately buy, so it's important that everything that we're working on in YouTube Shopping is in support of ensuring a seamless viewer and creator experience," said David Katz, VP of Shopping Product at YouTube in a blog post announcing the updates. 
As the competition to capture social shoppers heats up, YouTube has been laser-focused on the creator economy and livestreaming. This year the platform turned a number of live events on its platform into shopping opportunities, including Brazil's biggest soccer tournament, Paulistão, the platform's second annual Beauty Festival and Coachella. YouTube also hosted a Shoppable Shorts challenge with Glossier to exclusively launch the beauty brand's pencil eyeliner.