Isolation was a defining characteristic of 2020: with stores, workplaces, restaurants, gyms and travel hubs closed, people around the world turned to one of the few remaining channels available for community and connection — social media. The increase in social media usage, combined with a tandem increase in online purchasing, proved to be the push both consumers and brands needed to move into the burgeoning realm of social commerce.
"For years social media platforms were strictly for information and entertainment," said Marc Mezzacca, founder of CouponFollow and lead researcher of a recent report on social shopping behaviors in an interview with Retail TouchPoints. "Consumers seem to still be warming up to the idea of social media platforms being shopping platforms, and the platforms themselves are still figuring out the technology to gain mainstream adoption. There is also some level of context switching for a consumer who might not be in 'shopping mode' to decide to make a purchase while simply looking to browse social posts."
Increasingly though, consumers are making that switch: nearly half (48%) of all social media users surveyed by CouponFollow said they had made at least one purchase through social media last year. However, consumer shopping patterns on social still have some key differences with other commerce channels, so brands and retailers must plot out their social presence carefully, particularly when it comes to the actual purchase:
43% of consumers said they don't trust social media platforms to manage the payment process
While social shopping is still relatively nascent in the U.S., the propensity of consumers who do shop on social to do so repeatedly is a signal of the channel's strength;
Friends and influencers carry sway, but the content most likely to inspire purchases comes from brands themselves; and
Advertising is key to conversion on social platforms: 67% of purchases from users surveyed by CouponFollow were driven by a paid ad.
Facebook and Instagram Lead the Way in Social Conversion
Facebook and Instagram are the clear leaders in the social shopping space: 34% of those surveyed purchased on Facebook, and 23% purchased through Facebook-owned Instagram. All other platforms, including Twitter, Pinterest, TikTok and Snapchat, were in the single digits. Gender plays a role as well: men are more likely to purchase through Facebook, while women are more likely to purchase on all other platforms.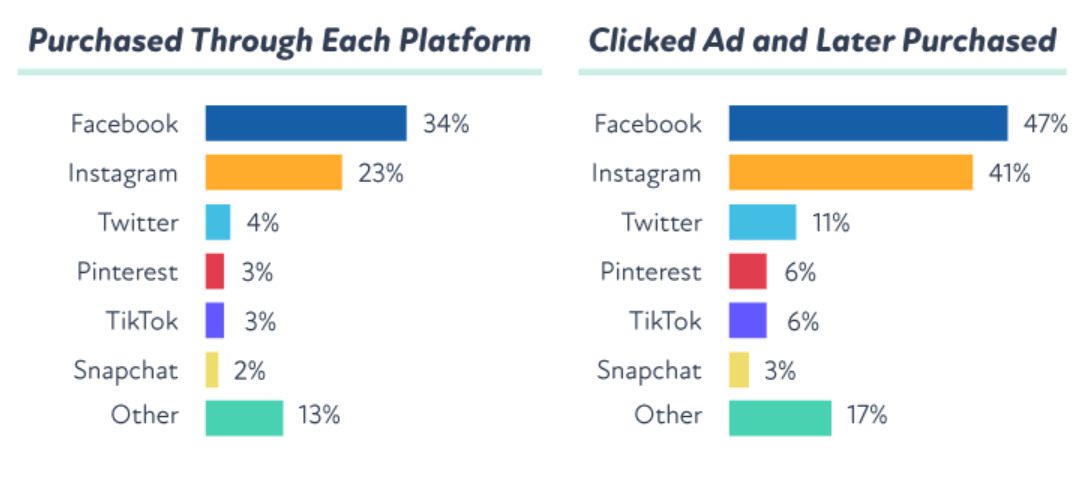 "Instagram and Facebook offer followers short-form and long-form content, giving brands the ability to show and explain useful content, along with the quality visual elements followers want," explained Mezzacca.
While Facebook and Instagram might have a bit of a head start, other platforms are working quickly to build out their social shopping capabilities: Pinterest is gaining traction with its popular "buyable pins" feature; TikTok recently launched a number of new social shopping features, with a focus on livestreaming; and Twitter began testing a new in-platform shopping feature earlier in 2021.
Despite these efforts, 63% of purchases from social media were completed on an external site, according to the CouponFollow study. A not insignificant 29% did purchase directly on the social platform though, and an additional 21% made a purchase from an affiliate link in an influencer's bio.
The amounts being spent on social also are still relatively modest: the average purchase made through social media totaled $63. However, regular social purchasers (those that shop on social "sometimes," "often" or "very often") spend an average of $236 annually. Add to that the fact that 67% of those who have made a purchase on social say they plan to do so again and you have a fairly clear call to action for brands and retailers.
"It seems once consumers make the first purchase, they're more apt to continue buying from social media, meaning brands who aren't using social media as a platform to entice buyers are missing out," said Mezzacca.
The most common product categories purchased were:
Video games and accessories (44%);
Toys and hobbies (29%);
Jewelry and watches (26%);
Apparel and accessories (25%); and
Books or audiobooks (23%).
Brand Content is a Key Driver in Inspiring Social Purchases
Social media is huge for product discovery — nearly all social media users surveyed (92%) said they have discovered a new product while using social media at some point in time. So what does it take to turn social media users from passive scrollers into active customers?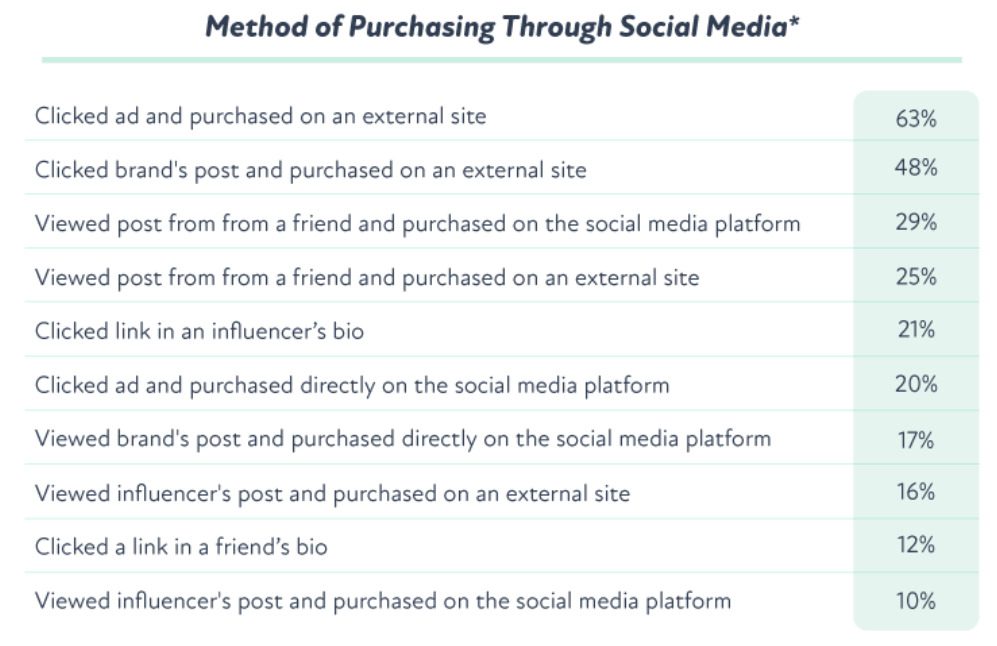 A brand's presence on social platforms is key. When looking at the content that actually inspired purchases, brand content took the clear lead, with 88% of those surveyed saying they made a purchase based on a brand's post, followed by content from friends (48%) and influencers (37%).
The top factors that increase the likelihood of a user making a purchase through social media were a discount code, a recommendation from a friend and product reviews. In fact, posts from friends were the number three and four among top methods for users making purchases on social.
Social Advertising: Annoying but Effective
While organic content, particularly that of friends, is a significant driver of social sales, the majority of purchases (67%) from social media users were inspired by a paid ad. This despite the fact that 44% of those surveyed said there were too many ads on social, and 39% said they find ads in their social feed annoying. (Side note: Users overwhelmingly preferred silent ads to those with sound, by a ratio of nine to one.)

Despite user grumbling, it's clear that social ads work, not least because consumers typically need multiple encounters with a brand or product before actually pulling the trigger on a purchase. A meager 14% of users said they made a purchase after interacting with a brand online only once; that number jumped to 43% once users had two or three interactions.
Given the clear ROI of social ads, it should come as no surprise that social media ad revenue reached record highs in 2020, particularly as so much commerce activity was pushed online by the pandemic. The Interactive Advertising Bureau reported that social media ad revenues reached $41.5 billion in 2020, making up nearly 30% of all internet ad revenue.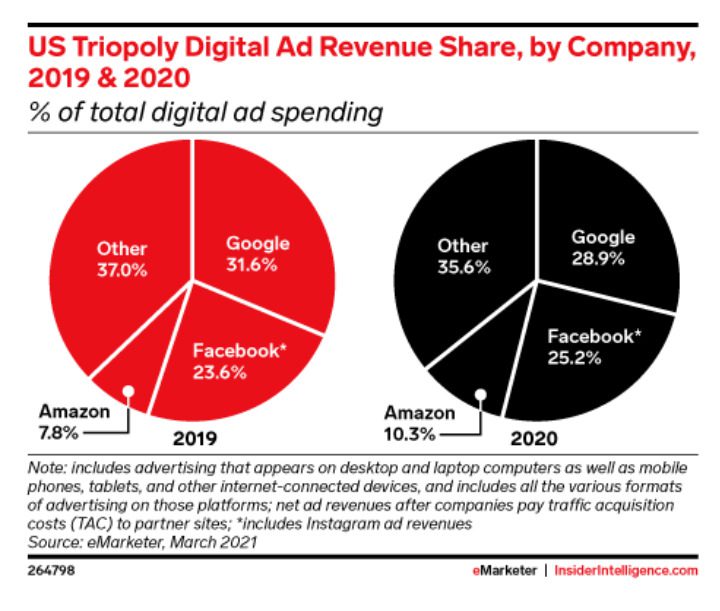 Facebook was the platform most likely to inspire someone to shop through an ad, with 47% of respondents in the CouponFollow study saying they purchased a product after seeing an ad on the platform. Facebook-owned Instagram came in a close second, at 41%. The company's dominance makes sense given that Facebook is the second-largest digital advertising platform in the U.S. after Google, accounting for 25.2% of digital ad revenue share, according to eMarketer.
Trust Plays a Big Role in Consumers' Willingness to Shop on Social
Ensuring a safe shopping experience is a critical part of any ecommerce operation. While 64% of social media users said they believe social media platforms that accept payment through third-party processors are safe, only 49% felt comfortable with the idea of making a payment directly through a social platform. Even fewer respondents liked the idea of social platforms sharing purchases on their feed, à la Venmo, (39%) or storing their payment information (29%).
Despite its history of high-profile data privacy scandals, user confidence in social media platforms facilitating payment was highest for Facebook (44%), followed by Instagram (39%), Twitter (21%) and Pinterest (14%). Perhaps more importantly though, a whopping 43% of respondents said they didn't believe any of these social media platforms could securely process payment information.
Building consumer trust is critical to brands' success on social media as well, which is why authenticity is such a key element in both organic posts and paid ads. When deciding which company accounts to follow, users were mostly looking for useful content (58%); discounts (55%); good photos (52%); and authenticity (45%).
When asked why they followed company accounts, social media users said their top reasons were that they liked the product(s), liked the company, wanted to learn about new releases or liked the brand. Fewer users were interested in seeing behind-the-scenes content or wanted to learn about the company itself.
If the last year made anything clear, it's that social media is an increasingly powerful channel for retailers to not only engage with their consumers, but also convert brand affinity into sales. "The pandemic accelerated shopping through social media, but it was a trend that was already on the rise," said Mezzacca. "As brands continue to innovate with newer technologies, for example augmented reality, shopping via social platforms will continue to become increasingly popular."