Google is not a retailer or a marketplace, and it doesn't want to be — the company is very clear about that. And yet the tech giant continues to roll out new features that feel very marketplace-esque. Some of the latest include a price optimization tool for online sellers, AR try-on for beauty products and advanced data insights for merchants. But there is one big difference between Google and the leading online marketplaces— Google offers all this to merchants for free.
"Google's broader company mission is to make the world's information available and useful for everybody," said Matt Madrigal, VP and General Manager of Merchant Shopping at Google in an interview with Retail TouchPoints. "Looking at that same ethos for shopping, what we're trying to do is maximize choice and be the most helpful place for shoppers throughout all phases of their shopping journey. Where we're differentiated from a marketplace is that we're enabling that connection of merchants directly to their customers. The marketplace or the merchant themselves own that relationship, and we are agnostic to where the shopping journey ends. Our role is really to just facilitate that connection."
Nor is Google limiting itself to the digital world; some of its latest updates include an inventory tracking solution for smaller merchants with no ecommerce presence (also free), and enhancements to its Lens visual search tool, making it easier for shoppers to find what they're looking for whether they see it on a social feed or while walking down the street.
This isn't altruism on Google's part though. Google can afford to offer up all these services for free because its business model has always been built around advertising. People already shop across Google more than 1 billion times a day, and that number will only increase as the experience improves. Bottom line: more traffic = better results for advertisers. And who's to say that a few new Google ad products might not come out of all these updates — new ways for merchants to ensure their products show up at the top of searches, perhaps?
"In order to be the most helpful place for users, we need the broadest range of assortment and [we need to] bring the best products in front of our users," said Madrigal. "A lot of shopping challenges today are a bit of an information asymmetry problem — you have a lot of products concentrated in a couple of large marketplaces, but where ecommerce growth has been the last decade has been through small businesses — these direct-to-consumer brands. And yet a lot of these marketplace sellers, for example, don't have their own ecommerce site.
"Everything we're building is in service to the ecosystem," he added. "That said, if merchants and marketplaces want to have more visibility, ads is a great tool for that. With the combination of [having your inventory on Google and ads] we see twice as many impressions and 50% more clicks."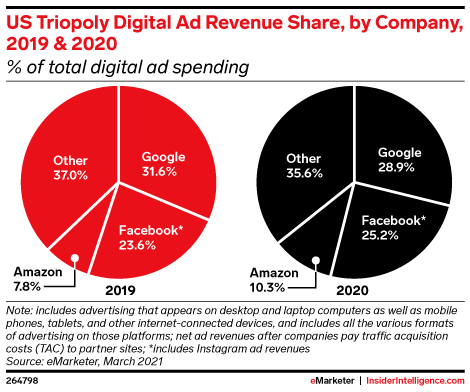 Strengthening its advertising proposition is critical for Google right now, with retail media taking off and Amazon in particular chipping away at Google's long-held dominance in the space.
As the ecommerce landscape rapidly expands, here are four new ways Google is working to be at the center of it all by helping bring merchants closer to their customers, and helping those customers find exactly what they're looking for.
1. Combining Text and Visual Search to Help Consumers Find Exactly What They Want
Google's Lens visual search tool is already used 3 billion times every month, according to Madrigal, and now Google is making it even easier for consumers to find what they're looking for by integrating text and visual search.
In a recent consumer survey from Google, 60% of shoppers said they often or sometimes get inspired or prompted to buy something even when they aren't actively shopping, whether that's spotting great street style or seeing something that catches their eye online. Either way, Lens has already made finding those products as simple as snapping a photo or screenshot and uploading it to the search engine.
Now users can add additional context to those visual searches by using both text and images simultaneously. For example, if a shopper is looking for a scarf in the same pattern as one of her handbags, she can snap a photo of the handbag on Lens and add the word "scarf" to find just what she's looking for.
Bottom Line: This new "multisearch" functionality makes Lens an even more power filtering and discovery tool that truly moves the needle toward the goal of merging physical and digital shopping.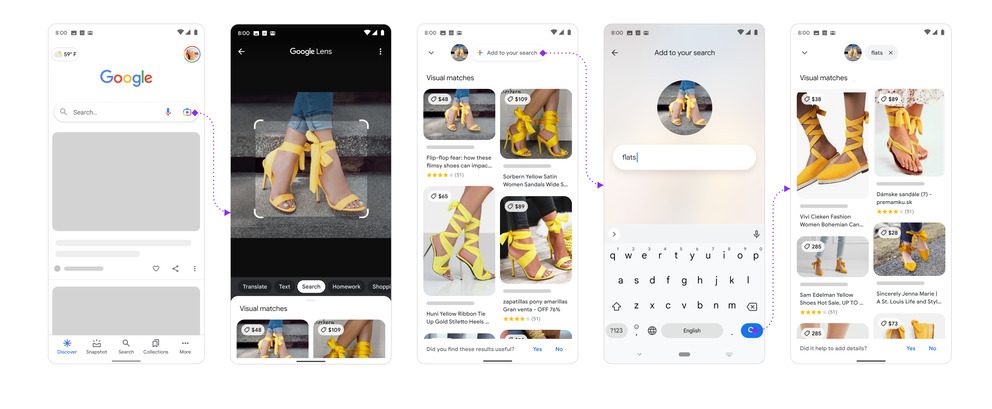 2. Conversion, Pricing and Inventory Insights to Help Merchants Sell Better
It's already free for merchants to list their products on Google, and now the company is offering sellers several new analytical and measurement tools to help them get a clearer picture of how their business is performing. These include: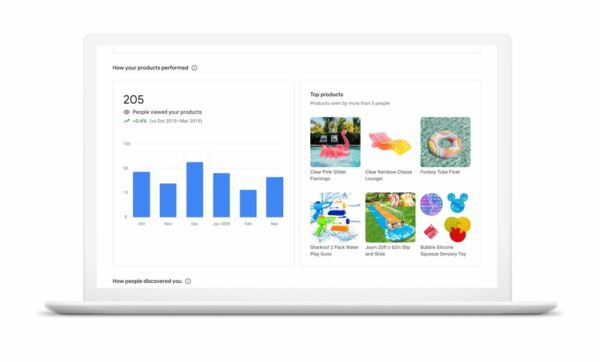 Conversion reporting to help merchants understand traffic, impressions and conversion rate on their free listings. Merchants that are also advertisers can use this tool in tandem with Google Ads Insights for even deeper performance insights.
A Price Insights tool, which gives merchants insight into whether their products are priced competitively and the projected impact of price changes on their revenue. Using machine learning and visibility across Google's current catalog of 24 billion listings, the tool offers merchants a suggested price for each product they sell, along with predicted impressions, clicks, conversions and gross profit.
Product insights for local retailers that manage a Google Business profile in the U.S. and Canada. Merchants can see their most-viewed products by store location, helping retailers better understand how interest for products varies from store to store. This data should be of particular interest to merchants without ecommerce capabilities. Using any number of tools, including the Google-owned Pointy, merchants can upload their local assortment to their business profile and track performance with no ecommerce site needed.
Bottom Line: The price tag (free) was already appealing, but now with these analytical tools added in (also for free) there's even more incentive for retailers to list their products on Google. Not to mention that every new listing makes Google a more valuable resource for shoppers (and to bring it all home, advertisers).
3. AR Try-On Right in Google Search to Remove Friction for Beauty Shoppers
AR try-on tech has been a game-changer for online selling, particularly in the beauty industry, allowing shoppers to virtually test out colors and shades before committing to a purchase online. Now, Google is rolling out its own AR Beauty experience that lets users try on thousands of products from 90 beauty brands and retailers such as Ulta Beauty, MAC, Estée Lauder and Charlotte Tilbury right in Google Search. Once they find the shade they want, they can click the Shop button to find merchants that have the product available.
Bottom Line: Bringing purchase-driving tools like AR try-on closer to the top of the funnel helps reduce friction for consumers, and the byproduct of that is more conversions. 4. Highlighting High-Performing Merchants to Build Consumer Trust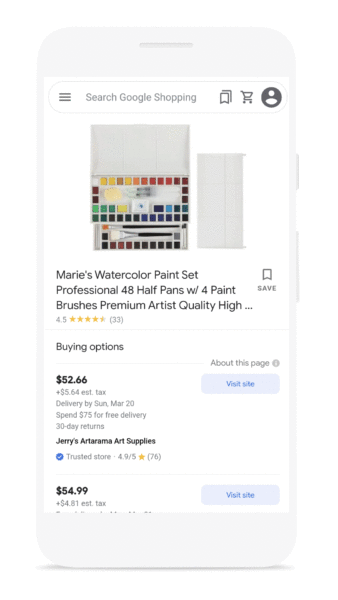 "We offer our shoppers lots of choices, whether it's through big box retailers, DTC brands or a local store down the street," said Madrigal. "In this online environment it's important to help merchants stand out and help them build trust and loyalty."
To do that, Google has introduced the Shopping Experience Scorecard. Merchants that provide excellent shipping and returns service can receive a badge indicating they're a Trusted Store, which appears alongside their free product listings on the Shopping tab. Merchants earn the label based on their performance across metrics relative to other merchants, including shipping speeds, shipping and return costs and return windows.
Bottom Line: With brand loyalty at all-time lows and consumers more willing than ever to abandon brands that don't deliver on their expectations, merchants need all the help they can get to keep consumers with them. This new offering helps them at the critical discovery phase in the shopper journey.