Claire's relevance was waning in the late 2010s as the shopping malls where so many of its stores were located became less of a destination among young consumers. But after the brand's exit from bankruptcy in 2018, it has been on an aggressive turnaround mission that has included a new store strategy that brought Claire's outside of shopping malls, a new loyalty program strategy and a new executive leadership team. But its most powerful move started in the metaverse, and it is seeing the brand evolve in a completely new, entertaining direction.

Within a three-year period, the accessories retailer went from: Chapter 11 to IPO; and from a beloved tween fixture among aging millennials to a fun brand with a distinct point of view and an eye for innovation. And one of the key people to thank for that staggering brand pivot and revival is Kristin Patrick, the company's Chief Marketing Officer.
With a rich tapestry of brands on her resume, including the Walt Disney Company and Playboy, Patrick has been a driving force in the brand's big, bold efforts to win the eyes, hearts and dollars of Gen "Zalpha," including ShimmerVille, its Roblox experience, which was designed as a digital franchise when it was introduced in October 2022.

"I'm so interested in new technologies and web3 because I'm just a naturally curious person, but my job is steeped in Gen Z, and they live their lives in a digital perspective," Patrick explained during a fireside chat at Advertising Week NY in October. "They morph the physical and the digital world. I have a Gen Z child who lives her life going back and forth like crazy with technology and being present in the real world. It's just part of how I think."
Designing a Rich Multimedia Property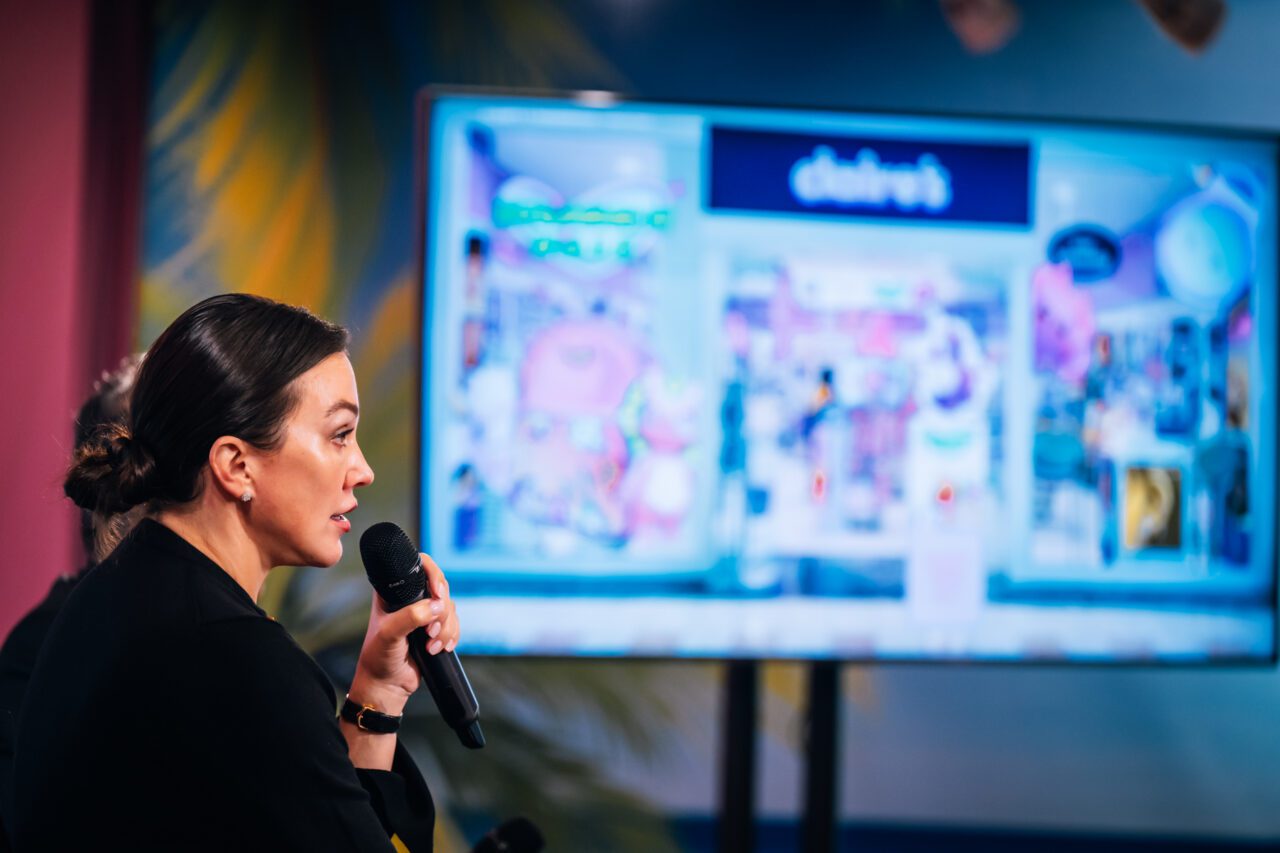 While in ShimmerVille, players can get a job at the mall, pick their own outfits and even choose a special critter to go on a journey with them. The space even has a center stage where ShimmerVille will host exclusive programming and, based on player feedback, a new café. While Claire's embarked on this journey to take a brick-and-mortar retail store and determine what that looks like in the metaverse, the brand is now bringing ShimmerVille out of the game and into stores.

"We're launching a line of products that are based on the characters, which means we're taking this piece of intellectual property and then taking it into a bunch of different dimensions to create scaled content and intellectual property that we own," Patrick explained. "For many years, Claire's has been out there supporting every movie, every character property, and so we started to think, 'wait a second, we have a massive global footprint, we have 3,000 stores around the world, we have a loyalty program with 18 million members in it that's only two years old. And so it's like we have this captive audience, and honestly that's a lot more than some entertainment networks have, right? So, the question became, 'how do we use that?'"

ShimmerVille is Claire's first piece of IP, and the brand is focused on evolving it and scaling it to drive revenue. The first phase, of course, is products, which includes stuffed animals, jewelry, backpacks and other merchandise categories that are synonymous with Claire's. The next step is content: "Broadcast movies, programming around the pets, probably publishing as well, and then we're going to take the IP into other platforms like Fortnite, Zepeto, Meta and Decentraland."

And of course, Patrick and her team are thinking of ways to strategically connect this evolving and growing digital platform into stores and other physical environments. Claire's stores will have ShimmerVille integrated throughout, from windows to shelf displays.
Building Upon a Storied Brand Foundation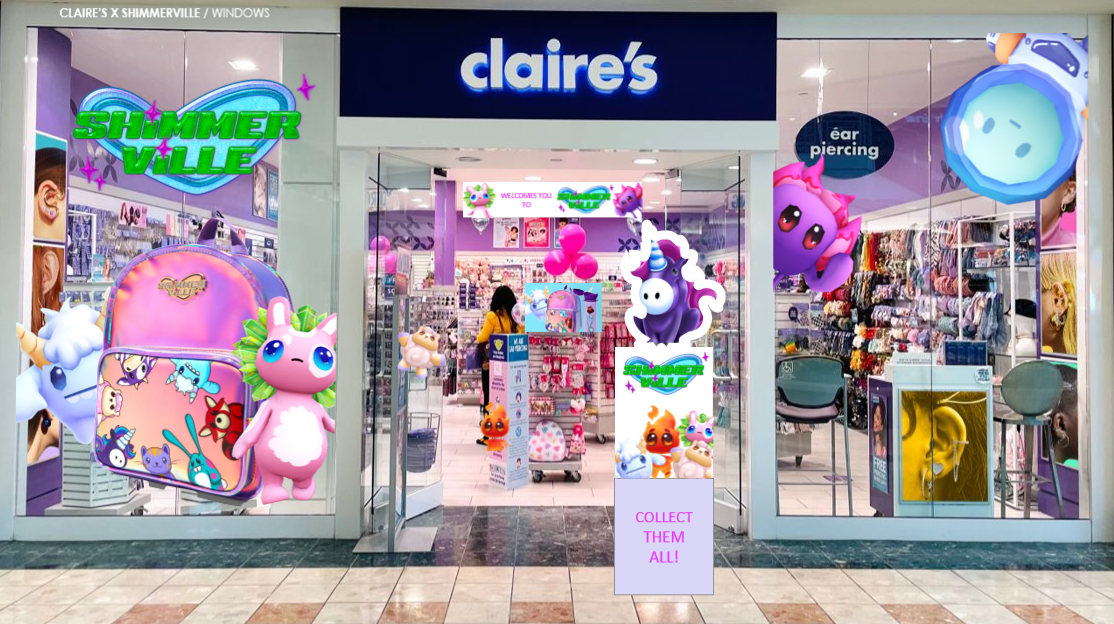 Patrick isn't scared of a professional challenge, which is why she was so eager to join Claire's when a refresh was most critical.

"I like to go into messy situations with companies: I was brought into Pepsi when sugar was becoming the next tobacco, and brought into Playboy after the company was taken private and needed a new vision," Parick explained. "The situation with Claire's was a little bit like that; it was a bit dusty in terms of its image but a beloved, massive global brand."

Patrick tapped into this established reach, which included its 3,000 owned and operated retail stores worldwide as well as the emotional connection so many consumers already had with the brand. "Most people enter the brand during an important rite of passage, which is their first ear piercing. The task at hand was: how do you create a new conversation around the brand and reach this elusive and amorphous Gen Z and Gen Alpha group? We started by first of all going back in the history of the brand, understanding the original intent of the founders."

By going deep into the brand heritage and speaking with employees and consumers, Patrick and her team were able to uncover the true heart of the brand, which is the power of self-expression and creativity, something both Gen Z and Gen Alpha treasure and prioritize in their shopping behaviors. "That is such an important human characteristic and it's never going to go out of style, so we set out to redefine it."

What followed was a multi-pronged journey that included elevating the piercing experience in branded stores, taking Claire's into adjacent retail locations such as Macy's, Walmart and Galeries Lafayette, and of course, the metaverse.

"We talk about ourselves now as more of a global brand powerhouse and a lifestyle," Patrick said. "That's why you'll start to see the brand morph as we go into new business categories."

But no matter where the Claire's brand grows, and which bleeding-edge technologies it employs, consumer insights will be at the center. As Gen Zalpha grows, their behaviors and preferences will undoubtedly evolve. The brands that can build an ongoing dialogue with this group — and find ways to leverage their feedback in a tangible way — will undoubtedly win more market share.

"You have to understand, in a really deep and meaningful way, what [Gen Zalpha] is doing and what's important to them," Patrick said. "Setting up feedback loops and having constant dialog with them is really important, which is probably a little bit different than generations past."

She added that retailers have a particular advantage because their physical stores are their own "mini test labs," which can be harnessed to fine tune ideas. "And then we are constantly talking to those 18 million loyalty members. We've got feedback loops going on with them on an ongoing basis, and we really value their opinions, so we're using them."