Today begins what has become one of the biggest shopping events of the year — Amazon's annual Prime Day member sales event. And while Amazon itself will make a pretty penny over the next two days (U.S. sales are expected to be up about 10% from last year to approximately $8 billion), Prime Day has also become a boon for the millions of small businesses that avail themselves of the Amazon ecosystem — and this year, Amazon is helping their cause with small business search filter and a dedicated Small Business deals page.
While Amazon didn't share the exact number of its sellers that qualify as small businesses, there's no doubt that number is large. According to Claire O'Donnell, Director of Selling Partner Empowerment, Communities and Trust at Amazon, "most of our independent selling partners are small- and medium-sized businesses" by Gartner's definition of the term. Often referred to as third-party sellers, these independent businesses now account for more than 60% of annual sales on Amazon, according to the company, and they sell an average of 7,800 products every minute through the platform.
Those numbers of course bump up significantly on Prime Day. "Prime Day is our Super Bowl and our selling partners' Super Bowl," said O'Donnell in an interview with Retail TouchPoints. "It used to be that holiday was make-or-break for a lot of sellers, but Prime Day [has created] another time of year where sellers can reach more customers and maximize their success."
SMBs Increasingly Make Up a Bigger Piece of the Amazon Pie
Last year's Prime Day was the biggest ever for Amazon sellers: sales on the Amazon Marketplace outpaced that of Amazon's first-party (1P) retail business, increasing 10.7% from Prime Day 2021, while 1P sales increased 6.1%, according to Capitol One Research. The growing importance of third-party sellers on its platform has understandably made these small businesses a focus for Amazon year-round, and especially on Prime Day.
"Prime Day draws a massive amount of traffic to the site, usually looking for big-ticket items, but it creates opportunities that benefit all sellers during a time of the year when sales are usually the weakest," said Bradley Sutton, Director of Training at Amazon seller software Helium 10 in comments shared with Retail TouchPoints. "Inflation, production costs and the rising cost of advertising on Amazon have been hard on SMBs, so it's definitely advantageous for Amazon to support these sellers that make up a huge portion of its sales during this key time."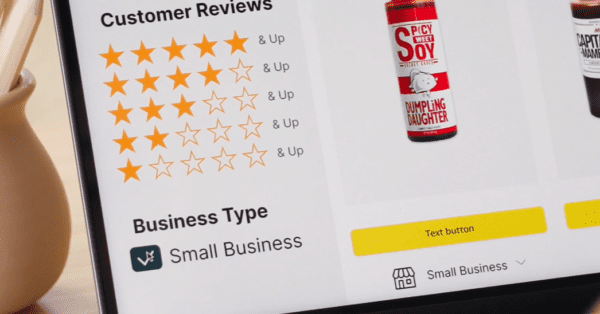 And that is exactly what Amazon is doing. After making a big push to support small business sales during Prime Day 2022, Amazon is doubling down on those efforts this year with the debut of a search filter that will allow customers to find products specifically from small businesses, a dedicated Small Business deal page and a host of Prime Day preparedness tools and resources for sellers.
"Customers are increasingly interested in shopping their values," said O'Donnell. "They want to support these small businesses, so for us [it's about] how we can better connect them to those customers. Also, small businesses are, in a lot of ways, the lifeblood of local communities. [Last year, the sales of] independent [Amazon] sellers in rural areas grew more than 40% year on year, so for us the two things we [think about] are: How do we fuel the U.S. economy? And then how do we get customers the value-based shopping experience they are increasingly looking for?"
Prime Day Sales that Don't Happen on Amazon.com
Late last year, Amazon unveiled a surprising new service — Buy with Prime, which lets sellers offer all the benefits of Prime membership (simplified payment processing, fast delivery, easy returns) on their own DTC websites. (Importantly, sellers must use FBA, Fulfilled by Amazon, to participate.)
The debut of Buy with Prime was a milestone in Amazon's evolution, marking a new willingness by the company to serve as the backend enabler for sales on websites that aren't its own. And this Prime Day marks the first time Buy with Prime will be in play during the annual sale. For years other retailers have chased Prime Day with competitive sales of their own, but those piggyback events typically didn't include brands that sell on Amazon. This year, some of them will.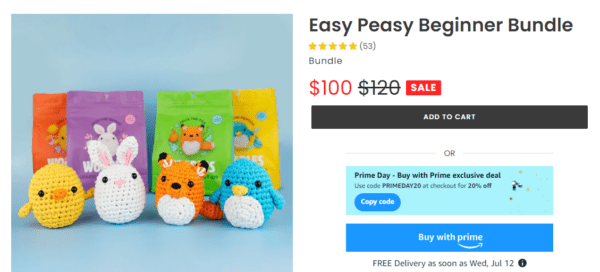 One of those brands is The Woobles, a three-year-old startup run by Adrian Zhang and his wife Justine that sells kits that teach beginners how to crochet and make cute animal plushies in the process. Last year, The Woobles didn't participate in Prime Day; this year they have a big promotion planned — but only on their DTC site, not Amazon. Shoppers on The Woobles site will get 20% off the company's best-selling kits when they use Buy with Prime to make their purchase (meanwhile, the company's kits on Amazon.com will be selling at full price).
"It used to be really difficult for us to support something like Prime Day, where you have two days of a lot more sales, but before and after is just business as usual," said Zhang in an interview with Retail TouchPoints. "That's very different than something like Black Friday where you can really staff up because you expect to sell a lot on Black Friday, but also in Q4 in general. It's really difficult to go hire 20 people for two days of work, but partnering with Amazon to handle the logistics for us allows us to be able to do things like that."
In fact, The Woobles doesn't typically run sales at all, and Zhang said this Buy with Prime-based Prime Day exclusive will be the company's only sale this year. To access the deal, shoppers must be Prime members and use the Buy with Prime option at checkout.
For a small company like The Woobles, Buy with Prime offers a number of other benefits the other 363 days of the year, including the ability to offer expedited shipping, shipping time estimates and one-click checkout — all things that are too complicated or expensive for the company to build into its standard checkout process.
All of this is enabled through the integration with FBA: "The prep [for Prime Day] is twofold — one side is logistics, just making sure that you have enough inventory, but [the other side is having] enough manpower to actually ship out all of these kits," explained Zhang. "Buy with Prime solves the second problem for us, because as long as we get the inventory and send it to the Amazon warehouse, we don't actually have to be able to scale our warehouse up to be able to ship everything out; Amazon will take care of that for us.
"Demand forecasting is always challenging, but what's unique about Buy with Prime is that it draws from the same pool of inventory as our Amazon inventory, and so we actually don't need to be completely spot on with our Prime Day demand forecasting," Zhang added. "Even if we're off, we can still use that same inventory [set aside for] Amazon sales — it gives us a lot more flexibility."
In the few months since The Woobles has had Buy with Prime integrated, the company already has seen an "uplift in conversion," said Zhang. Those results, as well as the backend support offered by FBA, gave the company the encouragement it needed to go for it this Prime Day: "Prime Day last year wasn't as big for us, but this year, given the promising results [we're already seeing with Buy with Prime], we felt ready to do something special for Prime Day," said Zhang.
How Supporting SMBs Supports Amazon
What does Amazon get out of a deal like this? More sales of course, which even if they don't happen on Amazon, still make the company money through the fulfillment, payments and other services it's providing. Also, Amazon gets more happy Prime members.
"There was some head scratching by people when we announced this," said Doug Herrington, CEO of Worldwide Amazon Stores, shortly after Buy with Prime was announced. "They said, 'Isn't this going to cause some people that would shop on Amazon to shop off of Amazon?,' and the honest answer is, maybe. But what we know is that it's going to be a better customer experience for Prime members. And if we have happy Prime members who are enjoying free, fast shipping, on Amazon and off Amazon, that's going to be happy customers, that's going to be happy sellers, and it's going to be great for all of us."
Today and tomorrow that philosophy will be playing out on a bigger stage than ever before.