Within its 25-year lifespan, Supreme has evolved from a highly local New York City institution to a world-renowned lifestyle brand with a cult-like following.

At its core, the company has successfully stayed true to its roots, creating products for the "youth counterculture," niche skater and hip-hop communities specifically. But between its marketing strategy (or lack thereof) and uber-exclusive partnerships, Supreme has nevertheless evolved into a highly coveted, and profitable, brand. In fact, it's easy to see Supreme's partnerships as the nexus for its launch into hyper-relevance.
Over the years, the brand has dropped lines with legacy brands like Nike and Louis Vuitton as well as more "underground" entities like BAPE. And if you want to get your hands on something from one of these collections, you can either drop about $9,000 for a piece of carry-on luggage or $50 for a "gift pack" of Supreme-branded matches, a shower cap and a keychain.

Supreme's brand clout and value is undeniable — and True Religion is the latest brand to successfully cash in. The two companies collaborated on a Fall 2021 collection that launched online and in stores in two key markets: the U.S. (on September 30) and Japan (on October 2). The line was limited — it consisted of a denim trucker jacket, hooded sweatshirt, denim cargo pant, beanie and six-panel hat — and even with no supporting marketing strategy, it promptly sold out in both markets. In fact, items sold out online in a swift 10 minutes.

In a statement, True Religion CEO Michael Buckley noted that a Supreme collaboration is "the ultimate testament to any brand's cultural relevance." Harnessing Supreme's street cred is especially valuable for True Religion, which is in the midst of its own business reinvention. Retail TouchPoints (RTP) sat down with True Religion's creative director Zihaad Wells to dig into the partnership and how it ties into the brand's direction moving forward. The biggest takeaway? "We are always looking at new collaborations. Definitely be sure to watch this space."
RTP: We're seeing collaboration become a viable way for brands to reach new audiences or reconnect with their brand fans. What objectives are driving True Religion's approach to collaborations?

Zihaad Wells: Our Supreme collaboration is undoubtedly a representation of our authority in denim in the early aughts, but now more than ever, we are focused on what the future of our brand means and how we connect with the younger generations.
We can confidently say that we have distinguished ourselves as innovators in designer denim, but in order to uphold that reputation, we're seeing more and more that we need the support of youth culture, which is true for most brands today. This is why our newer marketing strategies pivot toward collaborations with younger, up-and-coming creatives. We want to be able to evolve with and for the Gen Z customer, which allows us to view the world differently — possibly the way we once did in the early 2000s.
RTP: What has worked well for True Religion in the past?
Wells: We've done a few collaborations as of late and have some more on the way. Collectively, they all grant us the freedom to work with brilliant creatives that are loyal to the brand —people who already love and respect what we do, yet have a way of making what we do feel young and fresh again.

Our partnerships with NYC-based designer Madeline Kraemer and London-based designer Jaffa Saba introduced us to the world of upcycling and repurposing, which is so important to younger consumers. Tapping into the mind of Atlanta-based artist Elijah Popo and LA-based artist Blu Boy positively positions us at the forefront of trends, allowing us to think beyond the throwback trends that are obsessed with nostalgia — although we can appreciate being on both sides of that.

Ultimately, we recognize that our history is infinitely rooted in the early 2000s, a time when streetwear and hip-hop culture ruled the fashion landscape, which is why a partnership with someone like Sacramento-based choreographer and hip-hop dancer Kida The Great makes all the difference in how we see collaborations today. His ability to be true to himself and his style is what he does best, and his partnership allowed us the opportunity to do what we do best — creating collections that echo authenticity and cast a spotlight on future tastemakers.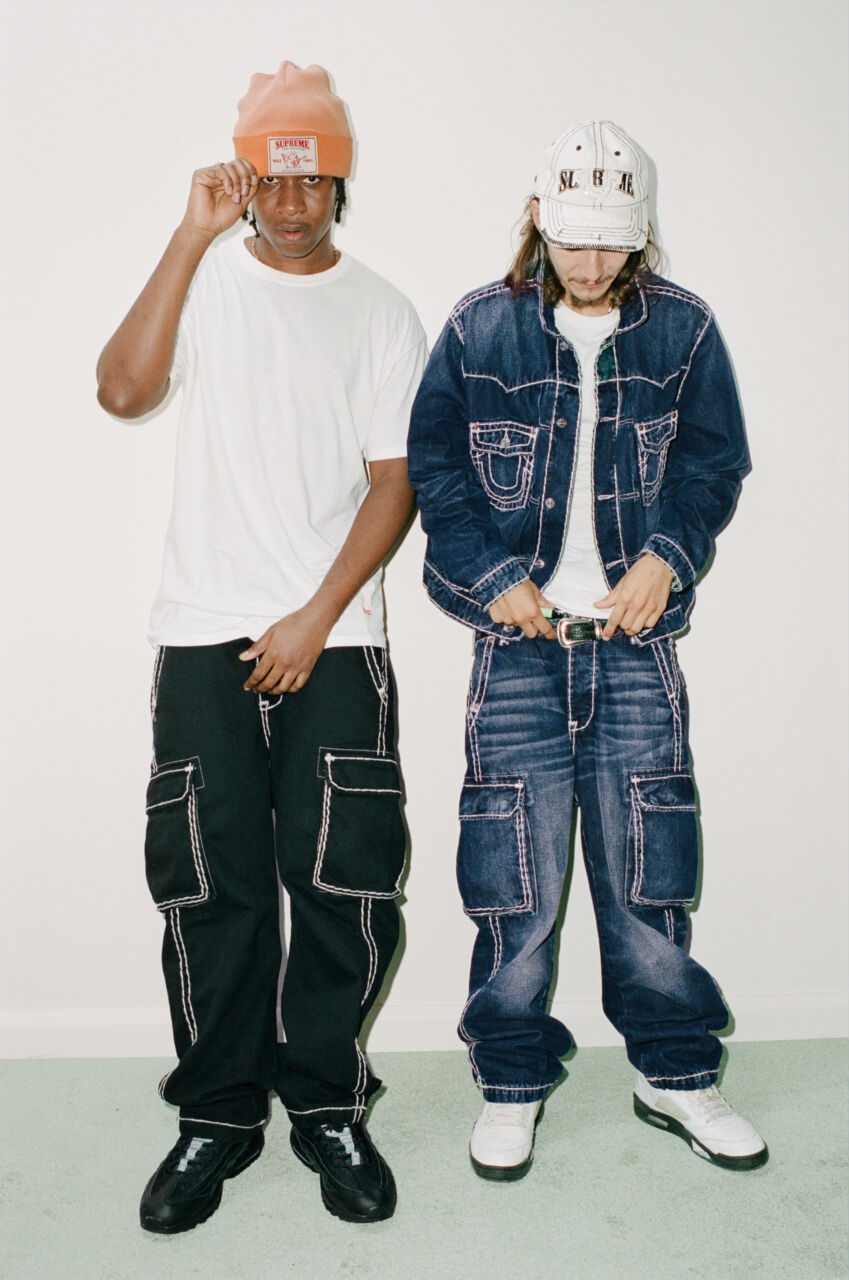 RTP: What made your team decide Supreme was the next viable partner for your brand strategy? How did the teams work together to develop the elements of the line?
Wells: Supreme came to us because they want to work with brands and people who are both original and unique in what they do, and who offer a clear point of view trademarked by a defining look. For us, it doesn't get any more original, or defining, than our denim designed with that ubiquitous super-t stitch and classic horseshoe logo. Very few brands defined the 2000s era the way True Religion and Supreme did, and this collaboration is what we believe to be a modern iteration of what could have been — a spinning of the current resurgence of Y2K in our favor. With Supreme's esoteric knowledge of youth culture, this collaboration was truly a no-brainer for us and we are thrilled to see such a positive response.
 RTP: Supreme has acquired a cult-like following, largely due to its "no marketing" marketing approach. Did this strategy ultimately benefit True Religion?
Wells: It absolutely did. Supreme has established what I am sure most would agree are the unspoken rules of drop culture, and part of that is adopting a "no marketing" marketing approach. While you can appreciate the efforts that go into building the hype, there's something to be said about surprising consumers and tapping influential game changers like Tyshawn Jones, who have sartorial credibility, to tease a collection. Sometimes the best marketing strategy means no strategy at all, and letting the collection just speak for itself. Even though our customers couldn't shop the collection with us, people are seeing True Religion and talking about us, and that's something cool and special.
RTP: In sum, how does this strategy and partnership represent True Religion's reinvention? What principles are you sticking by as you make future decisions?

Wells: Our partnerships are mutually beneficial — the younger creatives teach us how to speak the language of a younger generation, and we get to share their platforms on a larger scale. At the end of the day, the fashion rules are being set by a younger generation of creatives and consumers, and we want to play by those rules while maintaining our reputation as a culturally credible designer denim brand.