Offering items at a lower price than competitors was once an almost guaranteed method of increasing online conversion rates, but today's consumers are increasingly prioritizing convenience across the entire shopper journey in making online purchasing decisions.
A new study from ecommerce automation platform Linnworks found that while cost is still a major factor in purchasing decisions, nearly one in two customers surveyed said that convenience was now more important to them than price in choosing which retailers they shop with.
Prioritizing convenience was, of course, amplified by COVID-19, with services like contactless pickup and fast delivery taking on a new meaning synonymous with safety last year. In fact, 78% of those surveyed said they value ease and convenience more now than they did prior to the pandemic.
This pandemic-fueled increase built on existing trends. The Linnworks study — which surveyed 1,000 U.S. and UK shoppers between December 2020 and January 2021 — saw a whopping 83% of respondents indicate that convenience was more important to them in online shopping than it was five years ago.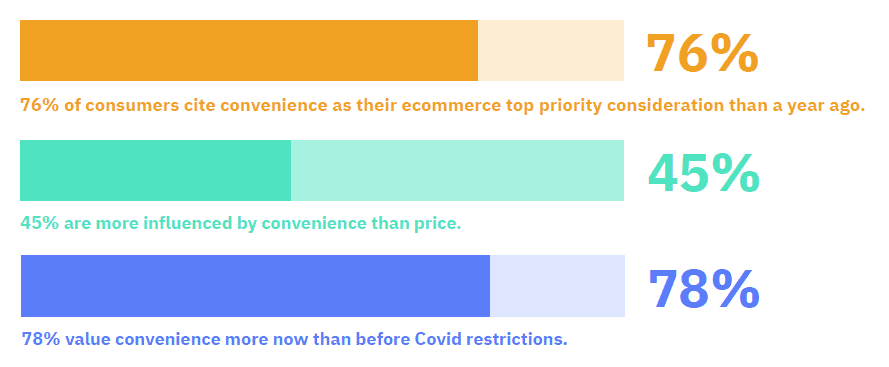 "Consumers have been looking for simpler ways to shop online for years," said Callum Campbell, CEO of Linnworks in an interview with Retail TouchPoints. "However, as with most of the digital trends associated with the pandemic, the demand for simplified shopping experiences accelerated in 2020. When physical stores closed and new time pressures were placed on consumers, convenience was propelled to a top priority."
This is backed up by a recent consumer sentiment study from the National Retail Federation, reporting that more than nine out of 10 shoppers said they are likely to pick a retailer based on convenience. Add to that the fact that 97% of respondents told the NRF they had abandoned a purchase because of lack of convenience, and you have a compelling call to action for today's online retailers.
But what does convenience mean? According to the Linnworks study, the key elements of providing a convenient online shopping experience are:
A frictionless, cross-device journey;
Brand presence on multiple channels to meet consumers wherever they are;
Flexible payment options; and
Fast delivery.
Seamless, Cross-Channel Brand Experiences Have Become a Key Differentiator
The number of platforms and touch points that consumers alternate among while shopping online continues to grow, whether it be moving from social media to a search engine and then to a website, or switching devices as they move through their day.
In fact, the average consumer shopping journey now includes 7.6 touch points, according to research from Dentsu Aegis. While retailers still struggle to connect the experience across multiple channels, this is quickly becoming a baseline consumer expectation. Of those surveyed by Linnworks, 81% said they expect a seamless experience across devices, and 51% say they have abandoned a purchase after having to restart an order on a different device.
"This seamless shopping experience that consumers are after is what we call 'The Effortless Economy' — people want to shop on their own terms and in a variety of channels," explained Campbell. "Shopping is now an 'always-on' experience, and consumers expect to be able to make purchases whenever they need to. Over the last few years, technology has transformed industry standards as a whole, allowing some retailers to deliver seamless and frictionless shopping experiences, increasing consumer expectations around every aspect of their purchase journey."
While consumers value convenience across the board, it matters more in some categories than others. According to the NRF study, grocery is the category with the highest demand for convenience: 66% of those surveyed said they would actually pay more for a more convenient experience when shopping for groceries online. In fact, across all five of the top categories where convenience is at a premium — which also include clothing, electronics, personal care and pet supplies — the majority of consumers surveyed said they would pay more for a convenient experience.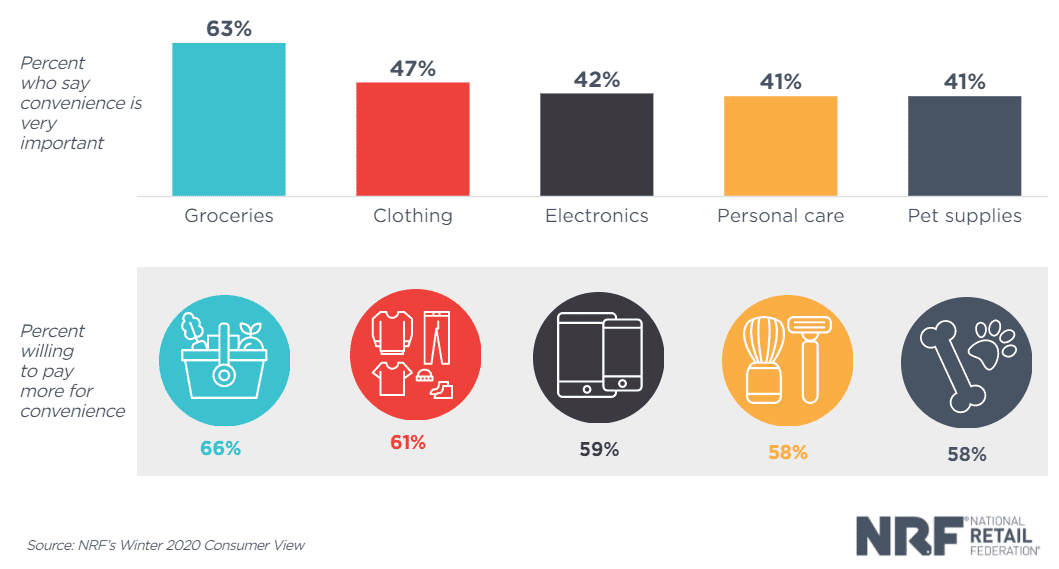 One Channel Won't Cut it — Brands Must Be Everywhere Consumers Are
While consumers do plan to return to stores as that becomes possible again, 74% of those surveyed by Linnworks said they will continue to do the majority of their shopping online moving forward — because it is so convenient. Services like BOPIS and curbside pickup became ubiquitous last year in a way they weren't before the pandemic, and 84% of those surveyed by Linnworks said they expect those kinds of services to continue to be available now going forward.
The problem for retailers? Not all consumers shop the same way online. The Linnworks study found that 91% actually start their journey on a marketplace; however, 44% have abandoned a marketplace because they were overwhelmed by the options. Just under half (49%) said they had purchased from a brand's DTC site within the last six months, and more than four out of every five shoppers surveyed said they like shopping on social. In short, consumers are shopping everywhere these days, and brands need to be there to meet them.
"Having a retail presence across multiple touch points and navigating a quickly evolving landscape of selling channels is a massive undertaking that creates significant logistical challenges for retailers, particularly for order and inventory management," said Campbell. "To deliver on these expectations, retailers need to understand who their customers are and build a multichannel strategy that offers the flexibility that customers want with purchase and delivery options, and also by embracing both marketplaces and direct-to-consumer channels."
New Ways to Pay Open Up New Opportunities for Retailers
New payment options like Buy Now, Pay Later are enhancing accessibility and easing the purchase decision process for consumers. Among those that had used such services, 89% said it made their purchasing decision faster and easier.
Retailers also are benefiting from offering this type of convenience to their customers, in particular by making big-ticket items seem more attainable to shoppers. A vast majority of consumers surveyed (84%) said they are more willing to buy expensive items if given flexible payment options, and 70% admit to making an impulse purchase of a big-ticket item because flexible payment options were available.
Consumers Don't Want Fast Delivery, They Expect It
The proliferation of fast delivery by major retailers like Walmart and Amazon has raised consumer expectations for nearly all online shopping experiences. In fact, the growing speed with which online orders are delivered to homes is a big part of the reason shoppers are now willing to forego stores in lieu of ecommerce — it doesn't get more convenient than having something delivered directly to your doorstep, especially if you only have to wait a matter of days or in some cases, hours.
Because of these developments, shipping has now become a key element of consumers' purchasing decision, with 95% of shoppers in the Linnworks survey saying that shipping factors into their decision to buy. In fact, 61% say they are more willing to shop with brands that offer next-day delivery, and 72% have abandoned a purchase due to lack of transparency around shipping.
On the flip side of the coin, returns also are now a key element when consumers choose who to shop with: 72% said their purchase is influenced by a company's returns policy, and 87% expect a pre-paid return label, according to the Linnworks survey.
"The crux of the challenge facing retailers today ultimately comes down to connection — staying connected to customers in multiple environments, and better connecting and automating their commerce operations to be able to reach customers in these channels," said Campbell. "Additionally, retailers face the challenge of having to look beyond just their product offering at their whole customer experience, from product discovery through to delivery and returns, to ensure they create a seamless experience at every touch point."