Everyone in retail has Big Questions: What will this holiday season be like? Will the coronavirus surge in the cold weather, and will that force stores to close again? How long will it take to administer a vaccine once it's approved? How will the election affect the country's mood and its economy? How many other retailers will go bankrupt — and will one of them be mine?
While the 99 speakers at the 2020 Retail Innovation Conference, held Oct. 13-14, couldn't answer all of these questions (no one except a modern-day Nostradamus could), they did provide answers to several other vital queries along with countless invaluable insights. The Retail TouchPoints editorial staff has collected just a small sample of their sharpest observations and most vital data points to share with you here. (All the RIC20 sessions are also now available on demand.)
Question 1: What's happening in retail now, and what does the future hold?
Frans Johansson, CEO, The Medici Group
"It's not that obvious what you're supposed to do with the trends. If the trends are clear, everyone's moving in the same direction. It's the unexpected that sets us apart."
"If [you're not in a position] to hire a 'diverse' person, a good first step is to ask yourself: Who's in the meeting I'm in? Is there diversity in who you're talking to?"
Tal Zvi Nathanel, CEO and Co-Founder, SHOWFIELDS
"COVID and ecommerce killed retail. Right? WRONG. Retail is not dead. It's evolving. It was always evolving. This is not a revolution, this is merely evolution, and the only question we should be asking ourselves is what is next. And to answer that question, we've developed a term called C-Commerce (consumer commerce)."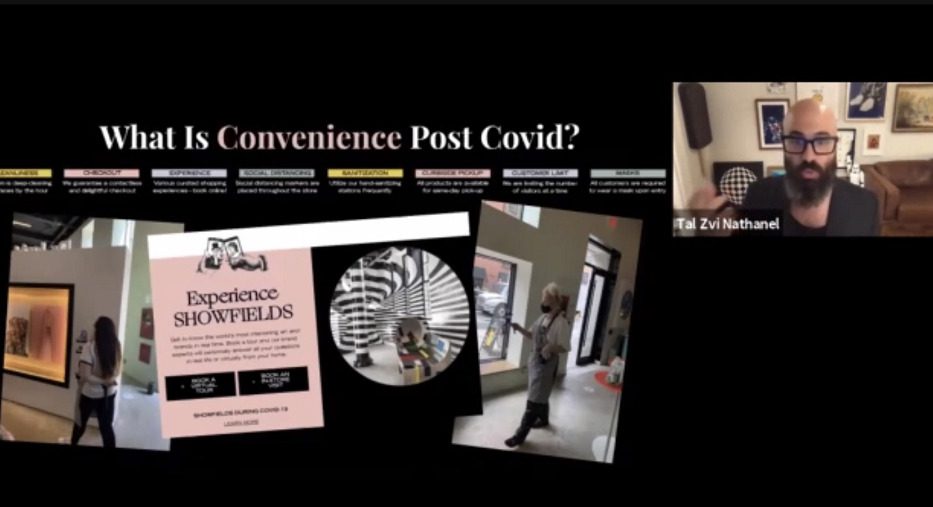 Question 2: How can retailers adapt to constraints on top-of-the-funnel consumer discovery?
Dave Coles, Senior Partner Manager of eCommerce, Pinterest
"Our thinking is that the value unlock is at the start of the customer journey with the discovery and automation phase. Traditionally, the physical store has been where people have gone through that shopping experience — finding what works best for them with time on their hands, walking through their favorite store, using their senses of sight and touch to figure out what's going to work best. But our thesis now is that digital's role in transacting will continue to be vitally important, so consumer behavior is looking for more of those discovery processes."
Julie Piskin, part of Pinterest's Global Partnership Team
"On Pinterest ads aren't a distraction. They're a decision-making tool, so they fit right into the context of what Pinners are searching for. And we've seen 83% of Pinners have made a purchase based on content that they saw from a brand on Pinterest. There really have never been more ways to reach shoppers or more ways to shop these days. And you need more than just a transaction; I think that's key to understanding what Pinterest can offer. Shoppers need more than just a fast, convenient purchase at the best price. They need ideas, they need inspiration."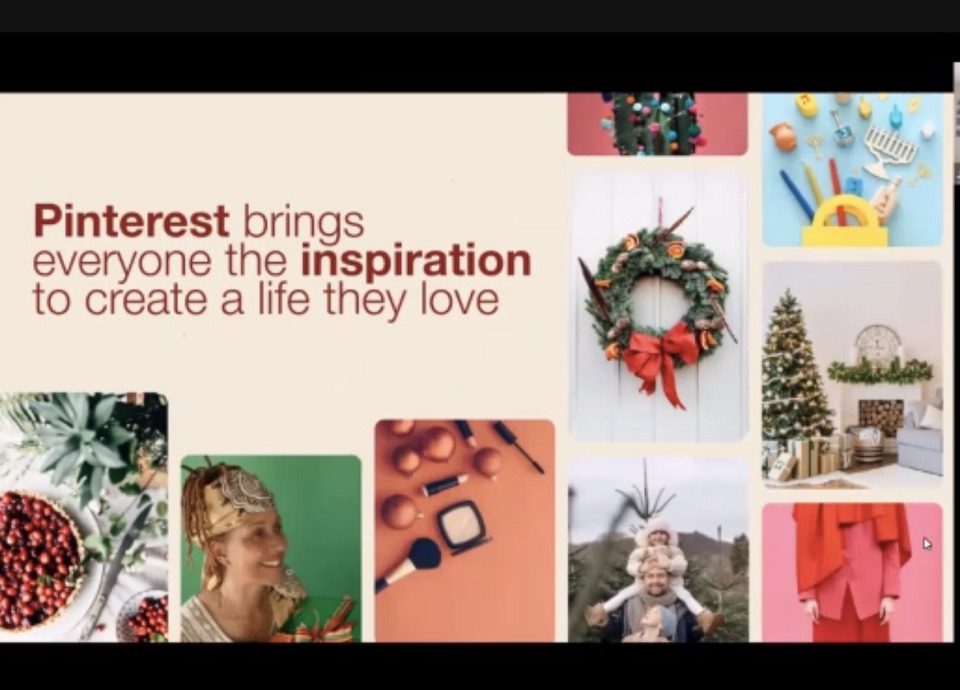 Sharon Gee, Senior Director and General Manager of Omnichannel, BigCommerce
"Anytime a merchant can hear, 'Hey, new traffic from 400 organic searches,' that's huge. If merchants aren't out there already optimizing their content to be able to automatically list it directly to all the Google Shopping services, that is the number one strategy to take away. You should 100% be doing that right now."
Katie Osberg, Global Retail Partnerships Lead, Business Communications, Google
"Did you know that 89% of consumers begin their buying process with a search engine? As a result, it's critical to invest in growing and optimizing your online and local presence, such that you don't miss out on general or branded searches for your business."
Question 3: What are some creative ways to keep customers and associates connected in a disconnected time?
Lockie Andrews, CIO and Chief Digital Officer, UNTUCKit
"At UNTUCKit, we leveraged a vendor called Hero to intercept web traffic through a chat portal that appears on our website. You can actually use routing rules that are in place that we built out to connect customers with sales associates that are in the community. So if we have a store in New York City and someone's in SoHo, they can chat through FaceTime if the customer wants it and they have questions about our products. We found that conversational commerce has been a phenomenal way to bring in the best of the human element."
Bradford Shellhammer, VP Buyer Experience, eBay
"We want to build more opportunities for people to engage with other people. Rather than the erasure of people like other product marketplaces, we believe that connection is super important, especially in a time where we aren't having as much face-to-face connection as previously. Humans are emotional — play to that! Up to COVID, there was a removing of humanity from commerce. We are creatures. We require connection with other people — don't forget that when you're building the experience, especially online."
Question 4: How can retailers best adapt to new consumer shopping behaviors?
Traci Inglis, who formerly held President and CMO roles Techstyle Fashion Group and RTW Retailwinds
"There's a huge untapped opportunity for pre-arranging a shopping appointment. We know that customers already shop online before they come into the store. [When they come in], finding the actual items is a cumbersome process. With an appointment, shoppers get help from an associate to provide clothing in their sizes, as well as upselling you and bringing you a latté. It's an opportunity to make retail special again."
Andrea Farris, VP Development, Head of Solution Planning and Partnerships, Walgreens Boots Alliance Inc.
"One of the advantages that we have is the drive-thru, and the ability for customers to use that to pick up some much-needed items. That's definitely one of the assets that we want to continue to leverage for our customers. We have to be as flexible as possible for how the customer wants to interact with us."
Stephanie March, Co-Founder, SheSpoke
"At SheSpoke, we have a repeat customer rate of 67%, which speaks to the loyalty they have for us. And in terms of business prospects, the Zoom lipstick experience is extremely important, so lipstick sales will continue to go up."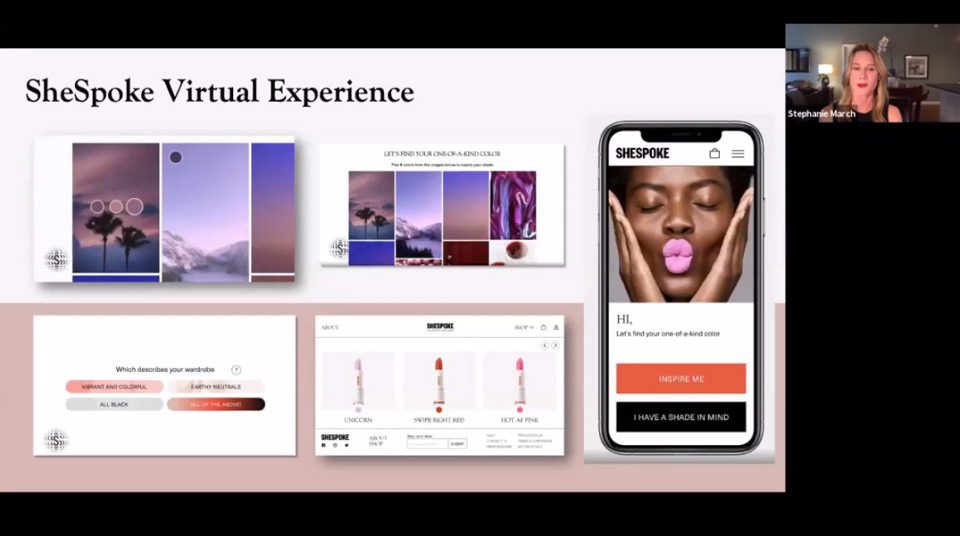 Sharon Leite, CEO, The Vitamin Shoppe
"You have to learn what's important to [your shoppers] and be ready to invest there. I'm a firm believer in testing, testing, testing to learn as much as you can, adapt, and just learn and repeat that process over again. And don't underestimate the need for content and how serving up content can engage with customers."
Heidi Zak, CEO, ThirdLove
"I have a firm personal belief that women don't love bra shopping in-store — in fact, that's why I started this company. But for a first-time purchaser finding their size, along with the one-on-one contact [possible in a physical store] as well as to help brand awareness, brick-and-mortar stores might be in our future."
Dustin Coates, Voice Search Lead, Algolia
"With voice in retail, it's best to start with the repetitive, e.g. 'What time does the pharmacy close?' If it can be put on a sign, it's something that should go on voice. When you can answer the repetitive, then [use voice] to give your people superpowers. For example, at a menswear clothing retailer, [an associate using voice technology] can provide recommendations, upsells, etc., without typing on their phone. Using voice can be done so much faster versus typing a request, and that means the recommendations associates give are much more relevant."
Question 5: How can retailers adapt their internal business processes to a changed environment?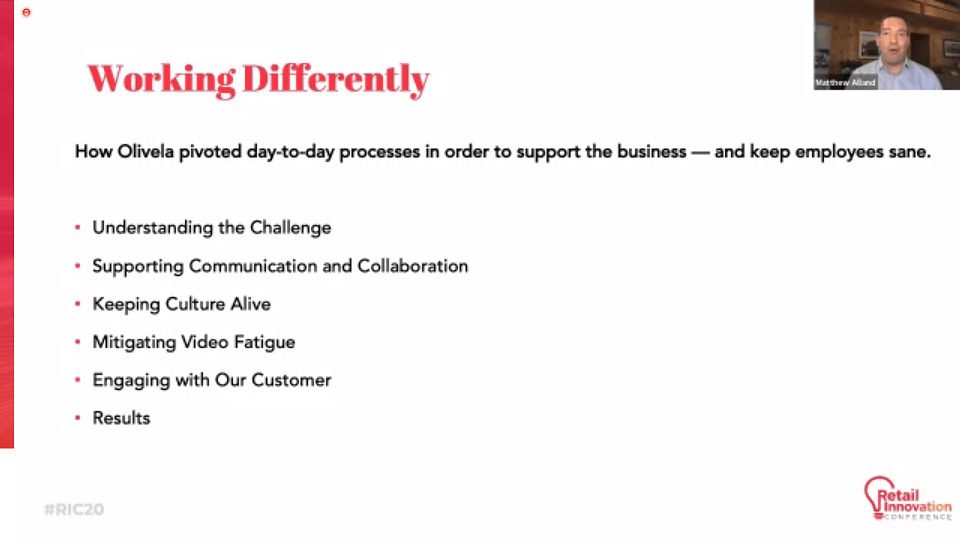 Matthew Alland, Chief Experience Officer and Head of Marketing, Olivela
"One time during the week everyone, no matter where you were located, what department you were in or what you were doing, was able to get together to learn about what's going on in the company. Sometimes our CEO would talk and she would mention high-level initiatives, all the way to sometimes some of our junior employees would talk about a specific initiative they're working on. That is helping us be successful during these times. It's really a wonderful opportunity, and it's the one time during the week that the entire company gets together. It's bizarre to me, looking back, that we didn't do this before COVID."
All sessions are now available on demand.