Editor's note: As retail interfaces and systems continue to evolve, the way we design retail experiences to user needs and behaviors is also transforming. In the new series "Stimulating Retail," join award-winning sensory designer and Harvard neuroscientist Ari Peralta as he breaks down the science and tech behind some of today's most stimulating sensory retail experiences. From 3D billboards to spatial scent to ChatGPT, meet the brands leading the next wave of multisensory retail innovations, and learn best practices to help strengthen your brand's sensory presence in this new, multi-dimensional experience market.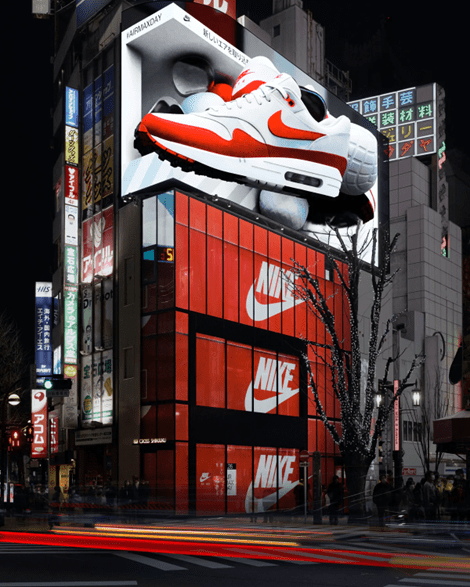 Imagine walking near Tokyo's Shinjuku Station, taking in the sounds and sights of the city. All of a sudden, a huge orange 3D Nike box starts taking over your peripheral. Your brain can sense its movement, your eyes are drawn to its color and once your attention makes its way into the conversation, your mind is transfixed on what it sees: a giant 3D sneaker popping out of what seems to be a flat 2D billboard.
These digital billboards use naked eye 3D image technology to create a vivid sense of perspective and depth to the viewer. This creates an optical illusion that makes the viewer feel as if the subject of the billboard is coming out of the screen. Many brands, including Coach, Louis Vuitton, Samsung, WhatsApp and BMW have caught on to the benefits of this surreal and sensory approach to advertising.
In this article, you'll learn about:
The 3D billboard trend;
Science and psychology behind 3D ads;
How 3D ads are more effective than 2D ads;
Benefits of 3D advertising;
Brand case studies; and
Future outlook of 3D visualization.
What is a 3D Billboard?
3D billboards — also known as anamorphic billboards or out-of-home (OOH) billboards — use 3D footage to create an illusion similar to our experience of human vision.
It's more perceptual than actual 3D technology. Named after "anamorphosis," a technique in art in which an image looks distorted from one angle but appears normal from another, these billboards are created by weaving together two separate images to create a seamless, singular video.
To produce this type of visual, design teams consider how our eyes process information. Our right and left eyes don't see exactly the same image, and that's what creates depth perception. For 3D billboards, a single screen might be split into two separate images — one slightly varied from the other and seen from a different perspective.
These two images are combined into one video, which creates the effect of depth perception and the 3D experience. With so much competition in the market, companies that come up with innovative ways to create buzz and ultimately sell have a better chance of winding up on top. And it involves more than creating realistic visuals — it's about knowing how to use multisensory design to appeal to consumers and convey a brand message.
The Science and Psychology Behind 3D Ads
Think of 3D ads as multisensory — after all, we want to reach out and touch them. This spatial quality makes us emotional, giddy and enthralled. In a nutshell, 3D is all about perception and teasing the human brain. When looking at a 3D image or video, the brain assembles and interprets images as depth.
Part of successful advertising is understanding how people engage with their environments. A physical space influences people's moods and feelings and affects their multisensory minds. Humans look for novel experiences through design, which is one of the reasons why 3D billboards are so effective.
Studies show that 3D visualization increases customer attention and memory recall. The study, titled The Effects of 3D Billboards on Consumers' Attention and Awareness, found that not only does a 3D execution element gain more attention, ad recall and ad recognition, they are one of the key strategic choices for advertised brands to gain differentiation from their competitors.
Another study — Facilitating Role of 3D Multimodal Visualization and Learning Rehearsal in Memory Recall — confirmed that participants who completed a memory test after audiovisual modality training had more accurate results than others who trained in visual- and auditory-modality conditions, suggesting the importance of virtual reality in learning enhancement.
The Effectiveness of 2D vs. 3D
While 2D animation saves time and money and is easier to produce, 3D provides a sense of realism that 2D simply cannot offer via spatial depth.
The COVID-19 pandemic changed people's spatial perception and preferences of space. Before the pandemic, people generally put their personal preferences first in spaces like malls and stores. During the pandemic, most people interacted less with others, and many became hyper-aware of spatial characteristics and unmet sensory needs. Fast forward to 2023 and consumers continue to crave meaningful emotional connections driven by multisensory experiences.
Using Nielsen data, a recent study uncovered the significant impact 3D digital billboards have on consumer recall. Maximum recall should be the primary goal of advertising in spaces like freeways that reach so many people at one time. The test revealed that participants could recall at least one digital billboard ad between 74% and 89% of the time. Industries that performed the best in this study include entertainment, recreation, fast food restaurants, televised sporting events and gaming.
When it comes to cost, it goes without saying that 3D animation is more expensive. It's rare to find a 3D billboard that costs less than $1,500 — and the price can go up to $15,000 per month. However, when a company realizes the value behind 3D advertising, the benefits outweigh the costs.

The benefits of this new sensory approach to advertising include:
1. Increased attention: 3D billboards attract awe-inspiring, stop-you-in-your-tracks reactions from pedestrians and drivers. The optical illusion keeps the viewer's attention to take in the brand's message — so much that they cannot look away. This ultimately increases revenue and product recognition.
2. Deepened engagement: Customers love interactivity, and 3D billboards provide just that. Boosting engagement rate makes businesses stand out and ultimately sell more products.
3. Higher ROAS: Companies that use 3D billboards and advertising drive a higher return on ad spend (ROAS). Statista predicts that by 2025, the annual revenue from 3D ads and images will increase 3X.
Brands Reimagining Billboards Using 3D Tech and Powerful Storytelling
Nike – Air Max
In March 2022, Nike Japan celebrated the 35th anniversary of the Air Max with an amazingly larger-than-life, innovative 3D billboard located outside Shinjuku Station in Tokyo. Cool, colorful and in-your-face, the ad sparked excitement and interaction with commuters and shoe lovers and was a hit on social media. This project was a collaboration between Nike Tokyo's in-house brand creative studio and creative collective CEKAI. Kota Iguchi, a driving force in Tokyo's creative community and the founder of CEKAI, directed the motion graphics in partnership with Nike's brand creative team.
Coach – Courage to be Real
Coach's "Courage to be Real" OOH campaign in November 2022 featured brand ambassador Lil Nas X. As the visuals show him moving through different doors that represent his struggles, he moves out of his digital world and closer to viewers, coming out from the screen. Not only does this 3D billboard ad impress with astounding graphics, it tells a story — the perfect formula for advertising.
Louis Vuitton – Yayoi Kusama
Louis Vuitton created a magnificent giant 3D billboard in Tokyo that launched in January 2023 at its flagship store. Promoting a collaboration between Louis Vuitton and Japanese artist Yayoi Kusama ("The Princess of Polka Dots"), the lifelike ad features an audio-animatronic version of the 93-year-old painter. The iconic ad begins with a huge polka-dotted Louis Vuitton Damier trunk that opens up, tossing out three colorful Kusama pumpkins. One of the pumpkins is worn by Yayoi Kusama as a helmet, and she gazes down at the passersby. The billboard ad continues with a colorful display of lifelike animated motifs featuring her trademark polka dots on Louis Vuitton pieces. The spectacular ad attracted media attention with its creative display.
Is the Future 3D?
With the rise in sensory and immersive technologies, the big question is, how long will the 3D ad trend continue to dominate?
When it comes to communicating brand messages, 3D advertising is one of the most promising solutions. Other technologies have the opportunity to influence 3D advertising, going above and beyond traditional ads. In the metaverse, companies can create their own unique, immersive worlds. Virtual reality ads allow viewers to engage with content in a simulated 3D world, with no external disruptions. Augmented reality maps 3D virtual objects onto a real environment with real-world objects. All of these technologies add fuel to the fire of 3D advertising.
In 2023, static 2D ads are not engaging enough. Humans crave multisensory and spatial experiences that inspire, lift or heal — at home, during a commute and while shopping. True to surrealist thinking, retail design has become a poetic exploration that aims to reignite our imagination of what's possible.
When a billboard catches our attention and engages us, we are more likely to absorb the message and meaning within it than if the same message was presented simply in facts and figures. 3D visualization technology will undoubtedly continue to shape the future of retail advertising, offering brands a new opportunity to add the sensory layer of depth perception. It's exciting to see brands adopt this approach and usher in a new dimension of storytelling.

——————-
[1]Athena, Z., Leonidas, H., & Palla, J. (2008, April 8). The Effects of 3D Billboards on Consumers' Attention and Awareness. ResearchGate. https://www.researchgate.net/publication/260601854_The_Effects_of_3D_Billboards_on_Consumers%27_Attention_and_Awareness
[2]T, P., DO, & Moreland, J. M. (2014). Facilitating Role of 3D Multimodal Visualization and Learning Rehearsal in Memory Recall. Psychological Reports, 114(2), 541–556. https://doi.org/10.2466/04.28.pr0.114k17w9

Forbes-recognized neuroscientist and award-winning sensory designer Ari Peralta serves as the official Sensory Design Innovation Chair for the 2023 Retail Innovation Conference & Expo. No stranger to RICE, Peralta champions ways to use the senses to elevate quality of life and promote self-awareness through Arigami — an innovative research consultancy dedicated to multisensory research. The "40 under 40" Harvard alumnus makes a positive impact through interdisciplinary design projects that focus on using the senses and technology to support people's mental health.