The low-hanging fruit opportunity for mall developers and landlords is to double down on the in-person experience. That's why properties have focused on perfecting the tenant mix, onboarding a compelling combination of restaurants, entertainment and up-and-coming DTC darlings. But the pandemic put a spotlight on a daunting gap for properties that desperately needs filling: digital strategy (and the lack thereof).

Time that consumers spent sheltered in place was largely spent browsing and buying online and scrolling through social networks, and experts believe consumers' evolved digital behaviors are here to stay.
"The migration of some consumer activity to online browsing and buying indicates that if retail destinations are to maximize their revenue potential post-COVID, then they need to be able to embrace these behaviors," said Diane Wehrle, Marketing & Insights Director at Springboard. "The baseline must be for malls and centers to have a persuasive online presence with links through to retailers' websites. Part of this is also facilitating buy online, pick up in-store. Rather than forcing consumers to navigate this journey with individual retailers within the center/mall, they could increase convenience for consumers by providing a BOPIS hub in the center/mall. Anything that can remove buying barriers will drive visits, and therefore revenue, up."

Some developers already have adapted, standing up new services and experiences to keep shoppers in the know and, most of all, make them feel at ease if they decide to venture to their property. But as we inch closer to the holiday season, malls and shopping center operators are seeing a greater need to refine and optimize their omnichannel experiences.
Last Mile Services Become a Long-Term Play for Properties
Brands and retailers across categories responded to store closures, traffic restrictions and consumer hesitancy by expanding their omnichannel fulfillment services. Many merchants spent their own time and money standing up these experiences on their own, but some developers and landlords did the legwork to support tenants and satisfy shopper needs.

Galleria Dallas, a shopping center in North Texas, rolled out a dedicated curbside pickup outpost to make the fulfillment experience easier for consumers. When a shopper buys an item online from a Galleria store that offers in-store pickup, the Galleria's curbside team picks up the order and brings it out to the shopper's car.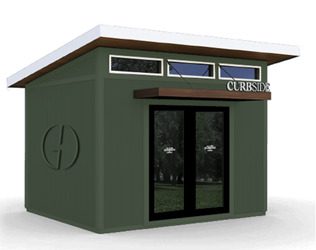 For Easton, the Ohio-based open-air town center that includes retail, restaurant and entertainment tenants, omnichannel fulfillment quickly evolved from a timely necessity to a long-term strategic play. Given COVID-19's long-term impact on ecommerce sales, Chief Executive Jennifer Peterson shared with Retail TouchPoints that curbside pickup spots will likely continue for the foreseeable future.

Philippe Lanier, Principal at EastBanc, believes that the pandemic has solidified the "intertwining" of a brand's digital and physical presence, and that's why developers' and landlords' strategies will need to include omnichannel fulfillment in addition to other services. "Over the past year, brands have been able to test and tweak different services that combine the in-store and online experience, such as BOPIS, virtual styling and shopping appointments, and QR codes for further browsing and checkout," Lanier explained. "At EastBanc, we expect demand for some of these services to drive how long retailers will continue to provide them."
Developers Ride the Digital Wave to Maintain Shopper Engagement
Executives who commented for this piece play a leadership role for mixed-use properties that combine enclosed storefronts and open-air experiences. As a result, they weren't forced to navigate the harsh realities that came with complete store closures. However, these developers still realized the profound impact that digital had on broader shopper behaviors, and noted that if they wanted to capitalize on new business opportunities, they would have to embrace it. However, properties' approach to digital strategy varies greatly based on their unique priorities and value propositions.

Northwood Retail, which has focused greatly on courting relationships with digitally native direct-to-consumer brands has taken an out-of-the-box route: the developer has launched its own podcast series, called "Backstory Beginnings." The series allows Northwood Retail to capitalize on the pandemic's surge in podcasting consumption, and helps forge relationships with DTC brands that have compelling origin stories.
"These short and powerful founder-focused recordings promote digital connection and build brand loyalty for our tenants," said Ward Kampf, President of Northwood Retail in an interview with Retail TouchPoints. "Beyond that, the series inspires and engages shoppers by sharing business insights, advice and life lessons from visionary founders."

To drive awareness, downloads and subscriptions for "Backstory Beginnings," Northwood Retail naturally leans into its physical presence. The series is promoted via QR code signage that is posted on participating tenant storefronts, Kampf explained. "The QR codes offer a physical touch point, while measuring scans and listens."

Other properties also are using digital tech and experiences to bridge the "phygital" gap for tenants and consumers alike. Brookfield Properties recently announced a partnership with The ARIA Network that would allow it to use augmented reality (AR) technology to create "immersive experiences" in all of its 100+ shopping centers. Through digital store directories, wayfinding and in-store promotions for brands and tenants, Brookfield Properties will be able to tap ARIA 360° AR technology to improve dwell times, foot traffic and revenue for its tenants. The developer also will be able to access more granular first-party data around shopper intent, behavior and overall impact of AR experiences.

Others are harnessing digital tactics to create anytime, anywhere engagement strategies that help shoppers plan trips more thoughtfully based on their needs and preferences. Easton developed the myEaston app to centralize all must-know information about upcoming events, timely sales, new film releases and even art activations. Visitors also can easily browse the total list of brands on site across categories and see which new stores have recently opened.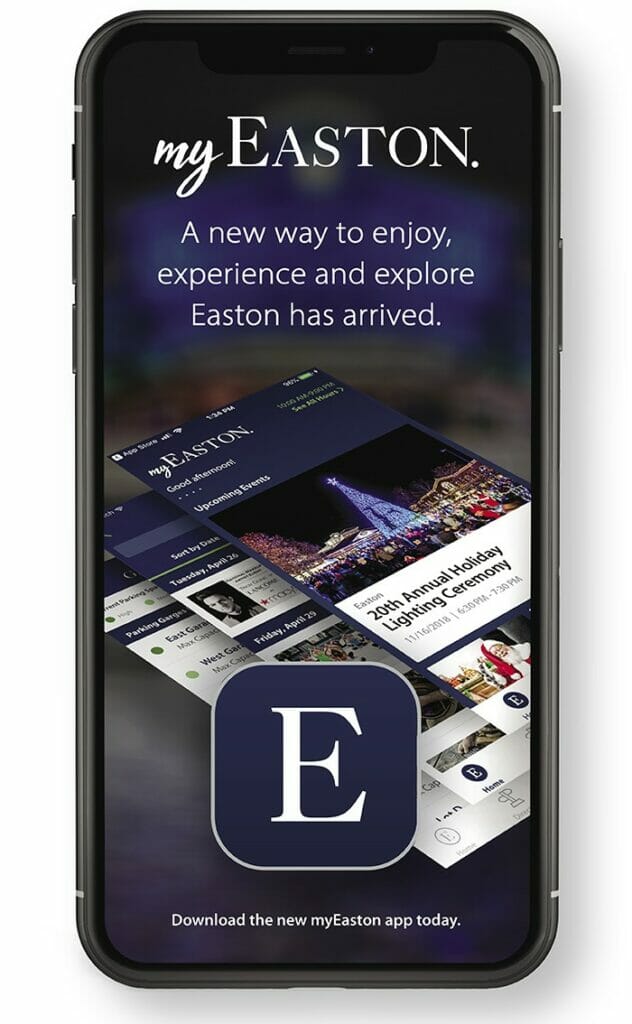 "We realize the [online purchasing] trend, so we want to be channel-agnostic and remove friction," Peterson said. Just recently, Easton redesigned and relaunched its website, and in April 2021 it launched a mobile concierge called Ask Easton. "You can text to ask questions and get information you can't find online. Of course, we have a fully staffed Guest Services Desk as well, because we believe that human connection is still extremely important. But we just want to meet people where they are and give them multiple touch points."

As consumers' use of and reliance on ecommerce grows, however, some executives believe a more holistic (and consistent) omnichannel strategy will be key. Chad Cress, Chief Creative Officer for DJM, noted that while many conversations are focusing on the shift to digital and how that will impact in-store sales, developers should be figuring out how they can create an omnichannel environment for tenants and visitors.

"Brands that look at their brick-and-mortar and online businesses not as two competing entities but as one way to increase sales across the board — those are the brands that are surviving, and those are the brands we want to talk to," Cress said in an interview with Retail TouchPoints. "Internally, we're having conversations as a landlord about how to create a platform or a sandbox of some kind where these brands can come together. How do we be an omnichannel landlord?"

DJM is attempting to answer this question by focusing first on mastering the physical environment and creating an authentic, beautiful space where consumers feel safe and happy, Cress explained. However, the landlord also is building out its digital strategy by creating virtual "spaces," on social media and other channels, that can create an integrated omnichannel experience for visitors to engage with its properties anywhere, anytime.