Macy's recent announcement that they will be expanding the MyMacy's initiative across the U.S. is shaping up as a high profile litmus test of whether offering store and merchandise assortments based on local customer needs and preferences can differentiate the department store enough to grab market share and increase sales.

Originally piloted in 20 selected geographic markets starting in spring 2008, Macy's now plans to roll out nationally to new local markets. "My Macy's is primarily about tailoring merchandise assortments in each store to the customer who shops there — making sure each Macy's store has the sizes, colors, brands, fabric weights, home goods, etc. that are right for the local customer," says Jim Sluzewski, spokesperson for Macy's. "It also applies to visual merchandising that supports the merchandise and enhances the customer's shopping experience."
While positive customer feedback and positive same-store sales within the pilot were key to accelerating the expansion of the MyMacy's program, Sluzewski pointed out that the company has been preparing to offered tailored assortments for some time. "My Macy's is possible because our company over the past few years built several new proprietary systems for allocating assortments and assorting stores more robustly by location. These systems are now fully in place and provide a platform for My Macy's," he said.
In order to concentrate more management talent in local markets, all Macy's stores nationwide will be grouped into 69 geographic districts that will average 10-12 stores each, effective in the second quarter. Of those, 49 will be newly created districts. The other 20 districts (in the Midwest, Upper Midwest and Pacific Northwest) were created as pilots in spring 2008 and will remain in place.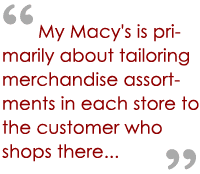 The 69 Macy's districts will be grouped into eight regions that will be based in the Chicago, Houston, Miami, Los Angeles, New York, Pittsburgh, San Francisco and Washington, D.C. areas. Each region will include an organization of 35 to 40 executives to oversee merchandising, planning and various support operations. Special events and marketing public relations staffs also will be located regionally around the country.
In all, a total of approximately 1,200 new district and regional positions will be created in 2009 as the My Macy's model is rolled out to the 49 new districts nationwide.
Beyond the geographic assortments, Sluzewski added that a cross-channel strategy is also critical to Macy's strategy moving forward. "Shopping across channels is a core strategy at Macy's and Bloomingdale's.The stores and Internet are very closely aligned," he said. "For example, a customer going to macys.com can see if a particular item is currently in stock in their nearby stores. This feature is called 'Find It In Store.' We also have a feature called 'Search and Send' in which store associates can access macys.com from the POS registers and have merchandise shipped directly to the customer, if it's not available or in-stock in that particular store location."
Macy's anticipates the nationwide district structure to enable the company to develop and implement more effective strategies for identifying and serving specific consumer needs location by location. This is consistent with ongoing development of customer-centric business initiatives to leverage knowledge of customer segments to drive same-store sales, profitability and customer loyalty. Macy's is working in partnership with consumer insight firm dunnhumbyUSA on these initiatives under an exclusive arrangement announced in 2008.
In each of the 49 new districts, an average of about 23 new positions – primarily in district merchandising and planning – will be created at the local city level to help central planning and buying executives to understand and act on the needs of local customers. In addition, district-based executives, including a district vice president, district merchants, district planners and individual store managers, will be empowered to make more and better decisions for their local customers.