From the U.S. government to the general public, more people are closely scrutinizing the actions of social media giants. While one is being questioned for its privacy practices (TikTok) and another is being pinpointed as the primary enemy to teens' mental health (Instagram), Pinterest has been watching quietly on the sidelines. That is, until now.

Pinterest's still relatively new CEO, Bill Ready, is doubling down on the platform being a positive environment in the increasingly toxic social media universe.

"I really believe in social [media], but I think there's a Pandora's box that was opened," Ready said during a keynote at Shoptalk in Las Vegas. "I don't think anybody has set out for social media to be the new Big Tobacco, but if you can use AI to maximize time [on social], the AI then figures out what makes people view things and [it] can trigger things that make them feel angry, envious or worried. We're saying that we're going to tune the AI for something else: to make you feel better, and to show you things that make you feel more positive."
As an organization, Pinterest is investing significant time and money on this mission — and so far, the numbers are skewing in its favor: the company recently partnered with UC Berkeley's Greater Good Science Center to "test the relationship between inspiration and wellbeing." The results found that when consumers (specifically Gen Z college students) actively engaged with content on Pinterest, they were able to reduce feelings of burnout, stress and social disconnectedness. "We've committed to building a business model for social media that is centered on positivity and on helping people build a life they love; not keeping them glued to a screen," said Ready.

But how does this more positive environment translate to tangible revenue, especially in a space where, as Ready so astutely noted, outrage has historically driven engagement and ad results? The power lies in creating a content and advertising ecosystem that helps consumers instantly turn their inspiration into action — something that very few platforms have been able to monetize successfully. In a follow-up interview with Retail TouchPoints, Pinterest's Chief Revenue Officer Bill Watkins shared what the company has been steadily (and quietly) building behind the scenes.
"It's always going to come back to the mission and strategy of the company," Watkins said. "It's about that maniacal focus on user experience and always making [that experience] more engaging, as well as driving user growth and engagement around the products we're building to enhance the core Pinterest experience. Then, it's about making shopping a stated part of our enterprise strategy. Lastly, it's about monetization, which means building products for all of our advertising partners that can drive performance in this very unique, Pinterest way. These are the guiding principles directing the investment on the product side."
Watkins identified another four key realities shaping Pinterest's priorities moving forward:
• Pinterest's identity as a shopping destination rather than a retailer;
• Pinterest's focus on key metrics for success beyond last-click attribution;
• Content diversification is definitely on the Pinterest roadmap; and
• Robust data and AI will remain important points of differentiation for the platform.
1. Pinterest is a shopping destination, not a retailer. The platform is using this distinction as a business advantage.
More than half of Pinterest users stay on the platform to shop, according to Ready. That means consumers aren't just using Pinterest for "digital window shopping" nor to passively scroll a feed; there is a clear intent to buy. But that doesn't mean Pinterest thinks it's a retailer, nor a marketplace. Instead, it's a partner focused on helping brands and retailers succeed.

With this positioning in mind, Pinterest is building a full-funnel advertising ecosystem designed to take already strong purchase intent and turn it into action. For example, the retailers that have uploaded or integrated their products into Pinterest have seen a 90% lift in product "saves" through the platform and a 30%+ lift in attributed conversions. Deep linking, which takes users from products straight to a retailer's checkout, represented 40% of Pinterest's shopping revenue. And when brands take a full-funnel approach to campaign objectives and media strategy on Pinterest, they can expect a sales lift of up to 50%.

"We are connecting the user to a full-funnel experience where they can go from consideration to action and, most importantly, we're helping the advertiser meet them along that journey," Ready noted. "They're getting to meet users in moments where they have intentions and purpose but haven't yet decided what to buy, which is a really magical moment. I think that's a big part of what is letting us take market share in the space."

Watkins noted that current market conditions have encouraged brands to think more pragmatically and remain focused on profitability. Because Pinterest's services and solutions perform across the entire funnel, brands can more fully understand intent and meet a broader range of commerce-driven marketing objectives. As a result, while many advertising platforms have seen their performance shrink, Pinterest's ad business has grown.
"People are coming to Pinterest to get inspired," Watkins said. "They're saving things into collections and building the fabric of their life. I think that's a big differentiator."
2. With financial pressure intensifying for brands, Pinterest is zeroing in on the metrics that matter.
Because Pinterest is an ad platform first, both Ready and Watkins emphasized the bottom-line impact of its full-funnel user experience.
"Every CMO in the country has recently dealt with their CFO saying to them 'Hey, those ad dollars need to work harder,'" Ready said. "We're making it so that the CMO can say to the CEO and CFO that they're getting ROI. But we're also making it so they no longer have to wait until the last click [to see that impact]."

Last-click attribution is a key metric for marketers, despite the fact that purchase decisions are influenced long before that moment of conversion. Now, Pinterest has the unique opportunity to can act as a strategic advisor to help brands and retailers rethink their approach to measurement as they go across the funnel, according to Watkins. "We get to talk with our partners about the full funnel, be more clear on what their parameters are for success, what their performance measures are and be very specific about how we're driving media success for retailers as well as their brand partners."
3. Content diversification is integrated into the current and future advertising roadmap.
Many consumers rely on Pinterest for high-level research, "mood boarding" and curating products to align with specific needs or moments in their lives. Like many platforms, Pinterest has realized that consumers rely on a more diverse range of content and resources to drive final decision-making — not just static images. This is especially true for Gen Z, which (no surprise) is Pinterest's fastest-growing demographic. That's why it's not just allowing but encouraging brands to diversify their content mix.

"We're bringing together more ways to tell that brand story, through rich imagery and video that connect to purchases," Ready said. "Short-form video is now more than 10% of the engagement on our platform, but it's more than 30% of the revenue. What that means is that advertisers on Pinterest are finding really great ways to use short-form video to connect with users."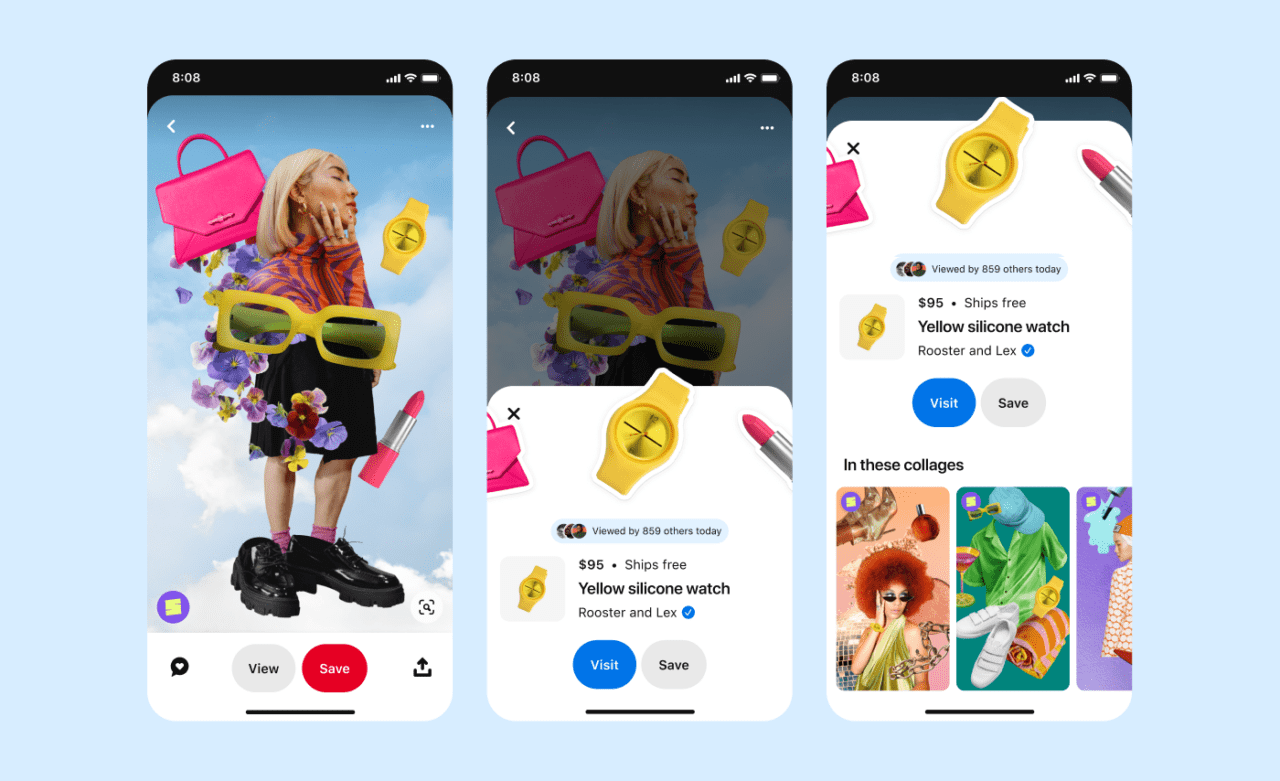 To make advertising moments even more authentic and user-driven, Pinterest recently launched Shuffles, a "collage tool" that allows users to design, publish and share visual content. This app was designed with Gen Z in mind and, due to its success, these content formats are being merged into the broader Pinterest app experience.
"We are thrilled about the progress we've seen so far integrating Shuffles into Pinterest. People can take an item and we'll show them a look, how to style the product and all the facts they need," explained Watkins. "It all comes down to the data set and technology that we have to present the best experience for our users."
4. Pinterest's platform is differentiated through its robust data and AI.
Pinterest is using its robust data set, which includes more than one billion text queries per month and hundreds of billions of pins organized into more than six billion collections, to guide future innovation for its ad products.
"It's an important starting point because any AI technology you build, buy or borrow is only as good as the data set," Watkins explained. Pinterest is able to make powerful product recommendations using a combination of this data, computer vision and AI, but Ready noted during his keynote that the AI also is only as good as the signal upon which it's active.
"Computer vision can do things like match a pattern from a shirt to a pattern on a handbag, but you may not want the pattern on your handbag to be the same as the pattern on your shirt," Ready explained. "How do you make those associations with AI alone? On Pinterest, we have 450 million users that are associating products every day. As those users curate, our AI is able to act upon that. You can browse through the different ways they've stylized those things and get really good recommendations."
Users' relevancy scores for these recommendations are consistently over 95%, illustrating the power of the AI and the overall value of direct matches and lateral explorations made within the platform.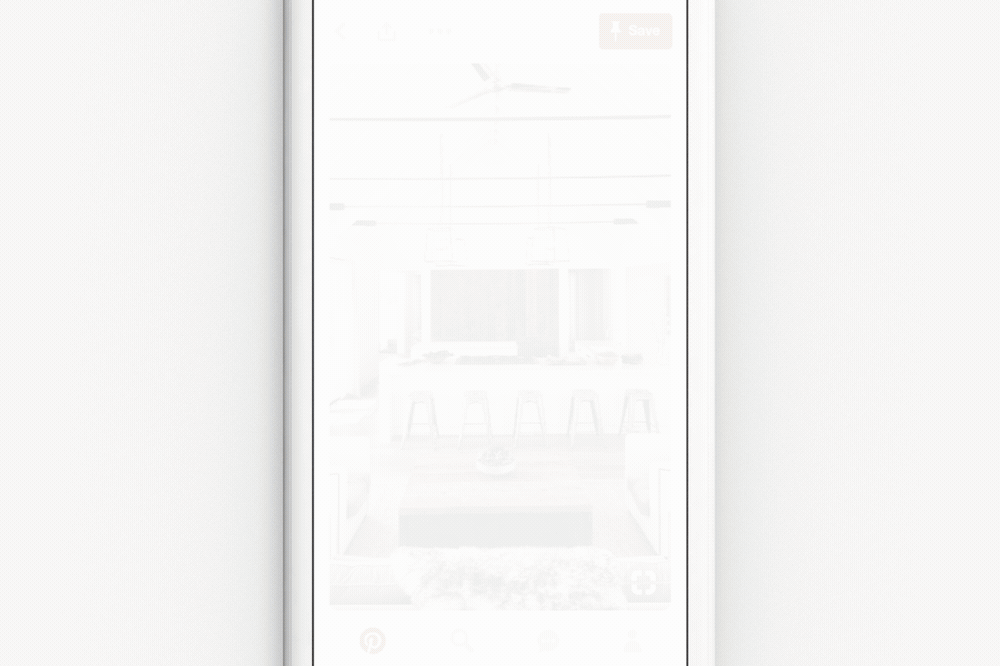 Watkins and the broader Pinterest team plan to continually leverage this user and brand performance data to further refine ad offerings. As a result, advertisers get access to PII-compliant data to help them validate and improve the impact of their marketing investments through the platform and beyond. For example, Pinterest recently announced its Conversion API solution, which allows Pinterest to ingest advertisers' online-offline conversion data so they can better prepare for a cookieless world.
"Our advertisers' customers are our users, so we're thinking about how we put [the customer] at the center to innovate and put the joy back into shopping," Watkins explained. "That means exploring what the window shopping experience looks like not just on Pinterest but, more broadly, online. We have an opportunity to take a leadership position in that because that's how consumers have been using our platform since day one."
All Roads Lead Back to Commitment and Accountability
Watkins, who has been with Pinterest for more than nine years, is all in on Ready's vision for the platform as a social media change maker. In turn, this vision is trickling into his efforts for building and scaling the revenue business.
"My priority is that my vision for our monetization strategy doesn't trade off on the user experience in a way that would have any downstream toxic results. It's literally that simple," Watkins said. "But it first starts with the platform itself, and how you can differentiate it from others. This is a very natural and welcoming environment for retailers and brands based on how people use our platform. We want to be the industry leader and full-funnel solution, and we start and end our day on advertiser value in a platform where all brands are welcome. It allows for everybody to win and not have any of those ugly trade-offs."
Watkins, and Pinterest more broadly, "take pride" on specific actions made in the past, such as banning climate misinformation, anti-vax content, political ads and most weight loss ads. These moves meant "leaving potential usability and monetization on the table to enact policy on our platform to be this positive experience on the web," according to Watkins.
Pinterest's efforts to become a "positive corner of the internet" are intentional and based on deliberate decisions the company has made over the past decade. "We were making these decisions and being criticized for it for years," Watkins noted. "I'm not saying this for a pat on the back but to say that we take this very seriously and remain even more committed to protecting the safety of our users."