If you've noticed a lot of new third-party marketplaces popping up lately, you're not imagining things. More and more retailers are jumping on the marketplace bandwagon — Lands' End, Hudson's Bay and Woolworths in Australia are just a few of the new entrants this year alone. They join a growing roster of retailers that are expanding their online reach by allowing third-party brands to sell directly through their ecommerce sites, bypassing traditional wholesale relationships.
That list includes a host of familiar names: Walmart, Target, Michaels, Anthropologie, Sears, Ahold Delhaize and Urban Outfitters, with new players entering the field every day. Marketplace SaaS solution Mirakl alone was responsible for the launch of 55 new online marketplaces over the course of 2020, for the likes of Carrefour in France, H&M Home in Sweden and Kroger in the U.S.
And the trend isn't limited to retail — Google, Facebook and most recently Yahoo all have (or in the case of Yahoo, will soon have) their own ecommerce marketplaces as well. Google's recent partnership with Shopify was referred to by analysts as "pivotal" in its efforts to compete with Amazon.
So why the mad rush to build marketplaces? It all comes down to growth and speed — for companies with an established online presence, a third-party marketplace offers a quick, relatively easy way to boost top-line sales and bottom-line profits. An added bonus is the opportunity to gather data from potential new customers as well as explore possible category expansions with less downside risk.
"Ecommerce is accelerating, but it's not just the same old, same old; marketplaces are actually capturing a disproportionate share of that growth," said Joe Sawyer, CMO at Mirakl in an interview with Retail TouchPoints. "It's that financial reality that's making companies realize this isn't just a visionary thing, it's a must-have."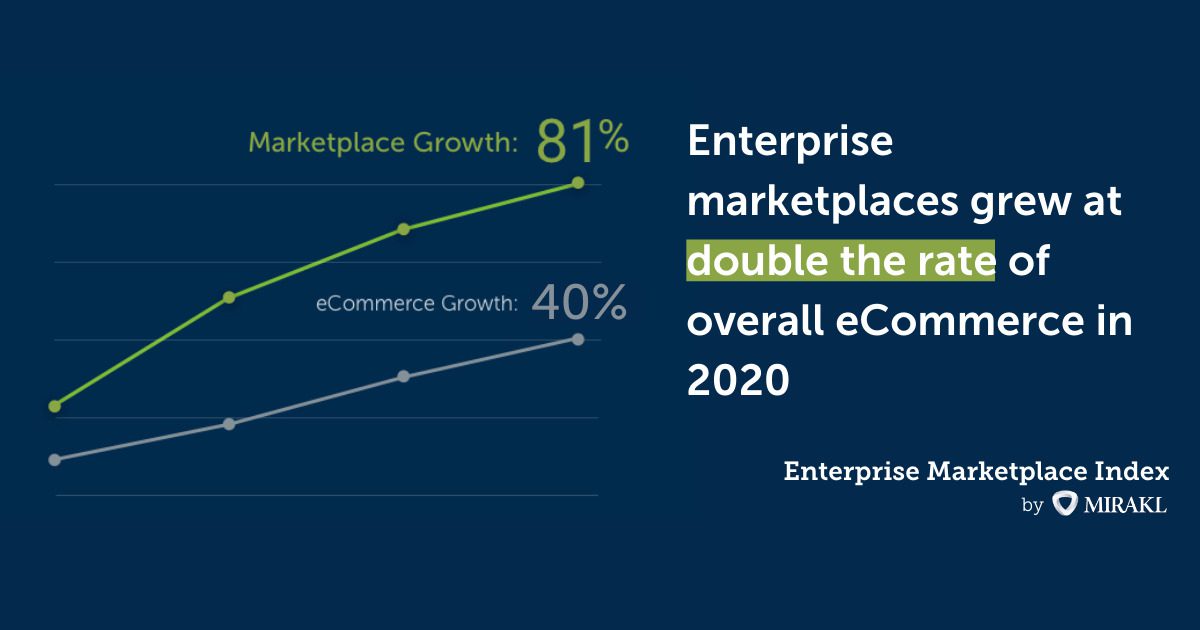 Marketplaces grew by 81% YoY in Q4 2020, more than double the already impressive rate of overall ecommerce growth, according to Mirakl's 2021 Enterprise Marketplace Index, which analyzed benchmark metrics from 60 global retailer marketplaces.
Beyond the financial benefits, marketplaces also offer retailers and other players looking for a piece of the ecommerce pie:
A relatively low-risk way to expand the breadth and depth of their offerings;
A critical tool to capture consumers' attention for longer as first-party data becomes table stakes;
The potential to build out the flywheel, à la Amazon, and bring in additional revenue by offering advertising and fulfillment services to sellers; and
An opportunity to transform their ecommerce business in a way that is easily scalable and reactive to consumer demand.
[This is the first in a two-part series looking at the growth of third-party marketplaces. Stay tuned next week for the second story in this series, which will examine the key elements of a successful marketplace implementation.]
Chasing Amazon? Kind of, but not Quite
It's nearly impossible to talk about marketplaces without mentioning the marketplace (in the U.S. at least) — Amazon. It's true that some of this marketplace momentum can be attributed to retailers looking to take a bite out of Amazon's pie by launching their own "Everything Stores" (Walmart and Target in particular come to mind).
In practice, however, most of the new third-party marketplaces being launched don't look anything like Amazon. Rather than turning their online shops into digital department stores, most retailers are using marketplaces to expand the depth of their product offerings in a way that is seamless to their existing brand experience.
"[A marketplace] allows you to enrich the value proposition from a service standpoint," said Eric Gervet, Partner in the retail and digital transformation practices of Kearney in an interview with Retail TouchPoints. "Without the limitation of having to buy and sell stuff, you host partners that will enable you to expand the breadth and depth [of your assortment] and help the consumer find what they need more easily."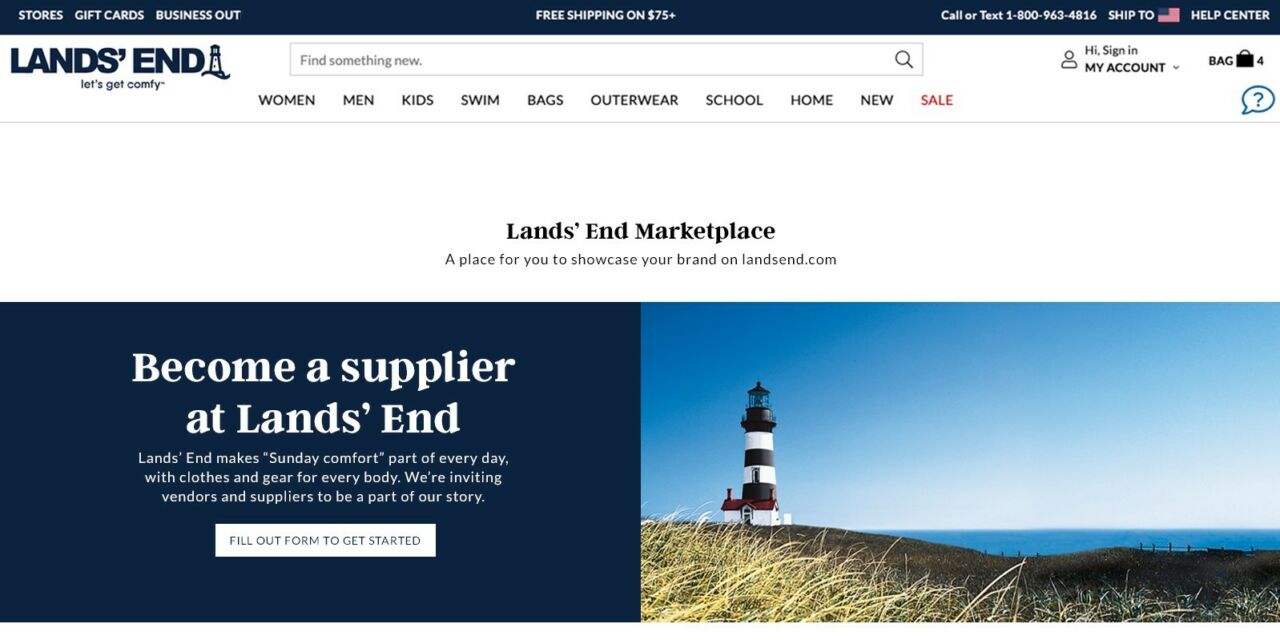 Lands' End, for example, launched its marketplace in March 2021 with a relatively conservative number of third-party sellers — 24, to be exact. The result has been an expansion into new categories, including footwear, home décor and intimates, but the sellers and their product offerings are carefully selected to complement existing Lands' End merchandise, said Sarah Rasmusen, EVP and Chief Customer Officer at Lands' End in an interview with Retail TouchPoints. In fact, when done well, third-party listings can be almost indistinguishable from a brand's core product offerings.
Verizon Media is taking a different tack with its Yahoo Shops marketplace, announced in March 2021 and set to launch later this year. This marketplace aims to create a highly curated experience for shoppers who, after a brief onboarding, will be presented with their own "personalized digital storefront" tailored to their tastes.
"Since the beginning of Verizon Media's commerce expansion, we've focused on delivering a smart and personalized shopping experience for our 900 million monthly active users and shortening the path to purchase for our brand partners," said Andrea Wasserman, head of global commerce at Verizon Media in an interview with Retail TouchPoints. "Yahoo Shops is the next step in our commerce journey. Yahoo Shops will be a true marketplace bringing the best brick-and-mortar concepts and feelings — from passions to discovery — all online."
(A company representative confirmed to Retail TouchPoints that plans for the launch of Yahoo Shops remain unchanged despite the recent sale of Verizon Media to Apollo Global Management, which will also see the company renamed as Yahoo when the deal closes in the second half of this year.)
Meeting the Demands of the 'Attention Economy'
Regardless of the form the marketplace takes, the aim is the same — to keep consumers in your ecosystem for as long as possible. This has become even more important as cookies and other third-party tracking tools are phased out, making in-house consumer intelligence more valuable than ever.
"I call it attention commerce — if you have people's eyeballs, you don't want them to leave you," said Sharon Gee, Senior Director and General Manager of Omnichannel at SaaS ecommerce platform BigCommerce in an interview with Retail TouchPoints. "This is compounded by all the data privacy things at play, because if they leave, you lose any data about how to deliver more personalized experiences. So you want to keep them there, and the way to do that is to make sure that they can discover the things they're looking for."
For traditional retailers, larger basket sizes are of course also a benefit. Most marketplaces operate on a commission model, with the host taking anywhere from 10% to 20% of gross merchandise value (GMV) on third-party sales, depending on the category.
In a way, the move toward marketplaces is the counterpoint to retailers' embrace of private label. While the business models couldn't be more different, both are driven by the need to find new avenues of optimized growth. Private labels offer the advantage of higher margins but come with the logistical burden of manufacturing and fulfillment.
Marketplaces, meanwhile, feature lower margins but offer a relatively hands-off path to new revenue, since it's the third-party sellers that handle production and fulfillment. Among the marketplaces measured in Mirakl's index, third-party sellers brought in an average GMV contribution of $109,766 — resulting in a net revenue contribution to the retailer of nearly $15,000 per seller.
"Marketplaces offer a more profitable growth opportunity than core ecommerce because retailers can expand their assortment faster and more responsibly than if they're just doing first-party products," said Sawyer. "And they can do it with very little risk because it's commission based, so they're not buying or holding inventory."
Monitor a Marketplace's Impact on the Retailer's Core Business
While the economics of the model may be appealing, many retailers are concerned about cannibalization of their core business. In actuality though this doesn't seem to be a major threat.
"It may cannibalize a little bit, but it's not a zero-sum game," said Gervet. "In most cases, the marketplace grows the total pie. It allows [retailers] to reach more customers, increase frequency and increases sales. It's okay to have a smaller share of the pie if you grow the total pie."
Lands' End's experience bears this out, according to Rasmusen: "So far, we have no evidence of cannibalization — it's all been filling white space. When you have a strong swim business, add-ons like a broader sandal assortment are a natural fit."
In fact, the increased product assortment that is the result of a marketplace generally offers a boost to site traffic, bringing in more — and in many cases, net new — consumers. Mirakl's research found that retailers leveraging a marketplace model saw an average 34% lift in organic site traffic without any additional marketing spend.
"In the first year that our marketplace was live, we tripled the number of offers on BestBuy.ca," said Thierry Hay-Sabourin, SVP of Ecommerce, Marketplace and Technology at Best Buy Canada, which used Mirakl to build its marketplace and shared its experience in the Mirakl index. "This growing volume of relevant products boosted our results from SEO, leading to considerable year-over-year growth in organic traffic to the website during year one. Our marketplace has played an essential role in our SEO strategy ever since."
Opportunities to Expand More Than Just Product Assortment
In addition to increased site traffic and new customers, marketplaces also lay the foundation for other potential revenue opportunities. Amazon does a hefty business offering advertising and fulfillment services to its third-party sellers, and now other marketplace operators are following suit. Sears and Walmart now offer marketplace fulfillment services, and Target, Walmart and Kroger (to name just a few) all have robust retail media networks (RMN) integrated into their ecommerce functions.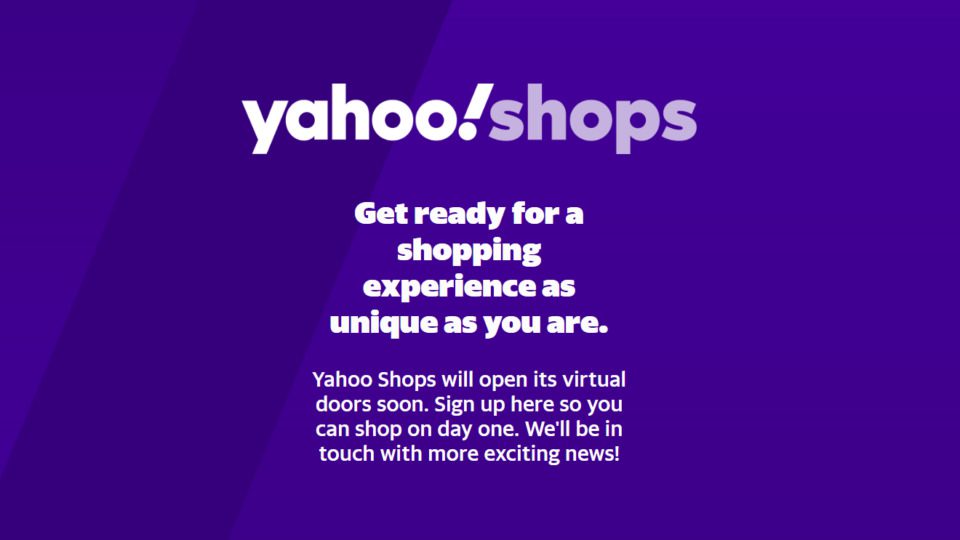 The same impulse that is propelling the creation of RMNs is behind Yahoo Shops as well, albeit in reverse. Wasserman describes the upcoming platform as the "first digital media marketplace with native commerce capabilities.
"We believe the future of shopping is at the intersection of media and ecommerce," she added. "We know there's demand from our readers for a holistic marketplace shopping experience — from discovery to transaction — all within one destination."
Eventually Wasserman said that the plan is to connect the Yahoo Shops marketplace to all of Verizon Media's commerce offerings via a universal, cross-platform shopping cart.
Are we Nearing a Marketplace Saturation Point?
But with so many retailers and non-retailers alike now being drawn to the model, it raises a question: How many marketplaces can the market support? According to Sawyer, plenty: "It's hard to imagine how we would get to saturation from where we are now, only because the marketplace growth that's taking hold now is largely around established brands," he said. "Just as there's enough room for all those brands to coexist today, there's room for them all to coexist with a marketplace. If anything, it should help make them more competitive with their consumers."
The key will be in the model these brands use. In all likelihood, there is a limit to the number of big box, department store-style marketplaces that can coexist successfully in any one market. When it comes to curated, boutique-style marketplaces centered around an established brand identity, however, the sky appears to be the limit — for brands that do it right of course.
"[Companies] have to treat this as a business initiative, an opportunity for transformation and competitive advantage and not just a tech project," said Sawyer. "It really is a business transformation from the start, if you do it right."
Keep an eye out next week for the second story in this two-part series which will reveal the key elements that make for a successful marketplace implementation.