Amazon has launched a new in-app shopping experience, designed to give customers a fresh way to both discover products and seamlessly shop from content created by other customers, influencers and brands. Called "Inspire," the shoppable content feed aims to create a place of open discovery within the Amazon app, much like what shoppers experience now on social media platforms.
"We invent every day to make shopping easy and fun," said Oliver Messenger, Director of Amazon Shopping in a statement. "Inspire is our new shopping experience that connects Amazon customers with shoppable content created by other customers, the latest influencers and a wide range of brands. In just a few taps, customers can discover new products or get inspiration on what to buy, all tailored to their interests, and then shop for those items on Amazon."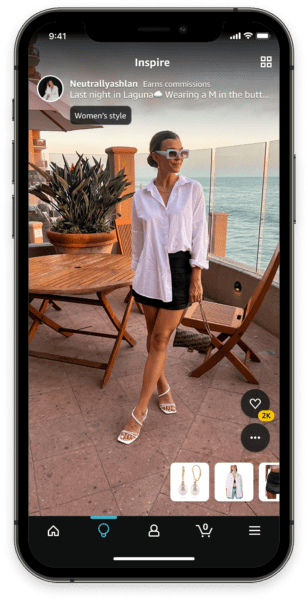 The company also pointed to the new offering as another way for influencers and brands "to grow a successful and rewarding business." Inspire builds on Amazon's live shopping feature, which debuted in 2019. But Live hasn't taken off as the company might have hoped, in part because many influencers say it's hard to build an audience on the platform. Inspire appears to be a response to those creator concerns.
"Inspire will be a game-changer for me," said Amazon Influencer Mae Badiyan in a statement. "It brings together the perfect combination of entertainment, education and shopping. My audience wants engaging videos that introduce them to new products, which is why I'm excited to use Inspire to spotlight my favorite everyday essentials with the convenience of shopping those items immediately on Amazon." 
To get started, customers tap the "light bulb" icon on the bottom navigation bar of the Amazon app and then are prompted to choose from more than 20 interests, such as makeup, pets or gaming, to personalize their feed. Over time, Inspire will learn more about a customer's preferences through their interests and engagement in order to continue tailoring their feed of shoppable content (just like on social media).
Within the Insight feed, customers can tap on a video or photo to see product details including average star rating and reviews, color and style options, and price, and then add it to their cart. As the offering rolls out, Amazon plans to add more shoppable features, in-app functionality and content to build "an even more immersive shopping experience for customers."
Inspire is rolling out to select customers in the U.S. in early December and will be available to all U.S. customers in the coming months.