It's been a rough couple of years, to put it mildly. A global pandemic, social unrest, the proliferation of "fake news" and political gridlock have led to an erosion of consumers' faith in some of our country's most revered institutions. As consumers' trust in religious organizations, government and the media crumbles, the Kearney Consumer Institute (KCI) has found that there is an opportunity for businesses to fill the gap.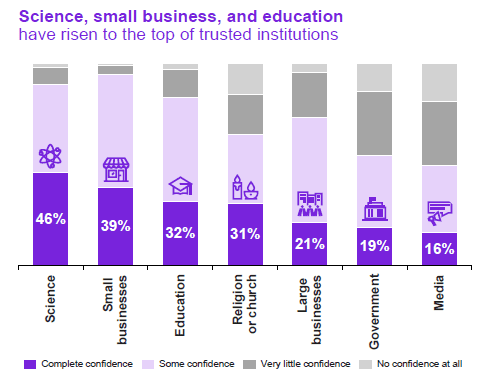 According to a study conducted by KCI, there has been a 34% decline in Americans' trust of the government over the past 20 years; trust in mass media has declined 15% in that time; and the number of Americans who identify as religiously unaffiliated has increased 9%. Conversely, trust in large and small businesses has increased significantly since the pandemic. Complete confidence in small businesses has nearly doubled since 2016 (from 21% to 39%), and for big businesses it has increased more than 4X during that time, from 5% to 21%.
"The reality is, we just don't feel heard or represented anymore," explained Katie Thomas, who leads the KCI, an internal think tank at management consulting firm Kearney. "With institutions we want honesty, we want consistency, and instead I think, frankly, we all feel there's just a total lack of transparency.
"[During the pandemic] our pods got so much smaller," she added in an interview with Retail TouchPoints. "We ended up in these social echo chambers where we were reconfirming what we already believed rather than [being exposed to] a more diverse group of opinions and perspectives. That makes this all the more challenging to dig out of, because we have to figure out how to see a bigger picture again."
In this current environment, businesses and brands are uniquely positioned to step into the trust gap (and create loyal customers as they do) by:
Doubling down on what consumers look to them for — for small brands, generally product quality and customer service; for big brands, reliability and selection;
Focusing first on honesty and transparency, even before investing in things like customer relationships; and
Ensuring the experience you offer consumers is consistent.
Small and Large Businesses are Winning Trust, but for Different Reasons
Small businesses in particular have emerged as one of the most trusted groups among today's consumers, in part simply because they are small, which in today's world equates to accessibility and authenticity. "Consumers just feel like [shopping small] is a more optimistic experience," said Thomas. "They're feeling heard. They're feeling represented. If they have a problem, they can find a person to talk to, they don't end up on some phone line with a robot."
In fact, 76% of consumers surveyed by Kearney said they trust small businesses more than large ones. One caveat: Thomas is careful to point out that these results are likely a bit aspirational — consumers like the idea of supporting local institutions and thus tend to respond to surveys more out of intention than actual action.
When it comes to trust of businesses, the results depend a lot on what facet of the business is being measured. For things like services (e.g. installation or delivery) or fair pricing, small and big companies are about even in consumers' opinions. And while small businesses win out in product quality and customer service, big businesses have an edge when it comes to things like returns, warranties and selection.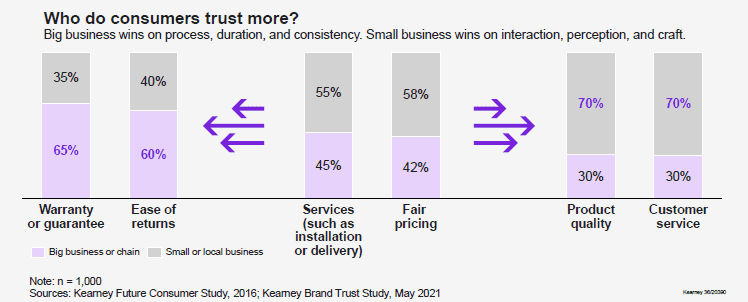 "Consumers are telling us that they trust big businesses more when it comes to the process and duration-oriented things," said Thomas. "If I have to return something a year from now, I know [a big business] is still going to be there. That's where local may not win, because their return policies are more like 14 days. [Big businesses] win in selection as well."
And in fact, consumers do trust big businesses more than they have in the past: "The increased number of brands and options we have today has forced brands to really step up their game," Thomas added. "A lot of smaller niche brands have emerged that are much more in tune with what consumers are looking for, and I think that's actually helped bigger brands figure out how to scale some of those metrics better as well. They've demonstrated that if you really understand your consumers and know what they're looking for, you're going to build trust."
One company that definitely knows its consumers is Amazon, so it should come as no surprise that for the fourth year in a row, it has been ranked as the No. 1 most trusted brand in Jebbit's Consumer Data Trust Index. Another retail brand, adidas, followed closely behind at No. 2.
Data privacy is increasingly playing into the trust equation for consumers, and while many retailers are focused on personalizing experiences to enhance their relationship with customers, that can easily backfire. The Jebbit index found that the No. 1 way to decrease trust with consumers was generating personalized emails based on data that customers hadn't knowingly shared with the brand.
The Most Important Trait in Earning Consumer Trust — Honesty
Companies tend to invest a lot in customer relationship-building to bolster loyalty, but Thomas said there's an important initial step brands should focus on.
"What we think is brand loyalty is often just habit, and that's why a lot of these things are more ripe for disruption than we realize," she said. "In order to truly build trust, first build a strong foundation — be honest with your consumers, deliver a consistent experience. We're not saying relationship-building doesn't matter, we're just saying get the foundations right first."
According to KCI's research, the five most important elements in earning consumer trust are honesty, authenticity, consistency, quality of product or service and clarity. Note that three of those five have a lot to do with how a brand communicates with its clients.
"Honesty also means transparency," explained Thomas. "Think about something like the availability issues we've had throughout the pandemic. That's not going away right now with all the supply chain problems, so companies could really challenge themselves to be a little bit more honest with consumers. Think about how much better we all felt when retailers started sending UPS and FedEx tracking numbers. In the end it doesn't necessarily matter if it's Tuesday or Thursday, what matters is I know when it's going to show up. Start with, 'What can I incorporate that really allows me to be honest and forthcoming?' Sometimes that means saying, 'I don't know' or 'We messed up.'"
Peloton for example, had a big setback earlier this year when reports started to surface of dozens of injuries and one death related to its treadmills. The company didn't do itself any favors when it pushed back on a recommended recall. After consumers responded with outrage, the company reversed its position, apologized and issued a voluntary recall. Luckily Peloton had built up plenty of brand trust prior to the incident, which meant it had the resiliency to bounce back quickly.
"That's a very differentiated product and they have been evolving to what their consumers want as they go, so you could argue that they're not going to take as big of a hit with this first misstep," said Thomas. "Now, I don't think they could have another big screw-up and survive it as well."
Create an Experience Consumers can Rely on
One could also argue that, prior to this incident, Peloton had offered its consumers a very consistent, reliable experience — another key to building trust.
"I expect when I go to McDonald's that the sausage Egg McMuffin is going to taste the same at any McDonald's," said Thomas. "Another example here is employees. There are [retail] chains where some stores are better than others. I know the labor market's a mess right now, but [retailers should also think about] what consistency looks like in terms of employee expectations — how you're training, how you're engaging with your labor force and setting them up for success."
Thomas' biggest advice to brands, especially amid so much uncertainty, is to double down on the reasons consumers trust them in the first place. "Everyone's trying to predict an unpredictable future," she said. "Lean into your strengths right now. Win where you can win. I know it feels like you have to try to reinvent the wheel, but if you truly have a good understanding of your consumer and what's a top priority to them, lean into that for the next couple months, and then see where we are."