Practically everyone agrees that 3D imagery, whether it's simply placed on a screen or is part of an augmented reality experience, provides a great way for consumers to educate themselves about a product — a key step in the shopper journey.
What almost no one agrees on, at least so far, are the visual and technological standards that allow a 3D image to be experienced both realistically and consistently on any and all devices. There's not yet a 3D equivalent of a jpeg or a gif, which have become universally recognized formats for 2D images. And without a set of common standards, creating 3D images will remain time- and labor-intensive, creating widely varying experiences for different viewers.
"Visualization and merchandising of products in 3D is becoming a vital element for shoppers," said Shrenik Sadalgi, Director of Research and Development at Wayfair and Chair of the 3D Commerce Working Group, which is striving to establish a set of practical common standards. "It's an invaluable way to explore beautiful imagery and to see it in context. The 3D Working Group is trying to answer the questions that are raised by these use cases, including: How do you see and experience a 3D image in a consistent way? How do you interact with the virtual product online in a consistent way? There's no clear-cut, single answer to the solution of how we come to a unified definition for 3D products."
The working group, which operates under the governance of Khronos Group and has support from retail industry giants including Target, IKEA, Wayfair and Shopify, released a high-level summary of its Asset Creation Guidelines in July, with the goal of publishing a full version of the guidelines later in 2020.
Complexities Piled On Complexities
The nature of 3D images, particularly those that will be consumed on a multitude of consumer devices, means the Group has its work cut out for it. In contrast, the standardized definitions of 2D images and videos that have already been established means that such images are "encapsulated and self-contained; nothing more is needed to ingest that media," explained Nathaniel Hunter, COO at DreamView. Hunter and Sadalgi took part in a dual interview with Retail TouchPoints.
In contrast, 3D images are composed of "a myriad of different things," said Hunter. "For just one product, there can be hundreds of different files that are interconnected and relational." 3D images need to be visible from any angle, and the viewer can be inches away or 10 feet away, he explained.
Additionally, a 3D image that will be used in a commerce context needs to show not just the basic physical form of the object but also, for example, the textures of the different types of materials that comprise it. Hunter used the example of a chair with wooden legs, brass buttons and a patterned fabric seat. "The 3D image has to interact with dynamic light as I rotate it and move it from one area to another" — a key functionality of augmented reality furniture apps, he explained. "This involves incredible relationships of all these things, all hooking in to make a simple-looking thing that is actually really complex."
Even something as seemingly basic as color matching has nuances for 3D images. "Say Wayfair is producing a virtual image that represents a couch," said Sadalgi. "That image will appear on Google Ads, the Wayfair app and Facebook posts, and for each platform there's the issue of further underlying operating systems and devices. All these different combinations of scenarios go into the experience of the person seeing this couch. For some the color they see might be significantly different than the real color, for some it might be different by just a shade. We're trying to fix the consistency across all of these."
Standardized Workflows Could Bring Significant Benefits
To solve these and other technical problems, "there needs to be a central body that has input from the different actors in the space," said Sadalgi. However, both he and Hunter stressed that the group's work is about creating guidelines, not mandates. "We're not a body designed to regulate, but to recommend," said Hunter.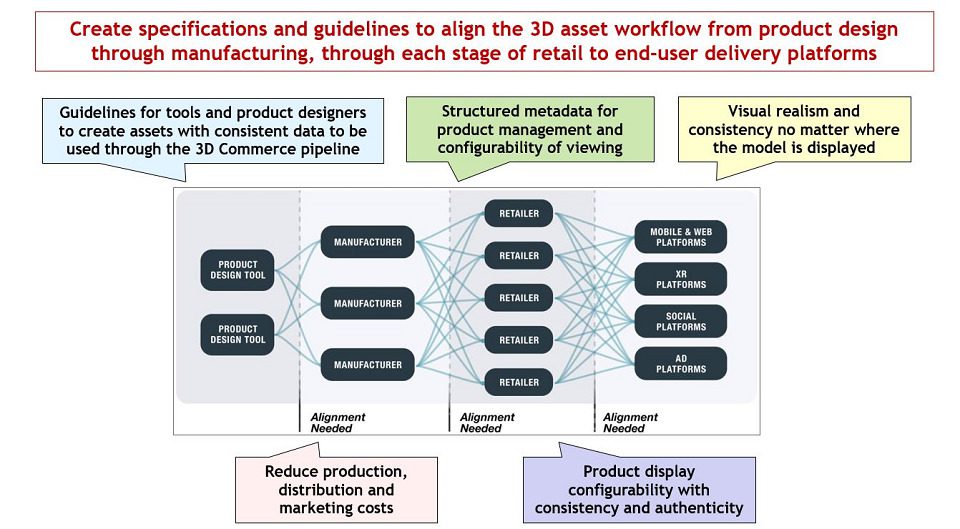 Establishing guidelines also will simplify workflows for a wide range of companies in the larger retail ecosystem. "There are hundreds of thousands of suppliers, and many are selling on dozens of marketplaces and retailer sites," said Hunter. Each site's 3D content requirements can differ in ways large and small. This lack of consistency puts these companies in the position of needing to either develop the skills needed to produce these images in-house, or to hire third parties to create them. "These companies are being asked to be not a furniture or apparel company, but to be a provider of 3D content," he noted. "It's like asking a carpenter to be a rocket engineer."
However, if a company uses the standards generated by the working group, "they'll know that if they submit an image to an Amazon or a Wayfair that they will accept it and it will be usable," said Hunter.
"We're aiming to have people make these digital products once and have them be used over and over again," added Sadalgi. "The model will be to build it once and deploy it as an evergreen product that's available forever."