Livestream shopping has proven a tough nut to crack in the West. Despite the format's wild success in China, where it accounted for more than 17% of all ecommerce sales in 2022, livestream commerce has been slower to take off in the U.S. In fact, major platforms — including Facebook and Instagram — have been scaling back their live shopping features in the U.S. after failing to find traction.
But while livestreaming represented only 2% of total ecommerce last year in the U.S., according to eMarketer, that's still equivalent to $17 billion, and Coresight Research expects that to grow to $68 billion by 2026. And it certainly seems to appeal to younger consumers — a recent study from The Influencer Marketing Factory found that 47% of consumers who had made a livestream purchase in the U.S. and the UK hailed from Gen Z.
These five brands have jumped into the livestream waters and found success — some on their own platforms, others using social networks' livestreaming tools, but all seeking real-time sales and long-term customer engagement.
Simon and Tmall Global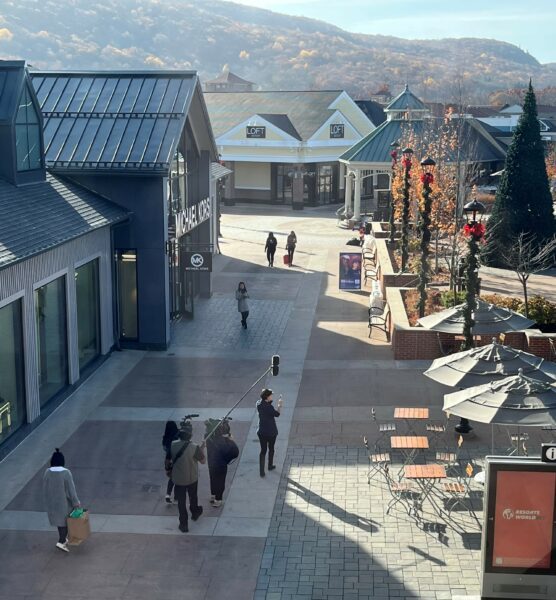 Mall operator Simon's Premium Outlets shopping centers are typically a huge tourist draw, in particular for visitors from China, but with COVID putting the kibosh on international travel, the retailer had to think outside of the box to connect with its international consumer base.
The solution was a partnership with Alibaba's cross-border ecommerce platform Tmall Global. Beginning with the Chinese shopping festival 11.11 and continuing through the 2022 holiday season, the partners hosted a series of livestreams from upstate New York's Woodbury Common. The events were produced by livestreaming consultancy And Luxe, which handled the planning, shooting (all done on a phone) and directing of the streams.
The first stream on 11.11 featured Influencer duo XinShiDanDan, a tactical choice based on their massive following in China. By the end of the livestream 1.37 million people in China were watching, and a follow-up livestream on Black Friday brought in 2 million viewers.
For Greg Giraudi, President of Shop Premium Outlets, the goal isn't just to reach international consumers but also to help the brands at its outlets easily "unlock" their store inventory. "Some of these brands may have inventory that's not even digitized for online, but we can unlock that inventory in a very low-cost way by selling through a livestream event," Giraudi said in an interview with Retail TouchPoints.
Key takeaways:
Hosts must be knowledgeable — Successful hosts know the details of every product they plan to feature, because there's no telling what viewers will ask.
Work with experienced partners — "It's not just about the technology, it's the process and the know-how of running [this kind of program]," said Giraudi. "The way the audience grew over the livestream, that's the result of years of expertise."
Even though it's live, don't underestimate the need to plan — For the 11.11 stream everything was choreographed in advance, including what stores they would visit and what they would do in each store.
Calpak
Heritage travel brand Calpak's experience with livestreaming will feel familiar to many. After hosting dozens of Lives through a range of social platforms, Calpak moved its livestreams onto the Calpak site, and the results were undeniable — conversions jumped from 1% on average to 19%.
Jeannie Shin, Director of Marketing and Sales at Calpak, told Retail TouchPoints that while livestreaming on Instagram was "great for building community and speaking to our audience in more of a live-action format," the monetization they were hoping for from that effort didn't materialize.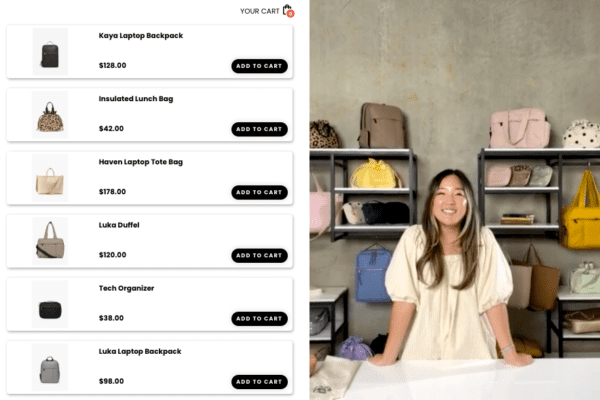 For their first hosted livestream the Calpak team ran the stream on both Instagram and the Calpak website simultaneously in order to compare performance. "The Live on our site was incredible — we sold $79,000 worth of products in under 45 minutes," recounted Shin. Now Calpak hosts all of its livestreams on its site, averaging 2,000 viewers per show.
The company also now views livestreaming less as a social media tactic and more as an extension of its email and SMS marketing efforts. "We can drive our most engaged customers and target a very specific audience within our email and SMS list," said Shin. The company had tried to drive viewers to Instagram Lives in the same way, but the experience was "jarring" because it didn't take them directly to the stream. Now with one click, customers are taken straight to the live video, and viewers that miss the live window are taken to a recording.
Key takeaways:
Approach every livestream with a "test and learn" attitude — Shin and her team regularly test and tweak everything from sets, backgrounds and lighting to how the events are promoted and even the solution providers they work with to handle hosting.
Livestreams can be rich content sources — Calpak repurposes pieces of its livestreams and uses the clips in product detail pages and marketing campaigns.
Use your store experience to inform your approach — Livestreaming is about bringing the in-store experience online, so Shin said she taps into that expertise at the company for "on-air" talent and for selling tactics.
Poshmark
Even as social media sites slowly nix their live shopping offerings, fashion resale marketplace Poshmark has added the feature to its platform with the debut of "Posh Shows" in the U.S. and Canada.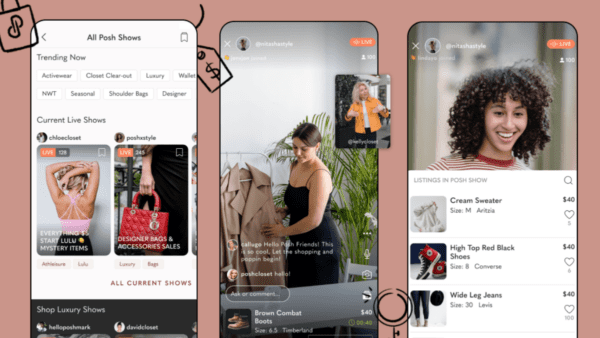 Posh Shows enable Poshmark sellers to host their own livestreams and connect with buyers in real time in a fast-paced auction format where hosts set the starting price and the duration of the livestream. Shoppers engage in a dynamic shopping experience where they can discover products, communicate with other buyers and the seller and score deals.
Not only is the new format helping sellers move through their single-SKU inventory quickly and easily, but the Shows create another point of community connection on the platform. Hosts can add tags to theme their show around certain trends, styles or events, and they can also collaborate with other sellers to co-sell from each other's "closets."
Poshmark said it hopes this community-based approach will "bolster social connections and scale the live shopping experience to everyone." The resale platform began testing the feature in Q4 2022 and sellers already have hosted more than 100,000 shows, with shoppers placing more than 4 million bids in live auctions.
"Poshmark was designed from day one to create a shopping experience built around community and real-time social interactions, making it the ideal destination for live commerce," said Manish Chandra, Founder and CEO of Poshmark in a statement.
Key takeaways:
Integrated in-platform livestreaming like this might be the ideal home for the format in America, especially on platforms where consumers are already there to shop.
Livestreaming is about community and connection — Livestreaming offers something most digital shopping mediums don't — the chance for brands and customers to have real-time two-way conversations — which bolsters connection as much as it helps generate sales.
Adore Me
Inclusive lingerie brand Adore Me is using livestreaming to make its events more geographically inclusive. Known for being the first lingerie brand to bring extended sizing across all categories, Adore Me hosted its second runway show at New York Fashion Week in February 2023.
While most NYFW shows are exclusive, invite-only events, that would have been off-brand for Adore Me. Instead the company made sure anyone who wanted to could view the event by livestreaming it on AdoreMe.com with the help of live shopping platform Caast.TV. Viewers were not only able to watch the catwalk live from anywhere in the country, but they could also shop the styles featured on the runway without leaving the live broadcast.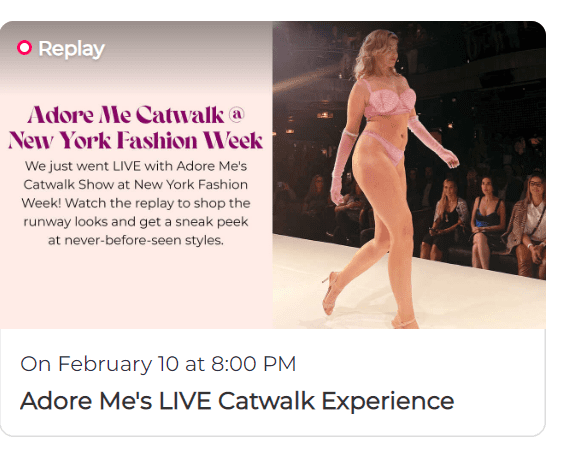 Adore Me's democratized fashion show experience is all the more relevant in light of the pushback the brand's new parent company, Victoria's Secret, has received in recent years for its own fashion show. Victoria's Secret pioneered the idea of a lingerie fashion show in 2001 and turned the annual event into a nationwide television spectacle. But in recent years the brand began to receive flack for the event's perceived objectification of women and lack of body diversity. Victoria's Secret paused the event in 2019, and it's been on hiatus since, but officials recently said it will be returning some time this year.
"Our goal with Adore Me's New York Fashion Week catwalk is to create an experience where anyone and everyone is welcome to both watch the show and to enjoy Adore Me products," said Chloe Chanudet, Chief Marketing Officer at Adore Me in a statement.
Key takeaways:
Livestreaming can enable experiences that aren't possible IRL, for example being able to purchase products mid-event.
Livestreaming can help brands democratize access, not just for events like this one but also for customers who can't get to a store but still have product questions or want styling advice.
Pacsun
Livestreaming veteran Pacsun tried something new for the Super Bowl this year — its first-ever livestreaming event on TikTok, created in tandem with the launch of the brand's TikTok Shop.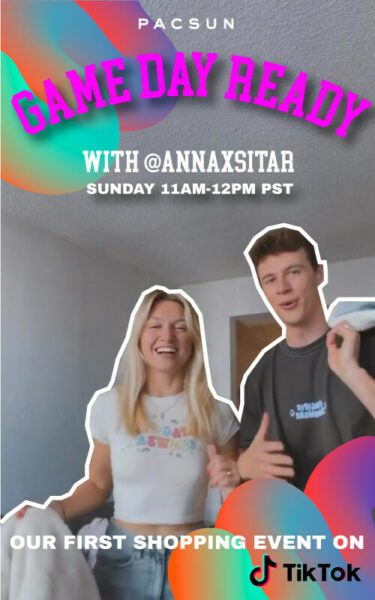 The brand tapped creator Anna Sitar to host the event, which saw her take over the Pacsun TikTok on Super Bowl Sunday. Prior to the game, Sitar previewed her favorite pieces from Pacsun's spring collection in the livestream and debuted new merchandise that was only available in the brand's TikTok Shop. Consumers were able to shop all the products Sitar showcased directly in the social media platform without needing to leave the stream, and also got access to special deals (but only if they tuned in live). After the livestream, Sitar headed to the TikTok Tailgate party and then the game, taking Pacsun's followers with her.
The integration with the brand's TikTok Shop, a new feature that the platform only just rolled out in the U.S. earlier this year, meant that shoppers could buy products directly on the social platform. The typical shopping process on TikTok sends users to retailers' websites.
"TikTok has been an instrumental platform for our community engagement, and being able to provide consumers the ability to purchase from us in real time directly from the app's dedicated shop and livestream is an exciting next step in our commerce capabilities," said Brie Olson, President of Pacsun in a statement.
Key takeaways:
TikTok may be better suited to livestream shopping than other social media sites due to its being video-based.
Tapping influencers to host livestreams is a great way to leverage their community and video prowess.
Exclusive offers drive viewership — Exclusive products, special promotions or special access to people or places gives viewers reasons to tune in live.