Even before COVID-19 dealt a body blow to "non-essential" physical retailers, malls were experiencing significant business headwinds — particularly in the "B" and "C" centers that lack major attractions and popular anchor stores. But now, in addition to the short-term closures necessitated by the coronavirus, malls may be dealing with longer-term structural challenges. One of the most significant: iconic but struggling department stores, including JCPenney, Lord & Taylor, Macy's and Neiman Marcus,could be permanently crippled by the pandemic, as reported by the New York Times.
The pain already is being felt: many landlords are in negotiations with businesses in search of rent breaks, according to the Wall Street Journal. But mall owners determined to play hardball run the risk of losing tenants, or even driving them out of business. "I want to be 100% in partnership with my tenants, and jointly recognize that they're victimized by these challenges, as I am," said Philippe Lanier, Principal VP at EastBanc, which operates an urban mall in the District of Columbia's Georgetown neighborhood. But, he added: "How do I make sure that come December, I'm not dealing with critical vacancies? If I'm critically vacant and have to find new tenants, that's a killer."
As for when malls and shopping centers are likely to reopen, answers vary from company to company and even state to state, given that some U.S. governors seem determined to lift shelter-in-place restrictions sooner rather than later.
"We are evaluating every aspect of our operations in preparation for when we reopen our doors to the public," said Lori McGhee-Curtis, VP, Specialty Leasing at Taubman, one of the country's major mall operators, in an interview with Retail TouchPoints. "This includes speaking to security and cleaning experts to ensure continued compliance with local, state or federal orders, and to create a reopening plan that is appropriately tailored to each mall in the various markets we serve."
Tom McGee, President and CEO of the International Council of Shopping Centers, provided a similar response: "We will have to see what recommendations federal and state authorities release to know if there will be new guidelines around operations in malls and shopping centers," he said in an interview with Retail TouchPoints. "Consumers may also have expectations around protocols that will keep them healthy, but that is difficult to determine at this time."
Prepping For Social Distancing Challenges
It is not just a matter of when malls will reopen, but how they will operate when they do. Operators and their retail tenants will need to coax some wary shoppers back into public spaces, while also dealing with the possibility of a foot traffic surge that overwhelms social distancing recommendations.
In the near term, reopened malls will need to provide a safe environment for employees, support staff and shoppers. Key elements could include:
Technology to monitor the number of people in the mall, particularly its common areas like food courts, such as geofencing and traffic counting solutions;
Multiple sanitation stations, particularly at mall entrances, equipped with hand sanitizer, masks, gloves and other protective equipment;
Mandated temperature check stations to help identify consumers who may be symptomatic with coronavirus or other illnesses;
Enhanced signage (both physical and digital) to encourage social distancing and other safety protocols; and
Multi-retailer product pickup and return locations, possibly located outdoors or in a separate building, for shoppers who have made online purchases but are not ready to enter public spaces.
Coordinating Consumer Communications With Tenants
Even though reopening dates keep getting pushed back, retail industry experts recommend that malls and shopping centers maintain lines of communication with consumers — ideally, in concert with their retailer tenants. "Mall developers need to start campaigning now on social media with the message that 'When we're ready to reopen, we'll be prepared — we don't want you to be afraid,'" said Linda Johansen-James, CEO, International Retail Management and Consulting Group. "They need to spread the message that they're going to keep people safe, and that the people will have fun coming back to the mall. We'll be ready and offer you a mask as you come in."
Malls and retailers also will need to work together more closely than ever before to coordinate the marketing that will be needed to drive traffic back to the mall. "Retailers will need to look at co-branding with the malls, and mall developers will need to help with stores' marketing strategies," said Johanson-James. She also recommended that developers create task forces that include retailers, pop-up companies and experiential attractions, to brainstorm "how the mall will look for the 2020 holiday season."
Safety First, Last And Always
Shoppers' comfort levels will be critical to malls' success when they reopen. "People are going to be dipping their toes into the water first; it won't be like everyone will be rushing back," predicted Matthew Galgano, Outside Sales Representative at FASTSIGNS. "Safety is at the top of the list. If you're not portraying a safe environment, it will be a short first-time-back trip for shoppers."
The design and location of sanitation stations will go a long way to minimizing shoppers' anxiety when they enter and walk around malls. "They should be positioned near the mall entrances to make an immediate impact," said Galgano. "There could be a countertop fixture with hand sanitizer and information takeaways, including a mall map that identifies where every bathroom and sanitation station in the mall is located. That way someone could walk in and say 'I'll hit these stores and visit a couple of sanitation stations where I can clean my hands, and not have to worry about it.'"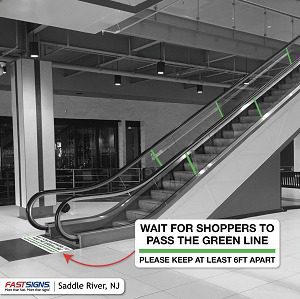 Strategically placed signage also should be designed to encourage social distancing. Galgano recommends painting lines at six-foot intervals on the mall escalators' glass side walls, indicating that the next person should wait until the person ahead of them has passed the line. "For elevators, maybe there are floor graphics outside saying 'One party per ride,'" he added.
In common areas like food courts, it's likely developers will need to remove some tables and chairs to avoid crowding. "The more information that's posted, and the more social distancing practices that are put into place, the more likely it will be that someone will return to a center," said Galgano.
As with planning and communications, malls will need to coordinate restrictions with their retailer tenants. But many questions remain unanswered, according to Melissa Gonzalez, CEO of The Lionesque Group and a Principal at MG2 Design. "Will malls need to do temperature checks at the main entrances? Will they need to do things to regulate traffic flows, similar to the one-way aisles being used in grocery stores? People are even talking about whether these properties will need on-site health centers. But this is uncharted territory; we could take guidance from the experiences of China and other countries that were hit before the U.S. was."
Is BOPIS A Bridge To The Future Of The Mall?
Mall developers also are considering other ways to work more closely with retailers, including establishing centralized stations for BOPIS and returns. "Prior to the pandemic, consumers were already highly receptive to click-and-collect shopping," said ICSC's McGee. "A survey we conducted last year found that 53% of online shoppers use click-and-collect, and this trend could accelerate as the economy begins to reopen."
But integrating multiple retailers' order management and logistics systems could be a serious roadblock. "It's not impossible, but it would take more of a concerted effort than people think," said Gonzalez. However, the effort would be worth it, according to EastBanc's Lanier: "There needs to be some organized way for consumers to access the merchandise even if the physical doorways are closed — and malls should be providing that service."
Another long-term consideration for malls is their experiential elements. The lingering effects of COVID-19 will require creativity to overcome. "We'll need to work with mall developers to rethink what 'experiential' means," said Gonzalez. "How do we ignite the senses in a non-touch way, at least in the beginning phases? We'll need to use sound, scent and other elements that you can't get from an e-Commerce site. Taking a 'sound bath' in a mall won't be the same as listening on your laptop."
Other technologies that could de-stress skittish consumers would make use of outdoor spaces. "People could utilize their windows in a more storytelling way, the way people come to New York City to see Macy's windows during the holidays," said Gonzalez. "Retailers will want to consider whether they can make these windows shoppable as part of the experience."
In addition to technology investments, the financial relationships between malls and their tenants are likely to shift in the wake of COVID-19. "We'll need more flexibility in contracts," said Lanier. "There will need to be a minimum rent to cover costs and provide [landlords] with some margin, but with more language about rent as a percentage of sales. This is all about how we can participate in the success of the store, and ensure all of them are part of a cohesive community and add to the foot traffic."