Retailers' attitudes about ecommerce have undergone a series of rapid evolutions over the last two years. In the early days of the pandemic it was a scramble to ramp up (or create) digital capabilities. Then, once basic digital offerings were in place, merchants began to consider how to make these ecommerce advancements permanent in preparation for the "New Normal."
Whether that "New Normal" has arrived yet is open to debate, but a recent study from Publicis Sapient and Salesforce indicates that new headwinds — in the form of inflationary and inventory pressures — have shifted retail leaders' focus once again, this time toward profitability.
"We're seeing a shift of focus in the retail environment," explained Publicis Sapient Head of Retail Strategy for North America Hilding Anderson in an interview with Retail TouchPoints. "We recently saw a whole set of profit warnings — Target, Walmart, even Amazon. A lot of the pain points that we're seeing are in the inventory side, but against that backdrop we're going to see a steely-eyed focus on improving profitability in stores and digital channels."
At the height of the pandemic, standing up services like curbside pickup, BOPIS and a frictionless digital experience quickly was all that mattered. Thoughts of efficiency, integration with key systems and profitability were put on the back burner during the worst of the crisis. But now, even as consumers return to stores, they have come to expect those omnichannel conveniences, meaning retail executives must find a way to make them financially viable.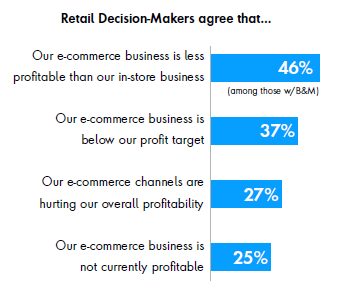 Profitability is a tough nut to crack, however, especially on the digital side of the retail business and particularly in traditionally low-margin verticals like grocery. Nearly four in 10 (37%) of retail decision-makers said their ecommerce business is not meeting profitability targets in the Publicis Sapient/Salesforce survey, which was conducted in partnership with Ipsos. Beyond that, 27% said ecommerce is hurting overall profitability, and 25% said their ecommerce operation was not profitable at all. And among those retailers that have both ecommerce and brick-and-mortar operations, nearly half (46%) said that the former is less profitable than the latter.
These challenges are a global phenomenon — the study reflects responses from approximately 300 retail decision-makers across seven global markets, including the U.S., UK, Germany and Australia. One thing everyone agrees on is that ecommerce will continue to have a greater share of retail going forward, so finding ways to increase profitability is imperative.
The study outlined some of the particular challenges that make ecommerce profitability so elusive. One factor is that traditional retailers are struggling to find their niche in a changing ecommerce landscape that includes an ever-growing assortment of marketplaces and DTC offerings. Additionally, rising shipping costs, talent shortages and the ease with which consumers can compare offers online make ecommerce profitability a particularly tough challenge.
The good news is that one of the best ways to boost ecommerce profits is to do something most retailers already are focused on — develop a great digital customer experience. But while most executives know what they need to do to increase ecommerce profits, many (40% of those surveyed) struggle to actually implement the needed changes.
Why is Ecommerce Profitability So Elusive?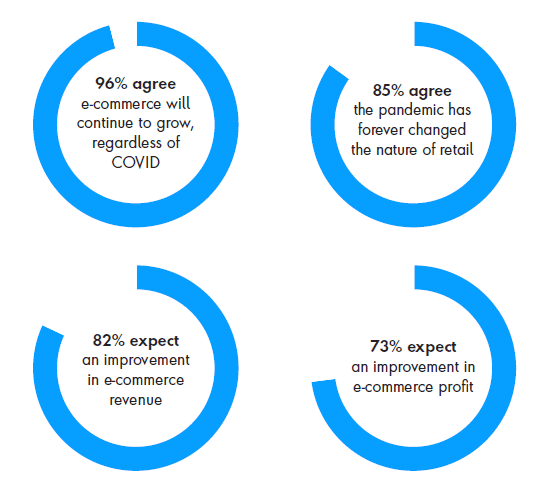 The majority (96%) of respondents agree that ecommerce will continue to grow regardless of COVID-19, so simply waiting for current macro- and socioeconomic conditions to pass isn't an option.
"The retail industry has been built for the last 150 years around physical stores," explained Anderson. "We've gotten very good at optimizing, merchandising, understanding the ebb and flow and consumer demand in those physical stores. Then 20 years ago, ecommerce came along. At first it was less than a percentage point, then it was a couple of percentage points, and now, for some retailers, it's 30% to 40%-plus of their business. And, more importantly, [digital] influences three out of every four dollars that consumers spend, so digital is now really the center of these businesses."
This paradigm shift is particularly challenging for traditional retailers built around that store model. Anderson breaks out the retail landscape into three sectors: brands that are increasingly building out DTC operations, traditional retailers and marketplaces.
"On the one hand you have brands like Nike, Adidas and even CPG companies going more direct and growing more powerful," said Anderson. "Then on the other side there's this little company called Amazon, but more importantly, we see other companies redefining themselves as marketplaces —Walmart, Target, Best Buy and others are thinking about assortment expansion as a strategy and this notion of scale and convenience.
"The appeal of marketplaces is convenience, affordability and assortment; the appeal of brands is innovation; and then you have retailers in the middle," he added. "Retailers today are really struggling to understand their niche in this changing landscape— there is pressure from both sides pushing into that retailer space, which further erodes profitability for them."
The unique dynamics of ecommerce make profitability on the digital side of the business even more challenging, including:
Consumers have more inventory and price visibility online, which makes it harder to retain customers;
More ecommerce sales (and returns) means more shipping at a time when shipping is more expensive than ever. "Shipping capacity has grown at about 10% to 12%, yet ecommerce is growing at 20% or more — that suggests that shipping prices are going to continue to rise, and that is obviously accentuated by the rapid rise in fuel prices in the last 60 to 90 days," said Anderson; and
As COVID drove major shifts towards ecommerce, hiring and keeping digital talent has gotten much more difficult and expensive.
The grocery sector in particular is really feeling this profitability pressure. In the Publicis Sapient/Salesforce survey, grocery executives across the board said that their ecommerce operation had lower profitability than most other sectors of retail. That's not particularly surprising — grocery is a high-volume, low-margin business with incredibly complex supply chains. Not only that, but online ordering for grocery is much more complex than the traditional ecommerce transaction.
"The ordering and the size of the baskets [for online grocery] are quite different," explained Anderson. "The ordering in grocery is the secret sauce of leading digital grocers. Really good online grocers understand what you ordered in the past and make it really easy for you to reorder. They are also very focused on making sure that substitutes are good. There's a lot of data and analytics and AI behind great online grocery, and that's hard. As an industry, I think we're still climbing that hill to make good recommendations across the 120 SKUs that the average American buys at the grocery store each month."
The Central Pillar of Profitability: CX
To address these issues, retail executives are considering a whole host of improvements according to the survey, including supply chain optimization, data modernization, customer service solutions like self-service tools and chat and digitizing stores. But the number-one opportunity area (with 85% of executives making medium to high investments) is enhancing the Digital Customer Experience, which might seem a bit surprising given the very real logistical challenges present in other areas of the ecommerce ecosystem.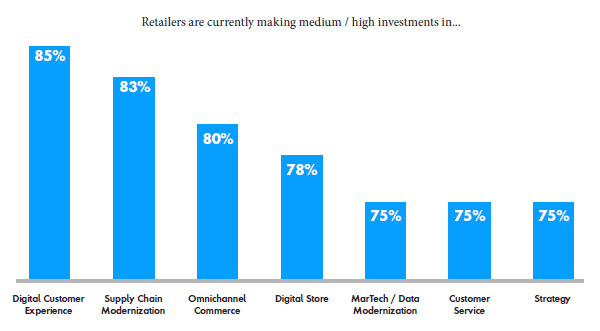 "What the research found that was a little surprising to me was the importance of customer experience," said Anderson. "If you go into an app and it's easy to use and buy, that has a huge implication in how loyal you are to that company, how likely you are to recommend it to your friends and even how much you buy in that moment. For me the 'a-ha' here is that it's not just about commerce or supply chain or focusing on cost reduction — it starts with the customer and a focus on the customer experience, and then goes from there."
Improving omnichannel capabilities is another big opportunity area where retailers see the potential to boost profits, with 80% of executives surveyed saying they are making medium to high investments in this space. Omnichannel is a broad term, but according to Anderson there are a few key improvements many companies are focusing on:
Marketplaces — If you can't beat 'em, join 'em. More and more retailers are combating the marketplace threat by becoming a marketplace themselves, and even smaller, niche retailers are now seeing the advantages of expanding their online assortment via third-party sellers;
Replatforming — Today's digital commerce environment evolves rapidly, meaning retailers still on more "monolithic" tech stacks are falling behind. Moving onto "headless" or MACH (Microservices-based, API-first, Cloud-native, Headless) architectures allows retailers to make site improvements more quickly and introduces the level of agility needed to stay up to speed; and
Dynamic Pricing — Anderson places this under the broader umbrella of "personalized shopping," but the central idea is to use customer data to provide relevant offers and even special promotional pricing (for example, if a customer has been dormant for a while, offering them a discount to come back).
Key Roadblocks: Existing Store-Based Investments, Siloed Organizations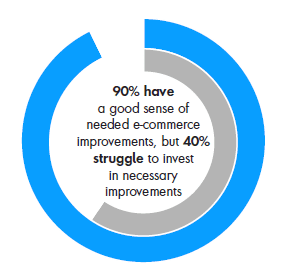 While the need is clear, actually making ecommerce more profitable is easier said than done. The vast majority (90%) of retail executives surveyed said they have a good sense of the ecommerce improvements they need to make, but 40% said investing in those improvements is a struggle.
"Most retailers, certainly retailers over $1 billion in revenue, understand the current state of their commerce engine and have an ambition to revise and modernize it, but that's expensive and it takes time," said Anderson. "Some of this is organizational. It's hard for these large, complex organizations to change rapidly. Their warehouses are built around delivering a product to the physical store very efficiently, but not to somebody's home or 5,000 people's homes. There are a lot of silos that still exist within these organizations in their systems and processes.
"Leadership is also a huge area of challenge, especially leadership around digital transformation and understanding, not so much the 'what,' but the 'how,'" Anderson added. "This big shift in the technology industry toward agile development promises to really increase the time to value [the amount of time it takes to realize the benefits of a solution]. It's a game changer, but it requires a whole different way of working, and more importantly, it requires a non-hierarchical operating process on the technology and business teams — [and] that requires a new way of leadership, a new way of management thinking."