L'Oréal Group has rolled out a new virtual try-on experience for its Essie nail care brand that is powered by augmented reality developer Modiface, which the beauty conglomerate acquired in 2018.
The new Essie On Hand web-based try-on salon allows consumers to test Essie nail polishes virtually, without downloading an app, either by uploading a photo or using their back-facing smartphone camera to track nail shape and finger movement. Shoppers can then add products to their cart on Essie.com, and will be redirected to select Essie retailers, including Target, Ulta and CVS, to finalize their purchase.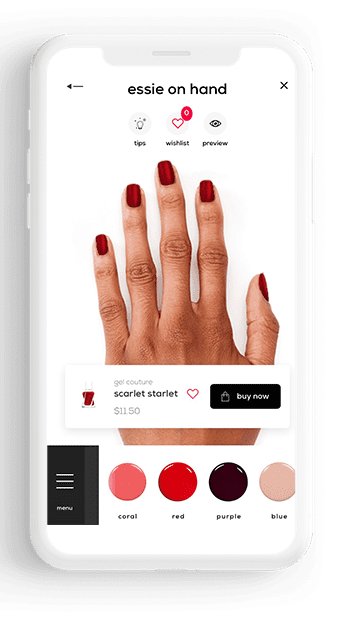 Essie On Hand has launched with the brand's Gel Couture line of 75 shades and will expand color offerings and features over the next several months. The tool also will include QR codes at select retailers to allow consumers to "try on" nail polish before buying in-store.
AR try-on tools are increasingly becoming a customer experience differentiator for brands online, particularly those in the beauty and fashion space. L'Oréal has already deployed the Modiface technology with many of its brands, including Lancôme, Garnier and Maybelline, and the company's Chief Digital Officer Lubomira Rochet told the Wall Street Journal that virtual try-on services make customers 3X as likely to ultimately make a purchase.
"Essie designs and creates all of our products with impeccable nuanced color and precise and easy application," said Carolyn Holba, GM at Essie Worldwide in a statement. "Our new Essie On Hand virtual try-on salon is no different! It's the highest standard in nail try-on services to make discovering Essie colors fun, easy and accessible."