[Editor's Note: See the store for yourself and go behind the scenes with Co-founder Vibhu Norby in our Store Tours video here.]
Even those who know next to nothing about Web3 probably know it's internet-based (the word "web" is a pretty good hint). So the idea of a physical Web3 store at one of the nation's hottest new malls might seem a bit perplexing, and yet that's exactly what Solana Spaces is. Adding to the curious nature of this new retail concept is the fact that there's a good chance consumers will walk away from the store with more money than they came in with (it just won't be in the form of U.S. dollars).
Solana Spaces opened its first permanent location July 28, 2022 at The Shops at Hudson Yards in Manhattan. It is the brainchild of b8ta Co-founder Vibhu Norby and a number of other retail designers and engineers from the now-defunct electronics retailer. The project is being incubated and funded by The Solana Foundation, a nonprofit dedicated to the decentralization, growth and security of the Solana network.
For those unfamiliar, Solana is a blockchain similar to the more well-known Ethereum. In the world of crypto-tech Solana is on the rise, with 37 million "daily active wallets" (the decentralized finance equivalent of daily active users) as of May 2022. These 37 million digital wallets are connected to Solana every day, and that number represents a 58% increase from the platform's user base at the beginning of this year.
If all that crypto speak just made your head spin, then you are exactly the kind of person Solana Spaces was built for. "My team and I talked a lot about how we got interested in crypto, what that experience was like," explained Norby in an interview with Retail TouchPoints. "For me and a few other people, it was a friend who was like, 'You've got to check this stuff out.'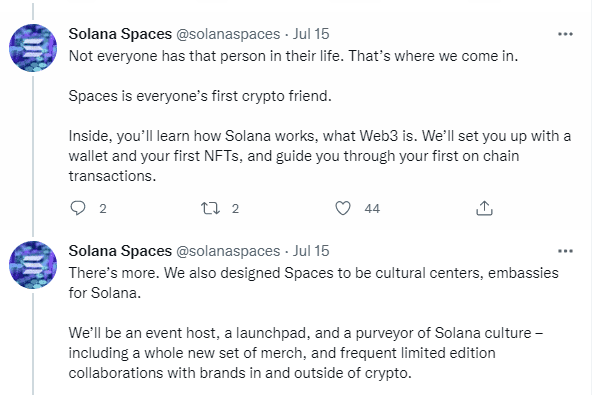 "The idea [with Solana Spaces] is to replicate that experience for someone who doesn't have a friend like that. We want to be everyone's first crypto friend. We'll build a mental model for you with visualizations and tutorials, we'll set you up with a wallet and we'll give you your first digital assets. We don't need you to come out of the store an expert, but maybe you'll have the tools to go back home and start exploring more."
Indeed, the store's sleek, spartan design creates an immediate sense of accessibility, but that aesthetic simplicity belies the layers of complexity within. Every tablet and bright display case is an entry point designed to take you deeper and deeper into the world of Web3, a journey that the store's creators hope will continue well after you leave.
Solana Spaces is billed as equal parts demonstration space, onboarding hub, cultural center and embassy (store associates are even called Ambassadors). There are products to buy, yes, but that's not really the point.
Web3, But in the Real World
The opening of Solana Spaces seems to herald a coming wave of new "phygital" Web3 concepts. At almost the same time that Solana Spaces opened, sneaker NFT creator Cult & Rain hosted a party at its new Web3 immersive hub in London; "synthetic celebrity" creator Superplastic opened its own store in NYC's SoHo; and metaverse world Highstreet debuted a new crossover product concept at retailers including Saks Fifth Avenue and Neiman Marcus.
"Everyone that's using a blockchain online is a person," said Norby. "Sometimes they're sitting at their computer or on their phone, and sometimes they're doing something in real life. To me it's inevitable that there's going to be a lot more overlap and mixing [of these digital environments and the physical world]."
So let's take a look at how Solana Spaces does just that. For those who had the chance to visit b8ta before the chain was shuttered earlier this year, Solana Spaces will feel familiar, not least because the location it occupies at Hudson Yards used to be a b8ta store. "Hudson Yards was probably our top b8ta store since the day it opened, so when we started working on this new project, we wanted that space back," said Norby. "We started this project in March of this year, and now it's July and we're open. Moving from concept to reality that fast wouldn't have been possible if we didn't know this space so well."
A Gamified Brick-and-Mortar Experience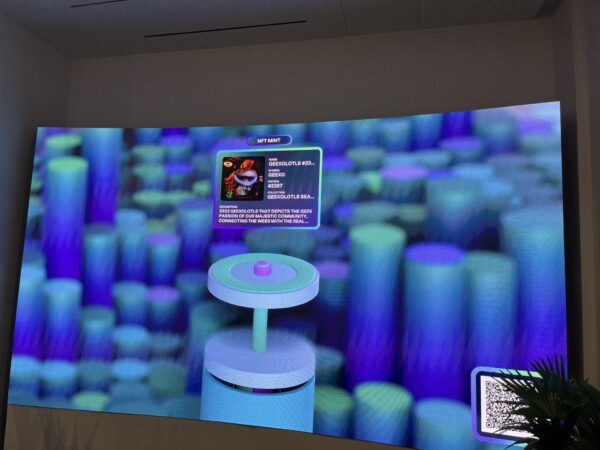 Visitors to Solana Spaces are greeted by a full wall screen (and viewing bench) showing a real-time actualization of transactions happening on Solana. Each bar in the graphic represents a transaction happening at that moment, with certain transactions, such as trades or NFTs being minted, highlighted in pop-ups.
On the opposite side of the entry is another, smaller screen with an introductory video that explains blockchain, cryptocurrency and Solana to the uninitiated. Crypto-tech novices are then guided to a booth where they can get their own Phantom wallet (which enables most of the other interactions in the space). When users finish creating their wallet, they are rewarded with their first NFT.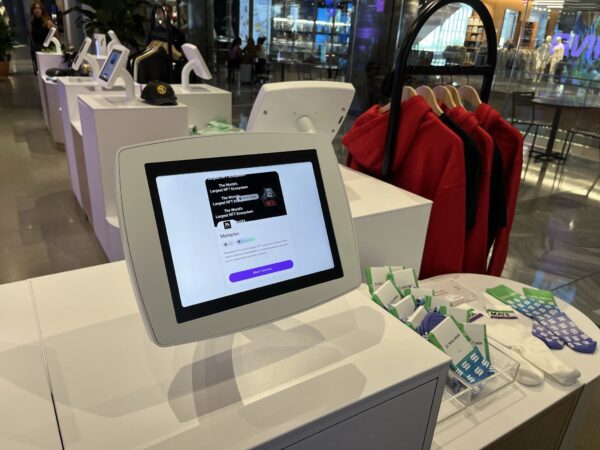 From there, visitors can stroll around to a series of stations featuring other Solana app partners, including Orca, STEPN, Solana Pay, Metaplex and Magic Eden. Each station features a digital tutorial and its own rewards for completion, typically an NFT, access code or tokens.
For example, Orca is giving visitors who complete its tutorial one of its NFTS, which are worth $15 to $20. NFT-based fitness app STEPN is giving Solana Spaces visitors access they wouldn't otherwise have. Normally you have to be invited by someone already on the game to join STEPN, which is currently one of the most popular crypto apps in the world, but at Solana Spaces you can get access by completing the tutorial.
Once visitors complete a certain number of tutorials, Solana Spaces will give them another reward in the form of USDC (USD Coin), Solana's U.S. dollar-backed stablecoin, which can be used for future Solana-based purchases.
Additionally, customers that onboard with Solana Pay — Solana's peer-to-peer payment service — will then get 50% off merchandise purchased in the store (if they buy it with Solana Pay, of course). Credit cards are also accepted in the store, but then you have to pay full price.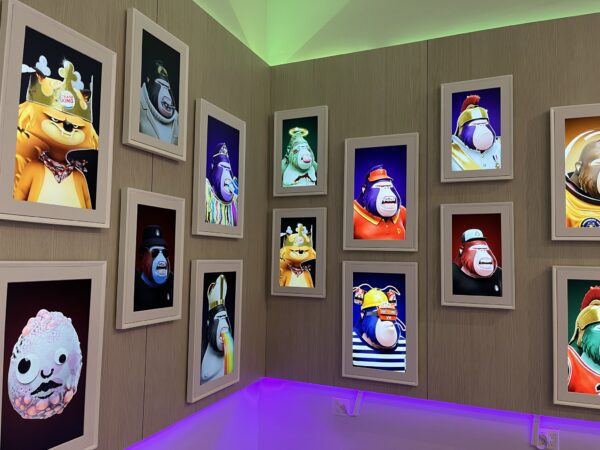 The store also features an NFT Gallery with digital art displayed in Meural art frames alongside limited-edition merchandise; each month the collection will be changed out. At launch, the cult phenom Degenerate Ape Academy has the spotlight, including some of its Degen Egg NFTs, about which Norby hinted: "Everyone's been wondering what's inside the egg. I can't say whether they'll be hatched on-site, but maybe…"
Adding to the interactivity of the store, customers will also be able to display their own NFTs on the gallery wall. And possible egg hatchings aren't the only events on the agenda, which Norby said will host "a couple of events a week once everything is up and fully running."
Norby is intimately involved in the operation of the store. On the day before launch, he was busy adjusting speaker volume levels and correcting spelling errors on tablet screens, although he said his favorite part is talking to customers. "This is my baby, I love it," he said.
Getting Paid to Shop or Just Browse
Before Solana Spaces, b8ta was Norby's baby, and while b8ta no longer exists, the retail-as-a-service model it pioneered is alive and well inside his newest venture. "We're actually paying visitors to learn about these technologies," explained Norby. "As you browse the store and connect your phone to the different kiosks in the space, we'll give you NFTs and other types of tokens. And if you do enough of the activities here, we'll actually give you money [in the form of] USDC."
Solana Spaces can afford to do this because it makes money through a community retailing model, with each of the participating brands paying to be featured. "There's a good reason why the b8ta team was the best team to build this kind of thing — we invented the retail-as-a-service model with b8ta, which is basically using the store as a marketing platform," said Norby. "Each of these partners is helping contribute to the cost of the space. With the merch we'll probably run a loss, but that's fine."
Can Crypto-Tech Become an 'Anti-Spam Engine'?
This community retailing concept is very much in line with ethos of Web3 itself, which is billed as a new kind of internet where everyone can contribute and have control over their online experience.
"There is a missing layer on the internet, an asset or ownership layer that probably should have been there from the beginning," said Norby. "Personally, I'm very unsatisfied with the product that I get from the internet today — it's full of ads, it's full of spam, a lot of things have become very unusable for me. What crypto really is, and what Solana really is, is a kind of anti-spam engine. That's how I conceive of it."
Beyond the very large hurdle of getting consumers to understand these technologies however, Solana, and the industry in general, is facing a steady onslaught of cultural backlash compounded by cryptocurrencies' recent nosediving values. Big names in investment and business (Bill Gates, Janet Yellen, Warren Buffet and Jack Ma to name just a few) are outspoken in their skepticism of the space. And the challenges Solana will face in its goal of "onboarding everyone" into the blockchain were complicated even further by an attack on the platform just this week that saw nearly 8,000 digital wallets drained of just over $5.2 million in USDC.
The attack happened just a week into the operation of Solana Spaces. It certainly seems like a run of bad luck for Norby, whose first visionary retail concept was felled by a global pandemic.
Despite this recent news, though, there's no doubt that Solana Spaces is unique in the retail landscape, and for that reason alone it's worth keeping an eye on, especially because Norby has more up his sleeve: "This is not the only thing that we're going to be doing in the physical world with Solana," said Norby, who confirmed that additional locations are on the way, as well as other concepts. "I think you're going to see us everywhere in the next couple of years, and not just us, but a lot of the other blockchain communities as well.
"These blockchain ecosystems, to steal a term from a guy named Balaji [Srinivasan], are sort of 'network states,'" he added. "They're not defined by borders or land, but these are large global communities of people who have a shared currency, a shared belief set and a shared understanding of value. We're just one of many that are bringing this into the real world."
See the store for yourself and go behind the scenes with Co-founder Vibhu Norby in our Store Tours video here.