Amazon is well known for being one of the largest retailers in the world. What's less well-known is that thousands of other retailers are using Amazon technology to power their businesses. That's right, this quintessential ecommerce disruptor, often blamed for the troubles of brick-and-mortar retail, is taking some of the very innovations that have set it apart and offering them up for other retailers to use.
We're talking specifically about Amazon's cloud computing division, Amazon Web Services (AWS), which has been in the headlines recently because the group's top exec, Andy Jassy, will become the future CEO of Amazon when Founder Jeff Bezos steps down later this year.
The Power of the Cloud
Now, if the words "cloud computing" make you want to tune out, hold on, because the applications on the retail side of the business alone are much sexier than that descriptor implies. Maybe you've heard about the cashierless Just Walk Out tech now being used by retailers like Hudson? That started with AWS. Real-time, personalized product recommendations on StockX? That's AWS. Call centers at Morrisons and Petco? Well, you get the gist.
The list goes on and on, with a whole host of big-name retailers — many of which could be considered Amazon competitors — using tech developed by AWS. That list includes Best Buy, Zalando, Zulily, J.Crew and Instacart, to name just a few.
The way Tom Litchford, Head of Worldwide, Retail at AWS sees it, it's not about competition at all, but rather advancing the retail industry as a whole.
"Our goal is to help [our retailer] customers grow their business," he said in an interview with Retail TouchPoints. "The challenge in retail is to not be so focused on the competitive dynamics, but be more focused on what your consumers are asking you for, and how you can address and solve what those customers want. If you can do that, you're going to build a business that withstands the element of time."
Of course, this isn't charity on Amazon's part. Cloud computing is big business for the company; in fact, AWS is currently Amazon's primary profit driver. The division closed out 2020 with more than $13.5 billion in annual operating profits, accounting for approximately 63% of the entire company's operating profits for the year. With those numbers, the Jassy appointment starts to make a lot of sense.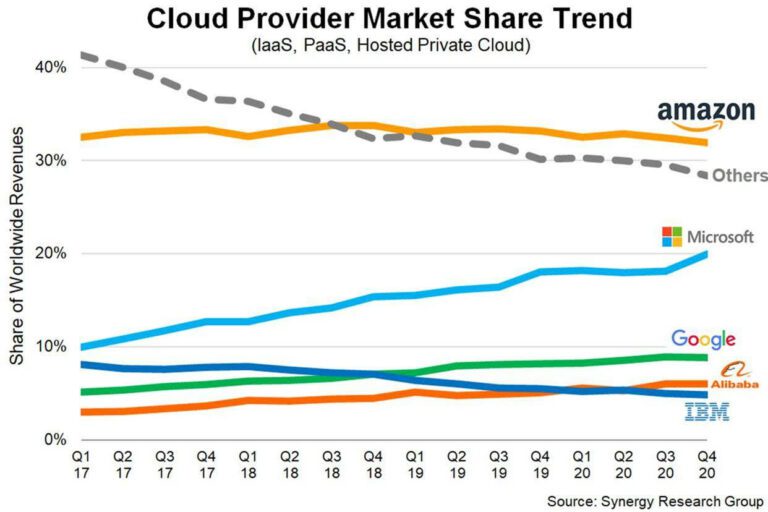 Jassy helped launch AWS in 2006, and under his leadership the group has taken the leading position in the cloud computing space, achieving more than 30% market share and far outpacing competitors like Microsoft and Google, according to Synergy Research Group (although Microsoft is gaining ground).
Developed by Retail, for Retail
AWS serves a whole host of industries, only one of them being retail. But by developing this role as a technological enabler for the industry, Amazon has placed itself squarely at the center of retail innovation.
"AWS is differentiated from those other cloud providers because the services we provide were primarily developed for retail," said Litchford. "They were developed either for Amazon's consumer business or for some other retailer."
In fact, for Litchford, Amazon Retail is just another customer, the same as the thousands of other retailers for which he and his team act as problem solvers. He uses the Amazon Go stores as an example: "When the Amazon Go business unit began working with AWS, their business challenge was to eliminate checkout lines. At the time existing technologies were either too complex or cost prohibitive or both, so we pioneered the computer vision technologies required to take feeds simultaneously from hundreds of cameras and figure out what [a shopper] is doing in that store."
That technology has now been made available for other retailers to purchase through Amazon's separate Just Walk Out (JWO) business unit. Hudson and CIBO Express have both deployed JWO at several airport locations, for example, and the latest innovation in the tech, which lets a shopper "check in" to a store using the palm of their hand (instead of the more cumbersome app barcode or credit card scan) is being put into action at several Whole Foods locations in and around Seattle.
Working Backward to Move Retail Forward
The Just Walk Out tech illustrates how AWS works with retail clients to tackle some of the industry's biggest problems: "We work backwards from the business challenge you're trying to solve," said Litchford. "We solve it, and then we release that technology to all of our customers, as long as the customer we did it for allows us to do that."
Another example: the deep-learning technologies that power Amazon's virtual voice assistant Alexa are now available for developers to use in creating their own natural language chatbots through the Amazon Lex service.
And the COVID pandemic created a whole host of new opportunities for Litchford and his team to work backwards with their clients: "[COVID] didn't cause retailers' problems, it just exposed them and accelerated their need to respond," he noted.
For example, at the onset of the pandemic, many retailers, including UK supermarket chain Morrisons, saw call volumes at their customer care centers go through the roof. Morrisons had migrated its contact center to AWS's Amazon Connect service in 2019, and when volume bumped up 6X in response to the pandemic, the retailer was able to react quickly by implementing automated messages, and by training corporate and store personnel on the platform to increase staffing. The platform also allowed Morrisons to offer doorstep delivery to vulnerable customers who were less tech-savvy by allowing them to place orders over the phone.
The Connect contact center solution is one of AWS's fastest-growing services, also used by Petco, GE Appliances and Chronext. According to Amazon, 5,000 Connect contact centers were launched in March and April 2020 alone.
Supply chain issues also rose to the surface as a result of the pandemic, putting AWS's demand forecasting solutions front and center. Litchford said one large grocery chain in India was able to improve accuracy nearly threefold by deploying AWS's Amazon Forecast service.
Handling Seasonality and Sales Spikes More Efficiently
When it comes to retail and cloud computing, Litchford said supporting ecommerce is the low-hanging fruit: "We call it lifting and shifting, moving stuff into the cloud," he said. "If you think about ecommerce, most of the year, when it's 'on prem,' [legacy systems operated in-house or 'on premises'], it's sitting there idle, doing nothing, but then the holidays hit [and it's] overtaxed.
"With the auto-scaling we can do in the cloud, as volume comes in, we scale up resources to meet that volume," Litchford added. "When volume goes down, we scale them back down. And you're only paying for the resources while they're running. [Retailers can see] 30% to 50% cost savings when they move these systems into the cloud."
Beyond the "lift and shift," AWS's activities are all centered around digital transformation. Some of its most popular services for retailers include:
The aforementioned Amazon Connect, which encompasses cloud-based contact center services;
Amazon Personalize, which uses machine learning tech to develop personalization solutions like the real-time product recommendations on Amazon.com; and
Amazon Forecast, demand forecasting services based on the tech used by Amazon.com.
Creating a Culture of Experimentation
Cloud technology can enable rapid transformation, but what's also needed are changes in the overall retail mindset, according to Litchford. "We've got to change our mentality [in retail] from being more risk-averse to being more of a culture of experimentation," he noted. "That's the beauty of cloud technologies. In the past, to run an experiment, it might take me a year just to procure the hardware and software and get everything all set up. With the cloud we can be constantly experimenting, because it literally takes just hours to get something set up and start testing. That culture of experimentation is really where all the innovation is coming from."
The speed at which that innovation can happen is also a hallmark of cloud computing, which isn't hindered by timed release schedules the way software can be. Litchford spoke animatedly about the hundreds of launch announcements in his inbox, with customer demands (both from Amazon customers and other retailers) constantly driving the development of new enhancements, which are then turned around and made available to other AWS customers.
AWS has been accused by some software developers of "strip-mining" their open-source innovations and then packaging them to be sold. Perhaps one of the loudest voices in this regard is Elastic, which sued Amazon for trademark violations in late 2017. Amazon denies any wrongdoing and the case is still ongoing, but it brings to light the vast gray area in the world of tech innovation, all of which is taking place in the larger context of intense scrutiny on Amazon and other big tech players for potential anticompetitive practices.
None of that is stopping AWS, which continues to churn out innovation after innovation. Voice-activated gas pumps at Exxon stations; 3D virtual Ralph Lauren stores developed by Obsess, which is built on an AWS infrastructure; emails featuring personalized product recommendations from cosmetics brand Mecca — all of them aimed at driving retail forward.
"I've been around 40 or so years working in retail," said Litchford, who before joining AWS in 2017 led the National Retail Federation's technology communities and who spent more than 13 years at Microsoft. "Retailers today have not really done a good job of understanding consumers and how the technologies they use change their shopping habits. A lot of times retailers are laggards to adopt technologies that could really help propel them in terms of innovation. With the speed at which things are moving today, retailers have to be able to respond to that, and they're not going to be able to do it until they get to this culture of experimentation."