Promotional gift cards have had significant appeal to retailers looking to attract new consumers, but one of the major shortcomings about the form of plastic is that most card holders remained anonymous. This made it impossible for merchants to promote to the card holders and drive redemption rates. A new media platform successfully tested with a regional shopping mall could re-write those rules.

Currently in beta testing from a provider called Dukky, the new media platform is expected to deliver redemption rates up to 30% higher than traditional coupons or direct mail promotions, according to Scott Couvillon, president of Dukky.
The new platform allows consumers to choose from a group of targeted gift cards within one direct mail or Internet offer. Consumers are prompted to activate only the offers they plan to use, and direct which future offers they want to receive.
The Dukky program completed a successful test with the New Orleans, LA-based Clearview Mall in October of 2008. "We had 95% participation from the retailers in the mall and I believe the return rate was about 7%," says Joy Patin, president of Joy Patin and Associates, marketing firm for Clearview. "It was a very innovative and different program and the retailers were very pleased with the results," Patin says.
The 7% return was markedly higher than the typical direct response rate of approximately 1%, notes Couvillon. "We are predicting much higher rates, particularly when national retailers get involved and provide compelling offers."
Significant cost savings for retailers
The Dukky program can be coordinated in two different ways: through the "hub and spoke" method, such as the case of the mall, explains Couvillon. "A mall, online aggregator or standalone retailer would coordinate with their manufacturers to participate."
The alternate program works through the Dukky website, scheduled for official launch in Spring 2009. Dukky will publish "issues"  of offers targeting specific demographic and psychographic consumer recipients. Marketers can purchase gift cards to match their specific customer profile, at a significantly lower cost than a typical direct mail piece, says Couvillon. "Marketers will pay approximately 3 ¾ cents per household compared to typically $1.24 to mail the same card to individual customers."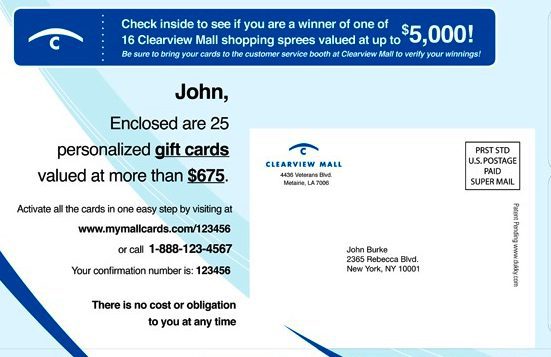 In either program, the offer cards are unique and individual to the retailer. Each card includes a unique activation code for individual consumers, which allows the retailer to track interest and redemption. The cards also are printed with the bar codes that correspond with the retailers' internal POS systems.
"The primary difference between the Dukky program and traditional gift cards is that with traditional gift cards the only measure of success is whether or not the card is redeemed," explains Couvillon. "With Dukky, retailers can gather customer information long before the actual purchase. For example, we could drop one million cards on Monday and 75,000 could be activated on Tuesday. Retailers no longer have to wait until a program ends to see the results."