For many people Discord remains an anomaly — something they may have heard of during the pandemic but found too technically intimidating or aesthetically unappealing to bother with. In fact, part of Discord's mystique is its indefinability: is it a social media platform, a messaging app or some kind of new amalgamation of the two?
The answer is yes, and while futurist Matt Maher is the first to agree that the platform is "really ugly," he also thinks that despite its niche status, Discord is a "bellwether for what the future of digital is going to look like." That makes it a platform that everyone should pay attention to.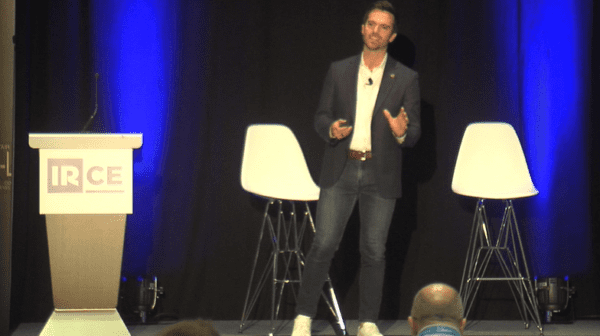 Maher, Founder of the tech-based consultancy M7 Innovations, took attendees at the Retail Innovation Conference & Expo (RICE) earlier this year behind the curtain to explore the somewhat underappreciated power of Discord to:
Open a two-way communication path between brands and customers;
Allow consumers to build 'digital clout' in the same way they use physical goods to signify social status in the real world;
Connect the digital and physical to nurture omnichannel brand connections; and
Develop a value exchange that offers a win-win alternative to cookies and other prevalent data gathering tactics.
Far from another flash-in-the-pan tech fad, Maher sees in Discord the future of customer engagement, describing the platform as an "always-on interactive communication channel" that mixes elements of social media with the functionality of messaging platforms like Slack and streaming platforms like YouTube.
"When you look at what Apple did with iOS 14.5, sucking the oxygen out of the advertising ecosystem; when you think about things like Hide my Email and Private Relay and how much harder it is for brands and clients to actually speak to each other, [it's clear that] we need to find a new path for strong CRM [customer relationship management], and we're starting to see it on Discord," said Maher,.
And Maher's not alone in seeing the potential of the platform, with brands such as Starbucks, Prada, Porsche, Rebecca Minkoff and Lacoste using Discord to engage with their most loyal customers.
[RICE 2023 attendees with an all-access pass can view Maher's full session here.]
The 'Secret Sauce' of Discord
Compared to other social media platforms, Discord is still relatively small, but that is in large part by design. The platform doesn't allow advertising and it's completely decentralized — users can't simply join and then follow whichever company they want. Instead, users are typically invited into a brand's Discord in different ways, depending on how exclusive a brand wants to keep its channel. Often this takes the form of tokenized access via NFTs. "Everyone is actively and thoughtfully going into Discord, not just kind of ending up there [like on other social platforms]," explained Maher.
But with 154 million monthly active users globally and more than 4 billion conversations taking place daily, Discord is, according to Maher's analysis, the fastest-growing social network today and the fourth-largest streaming platform based on user volume (after Twitch, Facebook and YouTube).
Discord's "secret sauce" is that it completely rethinks brand-customer communications, said Maher: "[Up until now] as a brand, what can you do [to connect with your customers]? You can send out a newsletter or emails, there's social posts, there's DMs, there's automated texts, but there's a wall there, because the reality is it's a callout to your clients and you want them to respond, to convert, to buy something, to write back.
"If you're a client or a customer it's the same thing," Maher added. "How do you connect with the brand? You can go on Twitter and @mention them, you can fill out a form on a dot.com, maybe there's a chatbot, you can do a phone call or direct email, but the reality is, you're putting a call out and hoping the brand will respond. There's still a wall there. But Discord is becoming an always-on communications platform."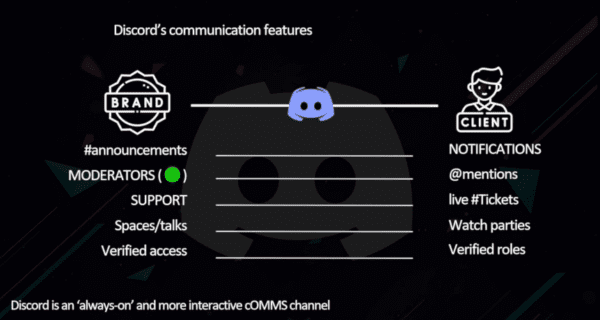 Once consumers are part of a brand's Discord they receive announcements from the brand, but the real power of the platform is the ability to connect with brands on demand. Most brands have moderators for their Discord channel that members can chat with or tag in comments, and users can open "tickets" with questions or concerns that can only be closed by the user (not the brand) when they are satisfied that their request has been met.
Starbucks is using Discord to deepen the connection with its most loyal customers in tandem with its Web3-based Odyssey loyalty program. The company regularly holds "Ask me Anything" sessions on Discord seeking feedback and ideas, and also gives Discord members an early look at its future plans.
Building (and Using) Digital Clout
One of the most important mechanics that Discord is developing, according to Maher, is helping users create "digital clout" in the same way they showcase status in the real world. "[With a] Chanel bag or a Rolex there's a status that you can physically wear, but we don't really have that yet with digital," said Maher. "I can buy the $300,000 Bored Ape Club NFT, but I'd have to run up and show you my phone and say, 'Look what I bought.' There's no distribution point for that [digital status]. Discord is one of the few digital clout distribution points we're starting to see."
Brands are activating that clout in different ways. Vogue and GQ, for example, only allow access to a certain level of subscriber. "You can't even find that [Discord] link unless you buy the essential subscription, and then you get a one-to-one link that you can't share with anyone, and that's your private invite to Discord," Maher explained.
Prada offers special status to Discord users with specific NFTs. "Once Discord sees that I have the digital good, I get gold next to my name and I have a new role. I can converse with the 6,000 people in that Discord, but there's only 400 of us that have this special role."
Community Events that Bridge the Phygital Divide
NFT-based access and two-way conversations are just the beginning of what brands can do on Discord. Some brands are also creating exclusive spaces and events on the platform. Prada, for example, recently streamed one of its fashion shows on Discord, and Porsche hosts "meet-and-greet"-style events with its drivers and artists. The platform is "democratizing access to brands that would usually be difficult or impossible to do," said Maher.
Both Prada and Porsche are also taking these exclusive digital experiences and merging them with IRL events. Prada has offered giveaways for users who own particular digital goods and engage with the brand in Discord, for example to attend private parties and events in the real world. "It's really the perfect transition of digital to physical," commented Maher.
Porsche hosts similar digital-to-physical events as well. "The entry level Porsche is $120,000, so a pretty high barrier to entry, but for one-hundredth of that price, someone can buy the 911 NFT and get access to real-life events," explained Maher. One of those events, which a member of Maher's staff attended, let NFT holders drive a 911 Turbo on a racetrack, an experience that attendees then shared back within the Porsche Discord. This kind of access makes fans feel like a "part of the Porsche family" even if they can't afford a car, said Maher: "They're grooming this audience that eventually will age into Porsche, and opening the aperture of who that audience could be."
Creating a True Value Exchange
Another way that brands are enhancing the customer experience in Discord is by allowing customers to get involved in creation and development. For example, users with specific digital goods can get a seat at Rebecca Minkoff's design table: "This is a private session with a few hundred people and Rebecca Minkoff on the call to talk about designing a bag with her that we will physically get in real life," said Maher.
As part of the process of accessing these exclusive sessions, Maher said fans are asked a series of "light-touch" questions, such as whether this is the user's first NFT and what was the last bag that they owned. The user is "giving [the brand] six or seven pieces of data with a clear value exchange on the other side of that," explained Maher. "That's the future of community and loyalty, not saying 'Please accept all cookies because we want to take as much as we can.' It's saying, 'Can you give us these five or six pieces of information and I guarantee you there'll be a value exchange, and we will use that to customize the session on the back end."
Whether Discord is the future of brand engagement or a way station in the ongoing evolution of human communication is anyone's guess. Either way, the platform offers a view into the future of what brand relationships and community-building will look like in the coming decades.
"I always like to reference Amara's Law — we tend to overestimate the effect of a technology in the short run and underestimate its effect in the long run," said Maher. "That was true for the internet, and I think it's going to be very true for topics like artificial intelligence, the metaverse, Web3 and NFTs. Even though it's an idea that's 50-plus years old, it's very salient for all of these technologies — we have somewhat or very much overestimated them, but do not underestimate them, because they will be the future of digital."
[RICE 2023 attendees: If you had an all-access pass to this year's event, you can view Maher's full session here.]