To honor the debut of the fourth iteration of its Tank Watch, Cartier teamed up with Snap to create a special AR lens designed to offer an immersive look at the history of the iconic timepiece.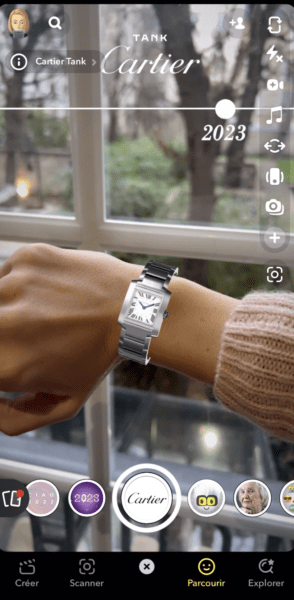 The Snap lens takes users back in time to 1917 when the first iteration of the Tank Watch was released. With Snap AR overlaid onto an image of the Alexandre III bridge in Paris, users can view the world as it appeared 106 years ago, then travel through time to the same location in other important years in the timepiece's history — 1936 and 1977, ending in 2023 with its newest iteration. Alongside the changing view of the iconic Parisian locale, viewers also see the changing design of the Tank Watch through time.
"Times change but the elegance remains the same: that's what we tried to express in an immersive way thanks to our partnership with Snap, which put augmented reality at the service of the discovery of the new Tank Française," said Arnaud Carrez, SVP and Chief Marketing Officer at Cartier in a statement.
Snapchatters can also try on the newest Tank Watch through the lens, which is now available globally on iOS and Android. "More than 250 million people interact with augmented reality on Snapchat every day," said Geoffrey Perez, Head of Global Luxury at Snap in a statement. "Our technology opens up previously unimaginable creative possibilities, helping to make the luxury industry even more personal, accessible and practical. Cartier is once again pushing the limits of this creativity and innovation by creating an engaging medium and allowing Snapchatters to discover, by period, the different variations of its iconic watch and to try it on their wrist in augmented reality."