[Editor's Note: For a deeper dive into the current state of livestream shopping in the U.S., check out this recent feature]
When it comes to digital commerce trends, livestreaming is one of the buzziest. But despite the format's incredible success in China, brands (and social media platforms) are struggling to find traction with their livestream efforts here in the West.
Heritage travel brand Calpak's experience with livestreaming will feel familiar to many. After hosting dozens of Lives through a range of platforms — testing and learning every time — Calpak has hit on a strategy that is working. The biggest shift has been moving livestreams from Instagram to the Calpak site, and the proof is in the pudding — livestream conversions have jumped from 1% on average to 19%.
"Strategies are different and marketing changes, but the core, the roots of what marketing is in terms of retention, acquisition and how you make a splash in the industry is the same," said Jeannie Shin, Director of Marketing and Sales at Calpak in an interview with Retail TouchPoints. "With live shopping there's a lot of history in it with [platforms like] QVC and others, but the technology is new. It's been really fun for us to learn and figure out how to perfect it and grow it."
Shin pioneered the company's move into influencer marketing, and now she's doing the same with livestreaming, which she sees as an innovative new way to bring the in-store experience online. "We're really thinking about it like: what is it when you walk into a store that makes the experience so impactful and how do we turn that into a digital experience for our customers?"
Shin and her team are accomplishing this in a number of ways, including by:
Taking ownership of their livestreams by moving them onto the Calpak website;
Repurposing livestream content to personalize the shopper experience; and
Approaching every livestream with a "test and learn" attitude.
Owning the Experience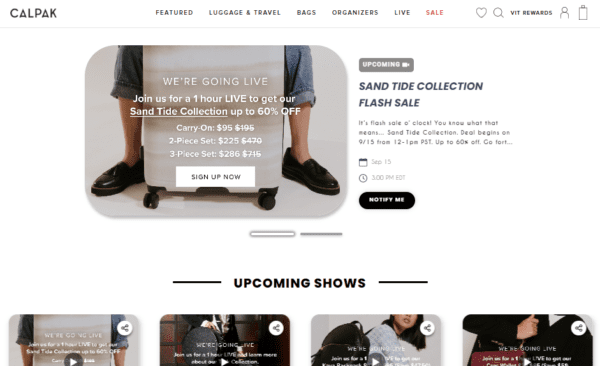 Calpak first started testing out livestreaming on Instagram, which Shin said was "great for building community and speaking to our audience in more of a live-action format." When Instagram Live Shopping debuted they tried that out as well, which let Calpak add direct selling features to its livestreams. The monetization they were hoping for from that effort didn't materialize though, so the team decided to switch up the venue.
For their first hosted livestream the Calpak team ran the stream on both Instagram and the Calpak website simultaneously, and the results were undeniable. "The Live on our site was incredible — we sold $79,000 worth of products in under 45 minutes," recounted Shin. "We were really blown away by that, asking ourselves, what just happened? What did we tap into? This is insanity."
Now Calpak hosts all of its livestreams on its site, averaging 2,000 viewers per show. "The experience on our site mimics Instagram because viewers can shop the products and you can see when people are adding products to their cart, but it's just a bit fuller," said Shin. "Customers can check out while they're watching, and the video stays live with them. The engagement is insane, we get so many questions. Plus, the conversion rate is higher on our site, maybe because customers are more comfortable checking out on our site versus IG. I don't think this means that we're giving up on IG Live, but the experience on site is more valuable for us and for the customer."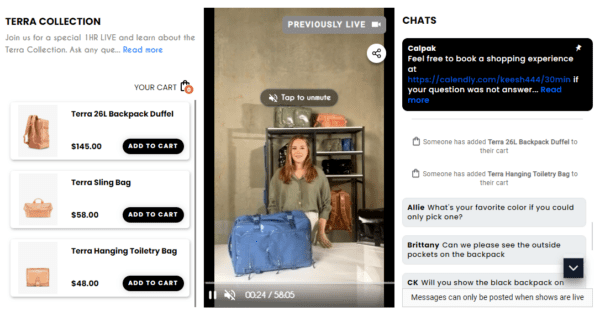 The Lives now have their own dedicated section on Calpak.com, where customers can check out upcoming streams and view past ones on demand. Shin hosts most of the livestreams herself along with Calpak Design Lead Shelby Taylor, although Shin hopes to diversify the hosts for future streams to make the events even more interactive.
"Now we view livestreaming as an extension of our email and SMS [marketing]," said Shin. "We can drive our most engaged customers and target a very specific audience within our email and SMS list. In the past, we dabbled with driving them to Instagram, but we felt like the experience was a bit jarring, to go from an email to Instagram and then to have to click on the Live. Whereas this experience now, they click in and go directly to the live video. Even if they open the email after the live has ended, they're still able to play the live. We love that we can own that experience with the customer from our own channels."
The viewership patterns also are very different on Calpak Live Shop when compared to Instagram, said Shin. On Instagram most of the exposure came in the first 10 minutes of the livestream, driven by a feed notification, but after that audience numbers slowly declined — whereas on Calpak's hosted livestreams the audience keeps growing.
"What's tricky with Instagram and Facebook is users just want quick content, they want to be able to pop in and pop out so the audience is coming in and out the entire hour, whereas on our site we're seeing audience numbers peak at 45 minutes," said Shin.
Livestreaming is Just the Beginning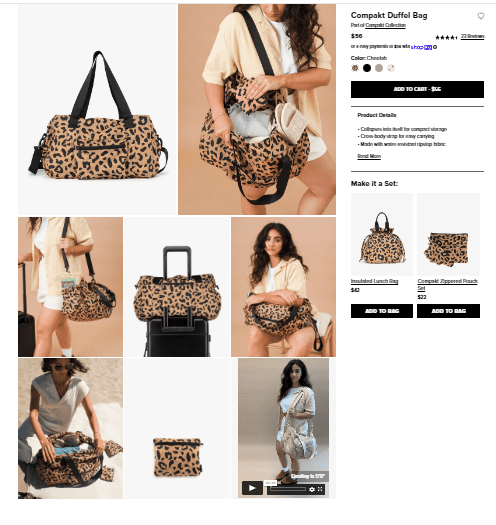 The other big advantage to hosting its own livestreams is that Shin and her team then have the opportunity to repurpose that content for other uses. "Personalization has been such a hot topic for 20 years," said Shin. "What we've been talking about internally is that yes, [for] personalization to someone who's interested in the color red, emails and content that's red is important. But at the same time, we now take the approach that it's the content itself that actually needs to be personalized, the experience of the content."
For Shin this means offering Calpak customers a variety of ways to learn about and experience products, so that every customer can shop the way they want. "So for example, if we see that a customer is loving the live content, we need to make sure that content is getting in front of them all the time," said Shin. "And then when they're on our site, some people want to be able to check out a product on Instagram, some people want to look at product photos and read reviews, some people want to watch a video to see the product in action. Other people might want a one-on-one virtual consultation, which is something we're actually starting up. It's about providing the content that your customer is looking for, and just trying out a lot of different varieties of formats."
Calpak now repurposes its livestreams to meet some of these needs, having pieces of the livestream do double duty on product detail pages and in marketing campaigns.
Never Stop Learning
Livestreaming on Instagram did have one big advantage for Calpak — it allowed Shin and her team to quickly and easily jump into this new channel and begin learning what worked and what didn't. And even though the team's livestreaming efforts have now evolved, Shin still believes in constantly testing and learning.
"Every time we do a livestream we do something a little different and see what we can take away from it — a different time, a different send to our audience," said Shin. "It's been for me personally a really fun project, but I won't say that it's not stressful to explore something new. It's a totally new channel, and that can be intimidating. But because we're a small team we can be really nimble and just say: let's try it, let's go live and we'll see what happens. Then after, we look at what worked and what didn't and try something else the next time."
Among the elements that Shin and her team regularly test and tweak are:
Sets and backgrounds (including sometimes filming in Shin's home);
Lighting and other equipment — the Calpak team has been able to do quite a lot without investing in a lot of equipment. For example, streams are filmed on an iPhone held by a team member (although they are considering buying a tripod);
The third-party platforms they use to run their livestreaming;
Ways to make the livestream more interactive (for example, Shin now keeps an ear bud in during streams so she can communicate with her team about things she should showcase or audience questions she may have missed);
How the events are promoted — one new tactic has been sending out an add-to-calendar email two days before a livestream;
Content themes — among the different types of livestreams Calpak has tried are educational (generally centered around new product launches), promotion-based around sales or drops, and working with partners who will also drive traffic from their channels.
Shin does have one big piece of advice for brands diving into the livestreaming waters: "No brand should go into it with a huge budget," she said. "Livestreaming should still be a testing ground to really figure out what people want."
Calpak's anniversary is Oct. 11 and the brand celebrates with sales across its site, but it also will provide a major testing moment for livestreaming, as Shin and her team prep for Black Friday-Cyber Monday. She plans to trial a lot of new strategies in this time, including increasing the cadence of Lives and bringing in more influencer collaborations. "We're taking a look at every single Live so that hopefully by October and November we have some really great strategies to drive new audiences and use it as a retention strategy as well," she said.