Online shopping has existed for 40 years or so now, depending on what starting point you use, and while it's undergone many changes, the basic paradigm remains. Noor Agha thinks it's time for a change, or to use his word, an "evolution."
His platform Flip — described as a "shopping social network" — already has more than 1,000 brands participating, including E.l.f., Essence, Honest and Gwyneth Paltrow's Goop, and 2 million users are logging an average of 35 million video views each month. Now Flip is planning an "aggressive" expansion beyond the beauty category in the coming months that is likely to enlarge both its brand portfolio and its user base.
"I 100% believe that in five years, people are not going to go to a website that has a list of products and search it and add to cart and checkout," said Agha, Founder and CEO of Flip in an interview with Retail TouchPoints. "This is just simply not how the world is going to buy online. It's going to be people through people, because people trust people."
To that end, Agha is working to create "the most authentic, honest review system on the planet." After years of degrading consumer trust in platforms, brands and the influencers they hire, Agha's premise is that his TikTok-esque social commerce platform — which features product reviews only from real, authenticated shoppers — will power the next wave of ecommerce discovery and online community.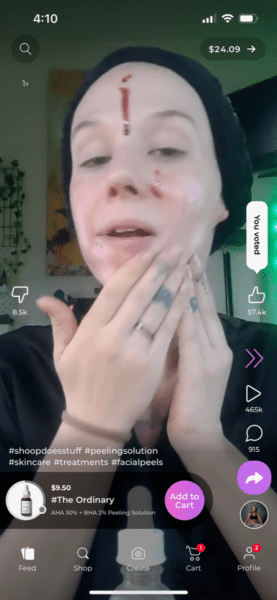 "Humans are instantly connected through the things that they buy," explained Agha. "If I have Warby Parker glasses and you do too, we instantly have something to talk about. The world is connected on Flip by finding people that have bought what you're looking for — it is connecting the social graph of the world through what people buy."
Some of the evolutionary/revolutionary aspects of the Flip model include:
Flip limits reviews on its site only to actual purchasers of the product, and uses technology to police submissions from non-purchasers;
Flip pays consumers for their UGC, weighting payouts more heavily toward engagement than conversions;
Only brands (not resellers) can sell their products on Flip, creating exclusivity; and
Brands are barred from creating their own content on Flip, but they get valuable market/consumer data and save on creative costs.
Born in Iraq, Agha spent much of his youth bouncing around refugee camps until he landed in Dubai, where he studied computer science. After working for three years at the American energy company Baker Hughes, he decided he wanted "to build his own stuff." And that's what he did.
First, he built a digital design agency, where he discovered the power of user-generated content (UGC). Then he built an ecommerce marketplace in the Middle East that was essentially an analog version of Flip. It was "a normal ecommerce marketplace, not rocket science," said Agha, but what his marketplace did differently was elicit product reviews from real consumers. To do this the company had a massive warehouse and studio. Consumers were paid $20 (in cash) to come in, try out products and film a review in the studio. The marketplace didn't work, because "I didn't really understand commerce; this was how I learned it," said Agha. "We did scale it, but it wasn't a good experience."
Those two previous companies are what led Agha to Flip, which he launched a month and a half after immigrating to the U.S. in 2019. "I learned that the only way for this to work is that the social experience needs to be the best, the UGC needs to be honest and the commerce experience needs to be at least as good as Amazon."
Here's how he's doing it.
The Problem: A Degradation of Trust
"Buying products online is a problem that has been solved," said Agha. "If you know what you want to buy, where to buy it is easy. The problem today, with the sea of products that's available, is how do you decide what to buy?."
The solution, according to Agha, is definitely not marketing or influencers: "By definition, every brand thinks their product is the best, so when you're comparing five products [everything you see tells you] they're all the best," said Agha. "The product you eventually choose is just the one that was better marketed, it's not actually the best product."
And don't even get him started on influencers: "Everything is a lie when it comes to advising people about what to buy, because it has to be," Agha said. "The brand has sent you the product and your job as a business now, as an influencer, is to say something good so the brand says, 'This is a good influencer' and you get more business. The customer who wants to know, 'Should I buy this?' truly has no place on the internet to make that informed decision because it's flooded with those business transactions — it's store salespeople at scale."
Even the text reviews that consumers often turn to in these circumstances are problematic, in part because they are "extremely hackable," said Agha, pointing to the plethora of plugins now available to detect fake reviews. Additionally, text "does not give you the feeling of the person when they were talking about [the product] or the connection of relevance between you and that person — for example, if you're shopping for a hair loss product but [the reviewer] is bald or has a completely different type of hair from you."
The Solution: Incentivizing Honesty
Agha's solution is a platform filled with authentic, video-based reviews. Only users who have purchased the product on Flip and been confirmed as receiving that product can create reviews. To verify that users have actually received the product, Flip uses a patented "roaming technology" that tracks purchases to the shopper's door. Most importantly, brands are not allowed to incentivize users in any way for content on the platform.
"The objective is to make the shopper the only voice on the platform," said Agha. "The brand and the influencer do not have a voice, because the brand and the influencer's job is to sell you. The shopper's job is to tell you what they really think about it and to help the rest of the community decide whether this is good for them or not."
What brands can do is boost content on the platform, which is how Flip makes money, in addition to taking a margin on all sales. "The only difference in our ad business model is that the brand cannot create or upload content," explained Agha. "The brand can only choose from content created by shoppers who created that content by themselves on the platform."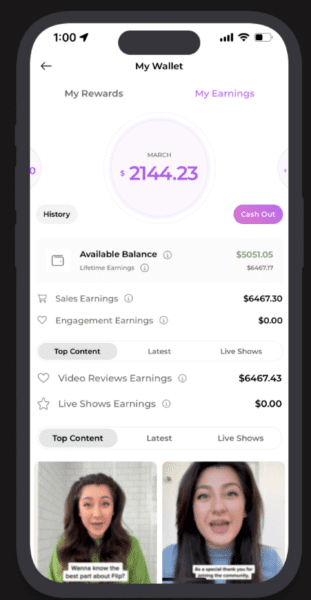 Users are incentivized to create content, because they get paid — by Flip — for doing so. Every user on Flip who begins posting reviews has access to a wallet where they can see their earnings and make payments to themselves, either in the form of Flip credits or a bank transfer. To fund this, Flip pulls approximately 15% to 20% from its ad revenue for user payments. Crucially, users are paid more for high engagement than they are for conversions — approximately 70% of the payout amount is based on user engagement, with the other 30% based on sales. This enables the platform to "incentivize honesty, because if we made it about who starts lying the best, that would defeat the purpose," said Agha.
In fact, because Flip owns the entire ecosystem from discovery to sale, it can actually detect if users are "lying" in their reviews. "Let's say somebody starts hacking the system and creating really good videos, convincing people to buy something. If 100 people buy it, and then 50 return it, we know that that user is advising people of bad-quality products, and they are demoted in the algorithm," said Agha.
There is no approval process to become a creator on the platform, except making a verified purchase on Flip and receiving the product. Brands, however, do have to be approved to sell on Flip, for a very important reason: "We do not want to be a platform for resellers, we want to be a platform for brands," said Agha. "Only the original creator of the brand can [sell on Flip], which means that five people cannot sell the same product. If you're buying a brand, you're buying it from the brand directly."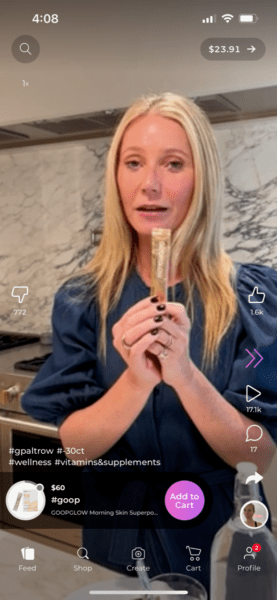 All of this adds up to a lot of value for brands — they don't have to worry about resellers undercutting them on their own products and they don't have to make a huge investment in marketing since they're not allowed to create content for the platform. That's why brands are willing to cede a much higher margin for products sold on Flip than other marketplaces — not to mention that brands can also use the platform as a market research channel to hear what real users think of their products.
Another important point about Flip: unlike many new digital platforms today, it isn't focused on Gen Z. "The next evolution of commerce is not just for kids, it's ageless," said Agha. "The idea that this is for millennials or Gen Z or even older people [doesn't work]. If you're really solving the problem of commerce, you're solving it at all ages, and that's why you'll see creators all the way up to age 70+ on Flip."
Of course, none of this matters if the actual commerce experience isn't up to par (as Agha learned in his previous ecommerce venture.) He promises that buying on Flip will be "the best shopping experience you've ever had," with same-day shipping on all orders and next-day delivery for customers in California (a bit longer for users in the rest of the country).
Right now, most brands on the site operate under a 2P model where their products are housed and fulfillment, including returns, is managed by Flip, much like Amazon's FBA system.
"With everything [Flip is doing], no one is saying, 'I don't get this, this is just so trivial,'" said Agha. "No, they're like, 'This is how it should be.' The brand that created the product should have the ability not to have other people forge their product and sell next to them, right? If you've been paying attention these past few years, it's easy to know what customers and brands want. The power we have is that the problems exist. If you get to build something from scratch, like we do, you have the chance to solve these problems that have been building for 10 years."
The Reality: Pretty Close to the Promise
Agha makes some pretty big claims about his platform, and he's the first person to admit it: "What we claim is so crazy, I always ask people to go try it to see what part of the crazy was true or not," he said. So we did, and most of what Agha promises held up.
The platform was very engaging, with a diverse set of reviewers, although most were women (not unexpected given that Flip is currently focused on beauty products). Our order didn't ship on the same day, but we're willing to give some leeway for the fact that the order was placed well after business hours, and it did indeed ship the next day. There were a fair amount of videos that skewed into the "polished influencer" territory, but they were somehow less engaging (at least to this user), which begs the question if perhaps Flip will be self-regulating, given consumers' current pushback against influencer culture.
All in all, most of the promises made by Agha about the shopper experience were met, which is good news for Agha, because he has his sights set well beyond just beauty.
The Future: Beyond Beauty
Beauty was a "no-brainer" for Flip's first category, Agha said, but he doesn't plan to stop there. Over the next few months, Flip is entering an "aggressive" expansion into everything from home décor and gadgets to premium groceries, alternative alcohol drinks, health foods and even electronics. "The experience of what we've built, a true shopping social network, is just pending giving people the supply of what they want to buy," said Agha.
To enable this, Flip is rolling out MagicOS, a self-service onboarding platform that makes it possible for brands to get up and running quickly and easily. "The [consumer-facing] app is an important piece of the company, but for the past three years the focus was also about building this ecommerce operating system from scratch," said Agha. "Now we have the tools to expand into other categories where a brand can go live in 15 minutes."
MagicOS includes a sales dashboard, inventory and PO management, content analysis and tracking, "gratis item management" through which brands can target users to test products, product listing management and ad performance tools. It's a very Amazon-esque model, including fulfillment services for brands that reach a "certain scale."
"MagicOS was created while we were scaling and running the whole business on MagicOS," said Agha. "So how we ran the business to ship over 1 million units, that is now the same technology being given to all brands to run [their Flip business] on."
With MagicOS now live, Agha foresees a rapid ramp-up in the speed of brand onboarding — from about 80 brands a month now to 1,000 a month. While any brand can launch on Flip with MagicOS, not all will have access to the Fulfillment by Flip service until they reach a certain sales volume and can deliver on Flip's SLA [service-level agreement]. This means that many of the new brands joining the platform will be third-party, at least at the outset. What that will mean for the authenticity and CX of the platform remains to be seen. All new sellers will still be subject to the standard approval process, including proving that they are the creator of the brand.
Agha doesn't actually like to make promises about the future — he prefers to focus on the reality of what his platform can do today. "When I came to the U.S., I was shocked at how everybody was 'changing the world,'" he said. "No matter what they were doing, they had the best product in the world, but then you used the product [and found that] the story had no connection to reality. I had this cultural shock and I said, 'When we start talking, it needs to be part of reality.' I want the promise and the reality of Flip to be equal."