When it debuted back in 2010, Wish was the only game in town as far as manufacturer-direct discount shopping apps went. But times have changed dramatically in the 13 intervening years: Temu, which debuted just last September, is now the top shopping app in the U.S., followed by former #1 Shein, now bumped down to the #2 position. (It should also be noted that for quite some time now, both apps have outpaced those of retail behemoths Walmart and Amazon.) And Wish, which held that top spot back in 2018, has now dropped out of the top 50 completely after having fallen to #35 as of last March.   
There are other troublesome indicators for the company: Q2 saw declines across the board at Wish. Revenues were down more than expected, decreasing 42% YoY to $78 million; adjusted EBITDA was in line with expectations but still represented a loss of $66 million in the quarter; and monthly active users were down 48% to 12 million. A few days before reporting Q2 earnings, Wish also announced plans to cut approximately 34% of its workforce, or about 255 employees, in order to "refocus the company's operations." Approximately 160 of those positions will be in the U.S., representing a 41% workforce reduction in that country.
In announcing the latest earnings and workforce reduction plans, both CEO Joe Yan and CFO/COO Vivian Liu cited the "competitive landscape" (read: Temu and Shein) as putting pressure on the business.
"The competitive landscape is changing rapidly in the cross-border ecommerce space, and we are experiencing unprecedented headwinds from intensified competition in the industry," said Liu on the earnings call discussing the most recent financial results. "As a result, we expect user acquisition and retention to remain pressured in the near term, negatively impacting our monthly active users, active buyer count and revenues."
A Little Bit of History Repeating?
Bargain prices and the thrill of discovery proved a winning combination for Wish when it first debuted, but the very thing that helped it grow so large, so quickly — shockingly cheap products — was also what caused the platform to lose favor with shoppers, particularly when those products sometimes turned out to be cheaply made, deceptively marketed and/or took weeks to arrive.
After several years of declines and a host of executive switch-ups (particularly in the CEO role), Wish began a major overhaul of its business (still underway) and launched a marketing blitz to "reintroduce" itself to consumers in August 2022. The very next month Temu debuted in the U.S. and then made sure everyone knew about it with a spot in advertising's biggest game, the Super Bowl.
The meteoric rise of Shein and Temu, so similar to Wish's own early trajectory, has proven there's still demand for Wish's original proposition. But as the OG value-shopping app tries to win back consumers, it has more than a few hurdles to overcome — not least of which is luring back lapsed consumers who now have new alternatives that don't come with any negative history.
Wish is based in the U.S., which may be surprising to some since most of the products on Wish originate outside the U.S. That, of course, is the key to Wish's business model — by connecting international consumers directly with manufacturers (most of them Chinese, although diversifying the company's merchant base is one of the company's key turnaround pillars), customers can get products for dirt cheap. The trade-off is long shipping times, another thing Wish is working hard to improve.
Temu also operates as a manufacturer-to-consumer marketplace and offers a wide range of merchandise, from homewares to apparel. Shein used to be differentiated from Temu and Wish for operating more like a traditional retailer and focusing solely on fashion, but that has changed recently with Shein adding a third-party marketplace to its mix.
How Wish Plans to Take on the Competition
While the increased competition is certainly presenting a challenge to Wish's turnaround efforts, it hasn't stopped them. "We are focused on the things we believe we can control going forward" said Yan on the Q2 earnings call. "Despite a dynamic and challenging environment, the team executed on our strategies and made progress in our various strategic initiatives." 
Here's a look at some of those initiatives and where Wish is focusing next:
1. Doubling down on merchants outside of China.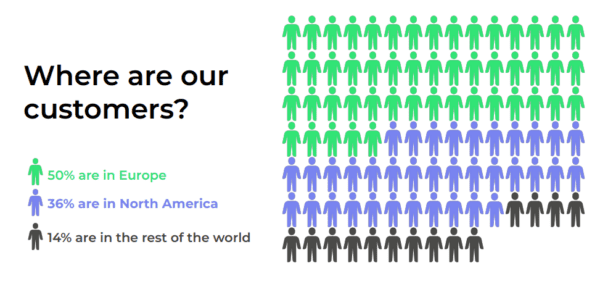 Wish opened its platform to more than 18,000 new European merchants in March 2023, and as Yan shared on the earnings call, is now planning its first merchant summit in Europe this September. "Europe should continue to be a strategically important region for Wish as our European customer base accounted for nearly half of the core marketplace revenue in Q2," said Yan.
The company also signed a new partnership with South Korean logistics provider Rincos to streamline processes for its Korean merchants and onboarded a number of U.S. based merchants, including an electronics reseller with warehouses in the U.S., which Yan said should enable faster shipping times on those products for North American customers.
To help its merchants boost sales, Wish held its first major sales event in March 2023, dubbed "Wishmas." Yan shared on the earnings call that 6,000 merchants participated in the two-week long event, which drove a double-digit increase in GMV throughout the duration.
2. Reducing shopping and shipping friction.
The introduction of flat-rate shipping in the first half of this year was a major push by Wish to reduce customer friction. Yan said the company now plans to expand flat-rate shipping availability even further in the second half of the year, including potentially making all items eligible for flat-rate shipping (only some are eligible now). The company also is considering offering free shipping on orders above certain spending thresholds. "Ultimately, our vision is to remove shipping as a major point of friction for our customers from here on in," he noted.
The company also wants to improve the payment experience with a new guest checkout option — which rolled out on Wish's mobile web platform in Q2 — and is working on easier log-in options for existing users.
The company marked notable improvements in its delivery speeds in Q2, with average time-to-door improved by six days compared to 2022 in Wish's six major markets. The overall on-time delivery rate was 91%. Yan credited these improvements with decreasing order cancellations (down 47% YoY) and refund rates (down 30% YoY), as well as helping lead to a 28% YoY improvement in its customer NPS score. Additionally, buyer conversion increased by 13% and buyer retention was up 3% YoY.
3. 'Rationalizing' corporate overhead.
"We have a lot of work ahead to further improve our business operationally, and our first steps are to rationalize corporate overhead and operating expenses," said Yan in discussing the aforementioned planned job cuts. The cuts are expected to cost the company approximately $8.7 million in severance and other expenses and be completed by the end of the year, resulting in annualized savings of $43 to $46 million beginning in Q4.
"We intend on making Wish a much leaner and more efficient business with the goal of becoming a profitable company longer-term," added Yan.
4. Enhancing product assortment in core categories.
In the second half of the year, Wish will implement a "renewed supply strategy" focusing on right-sizing the marketplace's assortment in four core categories: health and beauty, women's fashion, refurbished electronics and home essentials. While Wish doesn't share GMV breakdowns by category, Liu said that these four categories account for more than 50% of GMV on the platform.
These categories will get separate landing pages, theme-based product collections and independent marketing messaging as part of the company's broader effort to better merchandise the app by category. Yan also said the company plans to leverage generative AI to categorize marketplace items at scale.
With this effort, "you can build a lot of differentiated vertical experiences for user acquisition, as well as user retention," said Liu, who also reiterated that "generative AI technology will play a very important role in creating those vertical experiences."
5. A focused, disciplined advertising approach.
Following its rebranding and major marketing push in August 2022, Wish has pulled back significantly on its marketing spend to, as Liu put it, "focus on achieving target returns on our ad spend.
"Between spending a lot of dollars trying to compete head-to-head with deeper pockets just for user acquisition, versus spending wisely and in a disciplined manner to make sure we get a proper investment on the ad dollars, we choose the second path," added Liu.
Liu did however attribute the Q2 declines in monthly active users in large part to this decreased ad spend. Despite that, the overall marketing philosophy will continue to be "more focused and very disciplined," said Liu, with the exception of during major seasonal shopping periods like the holidays, where the company will likely spend "a little more."
"I think organic is still the biggest bet; that's something we're relying on from the customer experience improvements and [app] feature improvements," added Yan.
"We may not be able to outspend our competitors in terms of marketing dollars, but we can drive sustainable growth," said Liu. "When we think about growth, it's more than just acquiring users, it's about converting the users into buyers, retaining the buyers more effectively and helping the buyers build bigger baskets. All of that collectively will help us build a path toward a system of growth and eventually reversing the trend in the top line."