Shopping app Temu has been stealing the spotlight from fellow discount platforms Shein and Wish of late thanks to its meteoric rise in the U.S., but neither Shein nor Wish are ready to admit defeat. Shein is reportedly set to raise $2 billion in new funding this month, while Wish is continuing its attempts to win back consumers, most recently by opening its platform to more than 18,000 new European merchants.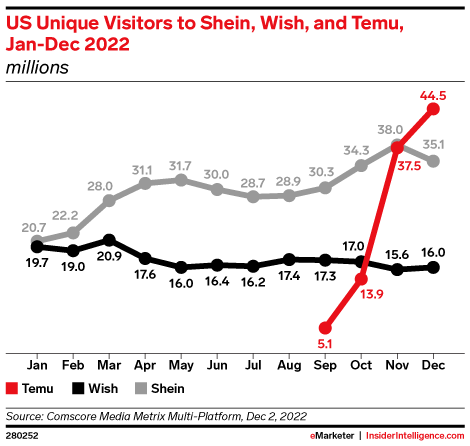 All three apps enable the shockingly cheap prices that have made them runaway hits through a direct connection with manufacturers, primarily in China. But while Temu and Wish both operate as manufacturer-to-consumer marketplaces and offer a wide range of merchandise, from homewares to apparel, Shein operates more like a traditional retailer and focuses solely on fashion. Shein's model does share direct connections to Chinese factories, which allows for rapid turnaround on the latest styles, with most orders shipped directly to consumers from the factory. Another similarity among the three — as a tradeoff for the dramatically lower prices, consumers typically have to wait longer to receive their products, sometimes several weeks.
Temu recently overtook Shein as the most popular shopping app in the U.S., but Shein hasn't fallen far — it's currently sitting in the No. 2 position ahead of both Walmart and Amazon, according to SimilarWeb. Wish also was the No. 1 shopping app in America back in 2018, but today it's largely out of the game at No. 35. And the battle between Shein and Temu isn't just playing out solely in the charts, but also in a U.S. court, where Shein has accused Temu of contracting influencers to make "false and deceptive claims" about Shein in their promotions of Temu.
Reports: Shein Readies for Third Attempt at an IPO
Despite the increased competition, Shein remains hugely popular among shoppers, which the app is hoping will support its next attempt at an IPO. Reuters reports that Shein is reviving its IPO plans for the second half of this year after pulling the plug on plans to go public for a second time in early 2022. Ahead of that, Shein also is set to raise approximately $2 billion in new funding this month, Reuters reports, citing several people with knowledge of the matter. Despite what those sources said, Shein told Reuters that it does not currently have plans for an IPO and declined to comment further on the story.
For the latest round of funding, Shein reportedly cut its valuation by one-third from a year ago, to $64 billion. The United Arab Emirates' sovereign wealth fund Mubadala will be a "major investor" in this round of funding, according to Reuters sources, and Tiger Global Management also will invest alongside existing investors including private equity firm General Atlantic (GA) and venture capital group Sequoia Capital China.
Wish Continues Push to Bring Back Shoppers with BaseLinker Partnership
For its part, Wish is continuing its somewhat bumpy efforts to turn the brand around, which after its own meteoric rise a few years back fell out of favor with consumers who had one too many bad experiences with shipping times and product quality.
Wish's latest attempt at redemption is a partnership with ecommerce integrator BaseLinker that will allow more than 18,000 European merchants to quickly and easily integrate with and sell on Wish.
"More than ever, Wish shoppers want a discovery shopping experience across an ever-expanding, immersive marketplace," said Alan Small, Director of Business Development, EMEA at Wish in a statement. "Partnering with BaseLinker enables us to provide this with an even greater focus on quality, affordable products and brands. We look forward to welcoming even more merchants to the Wish marketplace and bringing them together with our Wish community across the globe."
Other moves the platform has made in recent months to try to regain shoppers' favor include the introduction of flat-rate shipping fees for orders over $10, a complete C-Suite overhaul including several switch-ups in the CEO position, a rebrand and a major marketing push to reintroduce itself to shoppers.