Traditionally, sport/leisure apparel and footwear brand FILA relied primarily on retailers to get its products on the bodies and feet of consumers. Since FILA doesn't operate its own brick-and-mortar stores, this strategy made good business sense until COVID-19 shuttered physical locations around the globe. To make up for the loss of in-person sales — and to reap the benefits of a planned marketing tie-in with the estate of the Notorious B.I.G. — FILA needed to quickly move its website experience from a relatively static brand catalog to an appealing, efficient direct-to-consumer sales portal.
The site enhancements, which were being planned as early as January 2020, have produced significant results: year-over-year conversion rate percentage increases in the triple digits, and a bounce rate reduction from more than 50% to closer to 20%, according to Dawn Trenson, VP of Ecommerce at FILA.
These metrics are "two of the more difficult things [for a brand] to change," said Trenson in an interview with Retail TouchPoints. "You can drive more traffic to a site, but to see the conversion rate really skyrocket means that we're giving our visitors the right product and the right story at the right time."
Prior to the 2020 upgrades, visitors to the FILA site would find a "customer experience that was sorely lacking," Trenson noted. "I couldn't figure out how to shop [the site], and I'm a really good shopper." Now, the improved North American site will be used as a blueprint for the brand's global digital presence.
In partnership with the Digital Customer Experience team at Capgemini, FILA's key ecommerce enhancements included:
A site redesign providing a smoother customer experience, including a revamped home page and cleaner PDPs (product detail pages) that now include "complete the outfit" cross-selling suggestions;
Deploying a unified content system designed to elevate and personalize engagement throughout the shopper journey;
Using more advanced site and customer analytics to boost SEO;
Improving customers' access to self-service capabilities for functions including order histories and package tracking; and
Implementing an API-based integration architecture that allows FILA sales associates and customer service representatives to more accurately track orders and access customer profiles, accelerating customer-issue resolutions and reducing fraud.
Rapid Timetable for Site Improvements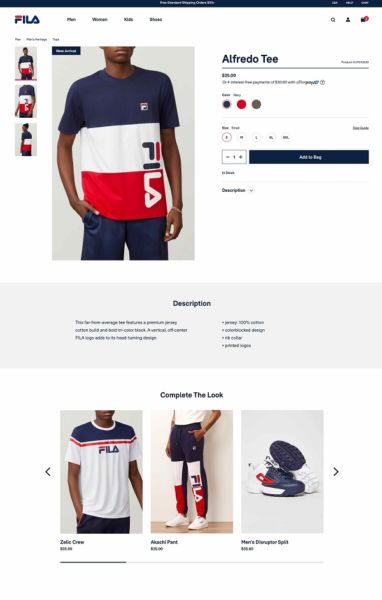 Trenson began at FILA in early January 2020 with a mandate from its president to shift the company's direction toward DTC sales. She contacted Jennifer Conklin, VP and Unified Commerce Sector Lead at Capgemini, that same week. The Capgemini team performed an in-depth analysis of the FILA ecommerce ecosystem and created a set of data, tagging and reporting recommendations, with the goal of leveraging this information to better inform the entire business.
The final in-person meeting on the site redesign took place on March 11, just a few days before serious responses to COVID began to take effect. Given the rapid pace of change at that time, it was fortunate that "both teams came together very quickly," said Conklin in an interview with Retail TouchPoints. "We developed a very strategic roadmap designed to address the issues that could help with conversion right away, such as showing related products, better PDPs and fixing the home page. The idea was to take what we know and move forward, because it was likely that things would change within a month."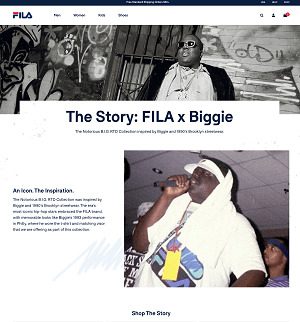 The redesigned site was launched on May 13, just days before the May 19 kickoff of FILA's Notorious B.I.G. sneaker collaboration. The brand took the bulk of the inventory that had originally been designated for retail stores and shifted it to online sales and fulfillment. FILA.com did a second drop of the shoes on May 21, Notorious B.I.G.'s birthday, and sold out in less than 24 hours.
"I had partnered with my colleagues on the retail side of the FILA business to take all of these inventories, saying that I could sell it, and financially that would serve us better," said Trenson. Given the uncertain state of store openings at this time, "we had retailers hemming and hawing about taking the inventory. In some cases inventory needed to get from the West Coast to a warehouse in Baltimore. Historically we hadn't moved inventory around at that super-quick pace, particularly not during a pandemic."
Moving From a 'Data-Light' to a 'Data-Informed' Organization
Improvements in the ecommerce customer experience are just one part of a digital overhaul at FILA, which includes the launch of Salesforce CRM on both the B2B and FILA.com sides of the business; a change in its customer service partner; and moving onto the Salesforce Marketing Cloud to get access to its full suite of products, Trenson noted.
"We've grown this business more than anyone expected, but how do we continue to do that?" said Trenson. "We need to learn more about these really loyal customers and continue the conversation with them. How do we make sure we service them and give them what they're after? Also, with more information we can work with our apparel and footwear designers. Say we're seeing that customers are really into high-top sneakers; we can then ask, why are you designing low-tops? Or we might find that 70% of our female customers prefer an oversize sweatshirt versus one that's form-fitting."
Moves toward greater personalization and the use of results from customer surveys — what Conklin terms "moving from a data-light organization to a data-informed organization" — will have immediate benefits for FILA's newly energized digital sales, "but they will also drive our content, merchandising and conversational strategy," said Trenson. "These things will help our apparel and footwear designers, our B2B salesforce and the independent retailers we supply."