Third-party marketplaces have taken over the online ecosystem — consumers are drawn to the vast product selection, price transparency and convenient delivery options leading marketplaces to become the primary vehicle for many online shoppers. A whopping 92% of U.S. consumers use online marketplaces, and those marketplaces account for 42% of consumers' total online shopping spend on average.
While many new marketplaces have entered the scene in the last few years, Amazon remains the leader of the pack, so much so that it has overtaken Google as the place where the majority of U.S. shoppers begin their product searches.
Brands haven't been able to ignore this trend, and now it is more common than ever to see well-known companies selling on third-party marketplaces like Amazon, something that was anathema to many just a few years back. "Be wherever your customers are" has become the mantra of digital commerce, and whether brands and retailers like it or not, their customers are on Amazon.
"[Earlier in my career] I worked for many specialty brands and department stores where we sort of fought Amazon," said Stacey Renfro, CEO of the born-on-Amazon home décor brand mDesign. "[The attitude was], don't sell there, it'll kill your brand. I spent so many years of my career fighting Amazon that what I really loved about the model of mDesign was just the opposite — it was embracing Amazon and realizing that when you have 70% to 75% of online business happening in marketplaces, why fight it? You have to join in, and you have to figure out how to do it well."
For a period of time when marketplaces were on the rise, there was a feeling that in these vast, jumbled ecosystems brand didn't matter because price and availability were king. But as these online environs have expanded, that thinking has shifted — branding now matters more than ever in the fierce battle to stand out in the digital crowd, even on Amazon.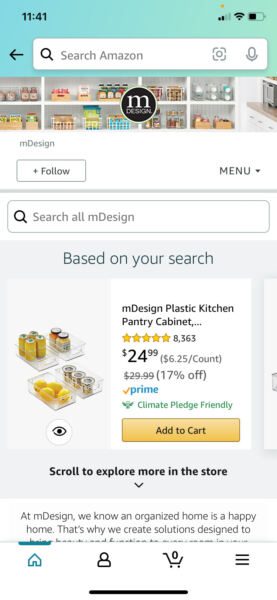 To see proof of this, look no further than Amazon itself, which has acknowledged the need for brands to bring their aesthetic and storytelling onto the marketplace platform, with the ongoing rollout of new tools and branding opportunities such as the "Follow" button and dedicated "storefronts."
For established brands, being able to customize the Amazon experience to replicate their brand ethos has been critical, and it drives home an important lesson — as you increase the number of channels you sell on, creating a consistent brand experience across those touch points is critical.
"We wanted to meet [our customer] where she was," said Caitlin Brydon, Senior Manager of Amazon Ecommerce for beauty brand Sol de Janeiro at the Amazon seller trade show Prosper. "It didn't make any sense not to be a part of the Amazon experience and make it as convenient and as accessible as possible for her. But if she's coming to Amazon and looking for our product, then every touch point on Amazon has to feel like our brand. [Our Amazon store] offers a brand experience in a place that can oftentimes feel very, very generic."
These changes have led many established brands to the Amazon platform, as well as other marketplaces, and they're realizing it hasn't killed their business as they feared — quite the opposite. "For us, Amazon was a diversification strategy," explained Liz LaVallee, Director for Online Marketplaces at the 41-year-old  Vermont Teddy Bear Company at Prosper. "It was a way to find incremental audiences and incremental categories as well. Initially there was a pretty big institutional wariness of selling on Amazon, but we were able to grow our business pretty significantly."
Beyond that, Amazon has become a place where brands go to be born. "mDesign is a brand that started first as simply an Amazon seller," recounted Renfro. "We went where there were customers and [focused on] selling great product, and over the course of years built a brand. I do believe that the brands of the future will emerge from Amazon. Over the course of the last six years we have become an almost $300 million business with the majority of our business still on Amazon, but diversified to many other marketplaces and expanding into wholesale as well."
There's no denying the power that Amazon has had on the dynamics of digital commerce — get more insights from this ecommerce powerhouse to help shape your own online offerings in the full story, 3 Things Every Retailer Can Learn from Amazon.