With more than 800 stores and another 250 to 300 pop-up locations during its Halloween high season, as well as a strong DTC site, Party City has a pretty solid presence on the U.S. retail scene. Nevertheless, in 2018 the party goods retailer went a step further and began selling on Amazon as well.
The aim was to reach more consumers — particularly younger ones — even if that meant going outside Party City's owned channels, said Vishwas Bharadwaj, the company's VP of Marketplaces. "Our core goal when we originally launched with our pilot on Amazon, was to reach customers who are increasingly gravitating toward shopping online," he said in an interview with Retail TouchPoints. "There's a lot of traffic on these marketplaces, so this offered us another channel of distribution to be able to serve our customers, wherever they are."
Competitor Oriental Trading just announced that it is taking the opposite tack, choosing to launch its own third-party marketplace instead of selling on others. In this case of dueling strategies, Party City has chosen to go where the consumers already are, while Oriental Trading hopes that expanding its catalog with third-party sellers will bring more consumers to it.
In the fast-moving world of marketplaces, Party City's three-year tenure means the retailer is already a marketplace veteran. Some of Party City's key learnings include:
The benefits of diversifying beyond Amazon and doubling down on its differentiators to stand out from the crowd;
How to leverage digital insights to react quickly to trends and shifting consumer behavior (last year was a crash course in that for many);
Honing product content can go a long way in capturing organic traffic, but advertising is still crucial;
Careful curation of the marketplace assortment can decrease the risk of cannibalizing your direct channels; and
Working with the right partners is key to success.
Meeting Consumers 'Where They Are'
On the surface, selling on third-party platforms seems like an odd choice for a retailer known for preferring to do everything itself. Party City regularly touts its "unique vertical model" — it not only sells goods but also manufactures and sources many of them as well. Yet by all accounts, expanding distribution to online marketplaces has been a solid move for the company.
In the first year on Amazon, Party City saw overall GMV triple YoY during its peak selling season, from August to Halloween. After its initial Amazon pilot in 2018, the retailer doubled down with the creation of a branded Amazon store, plus expansion onto eBay and the Walmart marketplace, with help from ChannelAdvisor.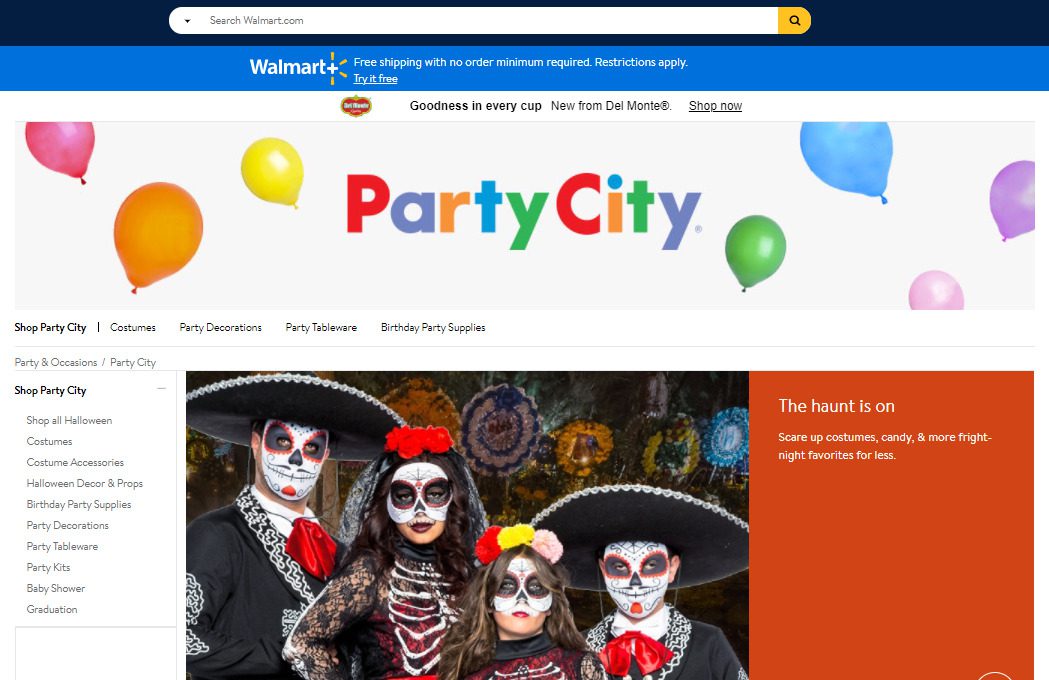 "We always try to encourage marketplace diversification," said Tracey Lackey, Account Manager for Party City at ChannelAdvisor in an interview with Retail TouchPoints. "A lot of online sellers will put all their eggs in the Amazon basket, and Amazon can be finicky. If you're not meeting their metrics or if they decide you're doing something they don't like, they can suspend you for a week, two weeks, a couple months or indefinitely. We like to see customers sell their catalog in multiple places, that way they still have backup."
Party City's unique distribution and manufacturing capabilities actually give it an edge in the crowded marketplace arena, where competition is fierce and counterfeiting runs rampant. With one of the largest collections of licensed party supplies in North America, the Party City name carries with it a seal of authenticity that many marketplace shoppers are looking for.
The Definition of a Pandemic Pivot
2020 and the pandemic proved to be a critical turning point for Party City, both in its marketplaces journey and for the business as a whole. The company had struggled to find its footing in recent years, with its stock price falling to as low as 20 cents early in 2020 after several bad quarters. Party City's parent company, Party City Holdco Inc., was notified in April 2020 it was at risk of being delisted from the New York Stock Exchange if its stock price didn't stay above $1 for 30 consecutive days.
But by July 2020 the company had regained NYSE compliance in what might be described as a quintessential pandemic pivot. Despite predictions that the party sector would be one of the many casualties of COVID-19, consumers proved pundits wrong, opting instead to keep the party going in new ways during the pandemic.
"We closed all of our locations in mid-March 2020, which drove a shift in purchasing behavior to ecommerce," recounted Bharadwaj. "As things got a little better, but with social distancing norms prevailing, we looked at insights and feedback from our consumers to develop solutions that worked with their new 'always home' lifestyle. People still wanted to celebrate, albeit differently."
Party City was able to serve them thanks to its prescient investments in its digital sales channels. In addition to its expansion onto marketplaces, the retailer also had spent the previous couple of years shoring up its digital infrastructure with ongoing enhancements to its ecommerce site and the addition of omnichannel offerings including curbside pickup, BOPIS, same-day delivery and balloon delivery (a service customers turned to in droves during lockdowns).
"We fast-tracked work on the foundation of our omnichannel experiences in a matter of weeks [at the beginning of the pandemic]," said Bharadwaj. "We wanted to ensure that our offerings aligned with what customers needed and acknowledge that, although life might be different, Party City was still their go-to destination to make joy easy. Having our assortment on marketplaces really helped us be able to serve those customers in whatever ways they were shopping."
Demand for chalk, activity kits, outdoor products and party bundles shot up, although with social distancing and pod mentalitites downsizing the scale of those gatherings, Party City had to adjust the sizes of the bundles they were offering. The retailer's costume business also picked up outside of its normal seasonal cycles as parents looked for ways to occupy kids at home.
Perhaps even more importantly, the insights Party City was able to glean from its website and marketplace customers proved critical in helping the retailer keep up with shifting consumer behaviors throughout the year. "There's a tremendous amount of business that happens across these marketplaces, so what our customers are searching for and what they're ordering gives us a lot of indicators," said Bharadwaj.
Party City's "digitally enabled sales" in 2020 (which includes marketplaces, BOPIS, curbside and delivery) increased 35.4% YoY, and the company continues to inch its way back from those early 2020 lows, with the stock at $8.97 at press time. In December 2020, Party City also announced that it was selling off much of its international operations in order to turn its focus to "creating North America's leading party platform."
Standing Out from the Marketplace Crowd
The amount of traffic on the bigger marketplaces is one of the primary advantages of the channel, but also one of the biggest challenges — standing out in such a large crowd can be difficult.
"These days you really have to be creative and figure out what's going to make you stand apart," said Brad Haynes, Team Lead at ChannelAdvisor and Party City's long-time Client Strategy Manager in an interview with Retail TouchPoints. "Think about a mall. You're walking through the mall, and you stop at a store. What caused you to stop? And then what gets you to go into the store? What gets you to buy? It's the same mentality online. What gets them to stop is your titles, your pricing, your imagery. They see that in their search results and think, 'This is what I'm looking for.'"
Success is highly dependent on both optimizing product listings to capture organic search and paid advertising. "The reality is there is huge competition in most given categories on Amazon and other marketplaces, and advertising really helps drive visibility to elevate our products in search and drive conversions," explained Bharadwaj.
Many retailers avoid expanding into marketplaces out of fear of cannibalizing sales on their direct channels. To hedge against direct competition with its own dot.com, Party City sticks to a "highly curated" assortment on marketplaces, with a focus on kids, party bundles and full-party experiences, said Bharadwaj. "There's a lot of shopping that happens on these marketplaces, and a lot of that is new customers," he said. "This is just a new channel of distribution for us."
Success Lies in Finding the Right Partners
Bharadwaj and his team work with a specialized agency for the advertising and content aspects of the business, but for pretty much everything else they turn to ChannelAdvisor, which has been involved in Party City's marketplace expansion from Day One.
The company is much more than just a platform for the retailer. As a Managed Services client, ChannelAdvisor runs day-to-day marketplace operations for Party City and acts as an advisor, helping to troubleshoot and look for new opportunities. "ChannelAdvisor is a great source of information and education on all things marketplaces and all things digital," said Bharadwaj. "Having somebody on the other side to lean on for guidance and support has been integral to our marketplace success."
After three years, the partners have clearly found their rhythm. Looking ahead, Bharadwaj sees an opportunity to expand Party City's seasonal and birthday offerings on marketplaces, in particular with licensed products.
"Going into the third year, we understand the ins and outs," said Haynes. "We understand what's important to them. We understand the seasons. We've challenged each other, and that's made a better partnership for the long term."