1-800-FLOWERS.com has amped up its cross-brand offerings just in time for its second-biggest holiday — Valentine's Day — during which the company expects to deliver 23 million flowers, 15 million of which will be roses.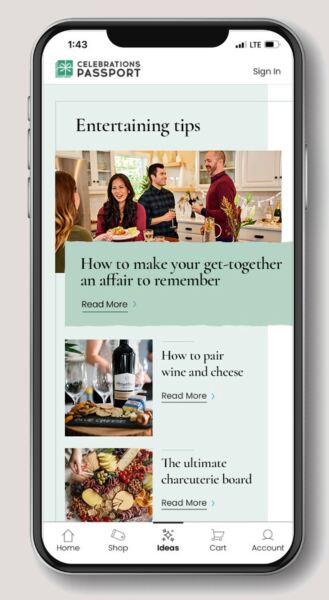 First, the company has introduced a number of enhancements to its Celebrations Passport loyalty program, including the ability to earn points and unlock perks across the company's family of brands, which includes 1-800-Flowers.com, Harry & David, Cheryl's Cookies and Shari's Berries. Pricing for the Celebrations Passport program will remain $29.99 a year and continue to include free standard shipping and no service charges.
In addition to the ability to earn points, loyalty members will also gain access to the new Celebrations Passport app featuring a more streamlined experience. Members can manage their account, discover new products and access unique content, including helpful tools and expert advice, all through the app.
The Celebrations Passport program currently has more than 1 million members, and 1-800-FLOWERS.com reports that it has been "instrumental in helping drive increased purchase frequency, retention and lifetime value of customers."
"Our customers are givers at heart, and their feedback was central in helping us shape the increased benefits of our loyalty program to make it even more rewarding" said Jenna Messer, VP of Loyalty Marketing at 1-800-FLOWERS.com in a statement. "Beyond valuing additional perks and rewards, they told us they would love to see more curated content and product collections to help with their gifting decisions, along with the option to shop across our brands via mobile."
The company also has rolled out a number of other new programs and enhancements in advance of Valentine's Day, including:
A range of new floral subscription offerings that can be delivered at personalized frequencies ranging from every week to every eight weeks;
New payment options including the addition of buy now, pay later in partnership with Klarna, as well as the ability to check out with Apple Pay, PayPal, Click to Pay, Venmo and more;
Streamlined, universal checkout across the 1-800-FLOWERS.com family of brands;
A new interactive Valentine's Day experience from Alice's Table, which the company recently acquired, featuring Red Velvet-themed floral arranging workshops that will take place throughout February;
The option to contact customer care agents through two-way SMS to modify orders and get order status updates;
A new partnership with astrology app Sanctuary for a curated collection of bouquets designed for each astrological sign; and
The #ShareYourLoveStory social media campaign, inviting customers to share what makes their relationship special. The campaign will feature real-life couples and TikTok influencer Eros Miranda, who will discuss modern love languages, tips on communicating romantic feelings and more.